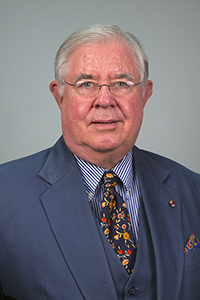 Click to download hi-resolution image
Expertise: Middle East
John B. Craig is a Senior Fellow at American Progress. During his distinguished career as a member of the U.S. Foreign Service, he held numerous assignments both overseas and in the U.S. Department of State. He pursued a focus on economic analysis during assignments in Lebanon, Saudi Arabia, Libya, Egypt, and Haiti. Craig speaks Arabic, French, and Spanish.
Craig became deputy chief of mission at the U.S. Embassy in Damascus, Syria, followed by a similar posting to the U.S. Embassy in Bogota, Colombia. On his return to the United States in 1995, he was appointed to head the Office of Arabian Peninsula Affairs in the U.S. State Department's Near East Bureau.
President Bill Clinton nominated Craig to be the U.S. Ambassador to Oman in June 1998. After three years in the post, he returned to the United States just after Sept. 11 and was appointed as a special assistant to President George W. Bush. He served on the staff of the National Security Council with Gen. Wayne Downing, the deputy national security advisor.
He was appointed as Boeing International Corporation's regional vice president in the Middle East in June 2003. In this position, he was responsible for coordinating Boeing's enterprise-wide business activities in a number of countries across the region.
Craig joined The Jadwin Group as full partner in March 2008 and ran its MENA operations as managing director, working out of Abu Dhabi, United Arab Emirates. The Jadwin Group's goal is to provide high-level investment services to private-sector entities and high-worth individuals throughout the Gulf region. The organization supports investments that will bring knowledge and technology to the region and is committed to projects that train, develop, and employ young nationals in the Gulf Cooperation Council states. Craig is now the chairman of the board for The Jadwin Group. He also currently serves as an advisor for the Joint Aviation Development Company LLC, or JADCO, an aviation joint-venture investment for The Jadwin Group that is based in Muscat, Oman.
Craig has been the ambassador in residence of the Center for Global Understanding and Peacemaking at Elizabethtown College in Elizabethtown, Pennsylvania, since July 2010. He retains his business activities in the Middle East, while basing his operations from central Pennsylvania.
Craig is a graduate of the School of International Service at American University in Washington, D.C. He received the equivalent of a master's degree in international relations from the National Defense University in Washington, D.C.