The 1% got richer, and our roads crumbled.
It's another day in Trump's America—and another day to stand up for what's right. Get the facts to fight back.
What's more important, massive tax cuts for the 1% and corporations, or vital repairs to the roads and bridges we drive on every day?
For Congressional Republicans, the answer is clear: the #GOPTaxScam.
Despite campaign promises of a $1 trillion infrastructure investment, Trump and his Congressional cronies spent 2017 ramming through a $2 trillion tax bill designed to further enrich the wealthy and disguised as a boon for the middle class.
Meanwhile, new district-by-district research from the Center for American Progress Action Fund shows what was neglected along the way.
Republicans could have repaired the crumbling roads in our metro areas for the cost of the tax cuts for the 1%, but the #CultureOfCorruption left our roads behind and construction workers jobless. To see how it broke down in a city near you, click here.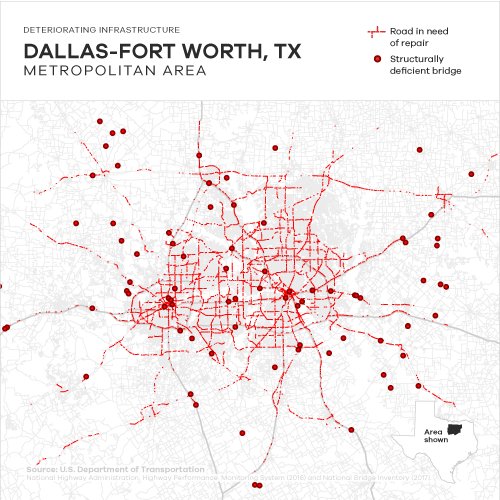 KUSHNER'S CORRUPTION.
The scent of corruption is in the air again.
Just weeks after reports of President Trump's involvement in tax schemes and fraud, new reports show that Jared Kushner, son-in-law and adviser to the President, avoided paying nearly anything in federal income taxes from 2009 to 2016. Kushner, a real estate developer, has a net worth of almost $324 million, much of it accrued in the last ten years. How, then, did he pay almost nothing in federal income taxes?
In a nutshell, "The losses were driven by depreciation, a tax benefit that lets real estate investors deduct a portion of the cost of their buildings from their taxable income every year." For a step-by-step explanation of the tax-minimizing technique, click here.
This discovery only sheds more light onto a missing piece of the corruption puzzle: President Trump's tax returns (which 21 House Republicans voted to keep secret from the public just last month).
The biggest scandal of all? Even as President Trump and Jared Kushner dodged virtually all taxes year after year, their biggest priority was giving themselves another tax cut at the expense of the middle class.
TRUMP SIDES WITH AUTHORITARIANS. AGAIN.
U.S. resident and journalist Jamal Khashoggi's alleged torture and murder by the Kingdom of Saudi Arabia is deeply concerning to U.S. allies around the world. The UK, Germany, and France are calling for a credible investigation. President Donald Trump remains unconvinced.
Trump is maintaining skepticism that the Saudi Arabian government is behind the alleged murder, and he has "repeatedly used Khashoggi's immigration status as a subtle way of downplaying the significance of his disappearance." Khashoggi is a legal permanent resident of the United States, which entitles him to be protected by "all laws of the United States."
In an interview with "60 Minutes," Trump was asked if the Saudis killed Khashoggi. His response: "We would be very upset and angry if that were the case. As of this moment, they deny it, and they deny it vehemently."
Sound familiar?
When asked if President Vladimir Putin and Russia interfered in the 2016 presidential election, Trump backed Putin's denials: "I said, 'Did you do it?' And he said 'No, I did not. Absolutely not.' I then asked him a second time in a totally different way. He said absolutely not."
Trump repeatedly sides with dictators and authoritarian regimes known for violent and inhumane treatment of their citizens—especially their critics. His praise for brutal North Korean dictator Kim Jong-un in the same interview is yet more proof.
As the Center for American Progress' Kelly Magsamen said this weekend:
"U.S. foreign policy should always be grounded in our interests, but it also must be grounded in our values. President Donald Trump has abandoned those values and paved the way for further heinous acts with his constant attacks on the press and his bizarre preference for dictators over democratic allies. It is time for America to stand up for what is right and meet these actions with a firm response."

Read more on the case for a democratic values-based U.S. foreign policy here.
The positions of American Progress, and our policy experts, are independent, and the findings and conclusions presented are those of American Progress alone. A full list of supporters is available here. American Progress would like to acknowledge the many generous supporters who make our work possible.