Watch out, Vern Buchanan—soon, your GOP colleagues and donors could have 13,000 yachts in the water to accompany yours, according to a new CAP Action analysis.
Congressional Republicans are seeking to make permanent the temporary tax windfalls built into the 2017 GOP tax scam. These profits have been put to great use, including the purchase of luxury yachts and pricey private planes, all at the measly cost to taxpayers of about $2 trillion.
The House Republican proposal would ensure the permanence of some of the slimiest loopholes from the December tax scam. In 2026 alone, the proposed bill would provide "more than $40.3 billion to the richest 1 percent of Americans."
For Rep. Buchanan and his friends, some key information: "That's enough to buy 13,746 new yachts every year, assuming they cost the same $2,995,000 as Buchanan's."
As corporations and wealthy GOP members of Congress reap the benefits of massive tax windfalls, American workers have seen "virtually no benefits" and skyrocketing health care costs. Since last year, corporate profits have soared more than 13%, while wages have stayed flat.
In fact, just as House Republicans push their tax scam double-down, new data from the Bureau of Labor Statistics shows that real average hourly earnings for nonsupervisory and production workers actually decreased 0.1% since last August.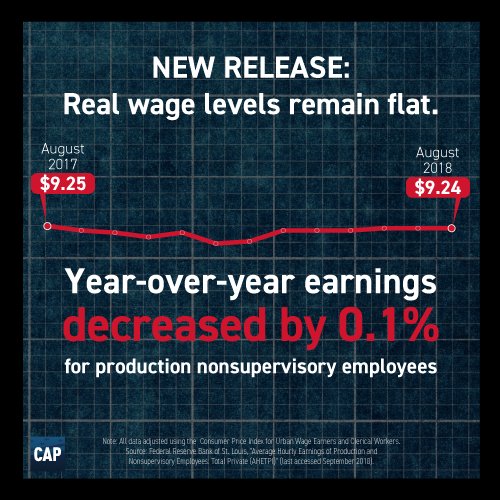 THE WORST TWEET YET.
Donald Trump has made over 5,000 false or misleading statements as president, many of them on Twitter. But as Nate Silver noted this morning, "I know there's a lot of competition but this is the worst thing he's ever tweeted."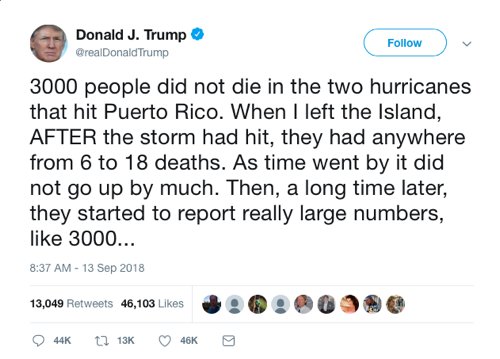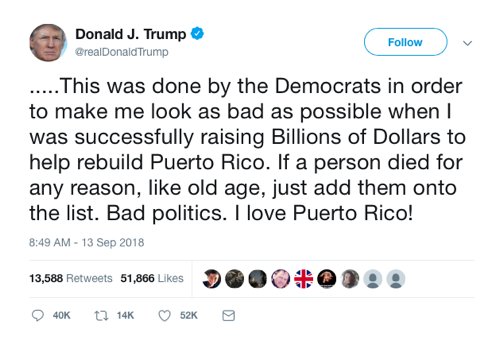 Democrats and some Republicans, like Florida Rep. Ileana Ros-Lehtinen, are lambasting the president's appalling, callous, and utterly false remarks. But, as is custom for Congressional Republicans in the Trump-era, many GOP politicians are changing the subject, feigning ignorance, or refusing to comment at all.
The Trump administration chose to drastically underfund and ignore relief efforts in Puerto Rico. Now, this president is dismissing the 3,000 American lives lost on his watch.
BIG PROGRESSIVE IDEA: AFFORDABLE CHILD CARE
New polling data from the Center for American Progress reveals that a majority of voters have struggled with child care and believe that government has a role to play in solving America's child care crisis. As election season approaches, this new polling makes it clear that child care must be part of any economic policy agenda aimed at helping working people.
These results come just ahead of the one-year anniversary of the introduction of the Child Care for Working Families Act, comprehensive child care legislation that was introduced by Sen. Patty Murray and Rep. Bobby Scott last September.
A new analysis finds that under the Child Care for Working Families Act:
The median family in every state would not pay more than $45 for child care each week.
An estimated 3 in 4 children would be income-eligible for assistance under the CCWFA.
An estimated 75% of child care workers would receive a raise to earn a living wage.
Learn more about how this bill would support families and workers in every state here.

THINKING CAP: ANY ADULTS IN THE ROOM?
As a former White House and State Department official in the Obama administration, Nayyera Haq knows what a functioning government looks like—and this isn't it. In this episode, Haq talks about the Trump administration's foreign policy ethos (strategic pessimism), the anonymous New York Times op-ed (no big deal), and being a new parent (smelly). She also shares her thoughts on the so-called Department of Swagger, and why the 25th Amendment sounds so intriguing. Listen here.
The positions of American Progress, and our policy experts, are independent, and the findings and conclusions presented are those of American Progress alone. A full list of supporters is available here. American Progress would like to acknowledge the many generous supporters who make our work possible.