28% of women and falling.
Brett Kavanaugh's personal approval rating is underwater. A new poll from the Center for American Progress Action Fund might help show us why.
Key concerns for respondents include Kavanaugh's views on presidential powers, particularly his views on whether or not a president can be subpoenaed, the legitimacy of independent counsels, and the SCOTUS decision on the Watergate tapes.
The CAP Action poll shows that:
56% have "serious" or "very serious" concerns about Kavanaugh's arguments that presidents should be immune from subpoenas from independent investigations.
65% have "serious" or "very serious" concerns that Kavanaugh thinks the law should be changed to eliminate Independent Counsels able to investigate a president.
63% have "serious" or "very serious" concerns that Kavanaugh argued that the Supreme Court should not have required President Nixon to turn over the incriminating Watergate tapes.
A plurality of Americans, 46%-45%, think Kavanaugh's views on shielding presidents from criminal investigations were a major reason that Trump chose to nominate him.
A recent CNN poll yielded similar results. Unsurprising, considering our current president is under investigation, and his attorneys are threatening to challenge a possible subpoena from Special Counsel Robert Mueller.
Meanwhile, Republican special interests are spending exorbitant amounts of money—upwards of $7.5 million—trying to resuscitate Kavanaugh's poll numbers. Too bad it's not working: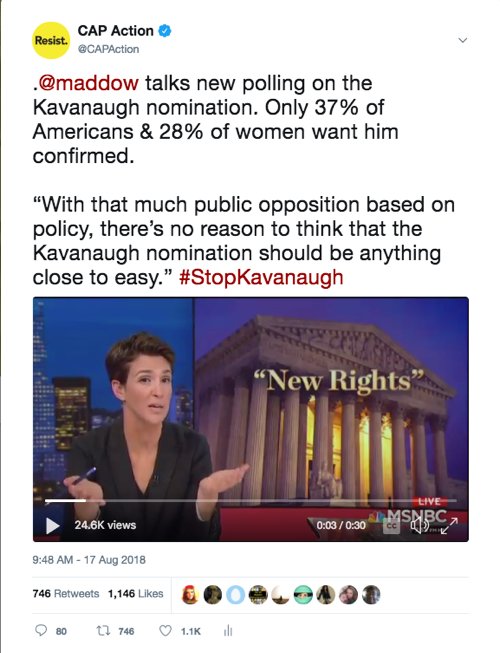 If Republican Senators push a Kavanaugh confirmation through, it won't be at the behest of their constituents.
BIG CORPORATIONS INVESTING TAX CUTS IN THEIR WORKERS: REPUBLICANS
Finally, one group benefiting from the GOP Tax Scam: Republican congressional candidates.
Even as GOP candidates struggle to make the tax scam a winning issue with their constituents, a new report shows that the bill "unlocked tens of millions of dollars in campaign donations from the wealthy conservatives and corporate interests that benefited handsomely from it."
The tax bill was marketed as a working- and middle-class tax break. In reality, it lined the pockets of the wealthiest Americans (including your members of Congress) and put money straight into the Republican war chest.
As if the tax scam wasn't costing you enough, Trump's relentless culture of corruption comes at a major cost to American families.
For an industry-by-industry breakdown of this grand tax cut/ GOP donor quid pro quo, see ProfilesInCorruption.org.
The positions of American Progress, and our policy experts, are independent, and the findings and conclusions presented are those of American Progress alone. A full list of supporters is available here. American Progress would like to acknowledge the many generous supporters who make our work possible.