3 Ways that Climate Change Exacerbates Wildfires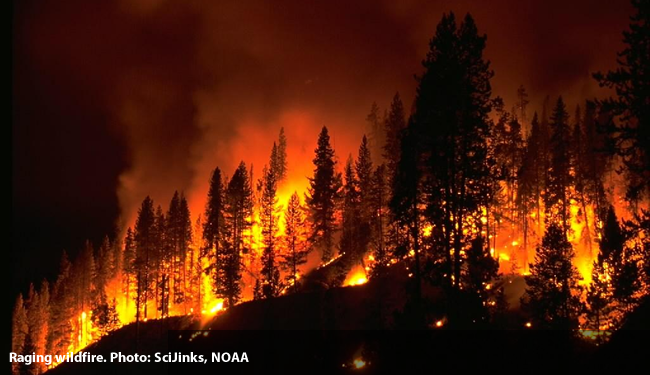 Ten thousand acres in Northern California have been scorched by the Kincade Fire in Sonoma County. The wildfire has caused more than 550 homes to be placed under evacuation orders and 1,700 residents to flee for their lives. Meanwhile, in the southern part of the state, another wildfire — the Old Water Fire — burns on nearly 100 acres in San Bernardino, with the potential for strong winds to spread the flames even further.
Today's fires provide a snapshot of a pervasive problem ravaging western states: uncontrollable and deadly wildfires are becoming more severe due to the effects of climate change. More than half of western states in U.S. have experienced their largest wildfire on record since 2000, and the annual cost of fighting these fires is on the rise. Recent fires are also much more unpredictable and spread to larger areas — often burning hot in the night, when they used to cool, and moving incredibly quickly up hillsides and across water.
Wildfires result in devastating losses of lives and homes, while wreaking havoc on public health and safety. Low income people and people of color disproportionately bear the brunt of the damages, with Native Americans being six times more vulnerable to the impacts of wildfires than white people, and black and Hispanic people being about 50 percent more vulnerable.
More frequent and severe wildfires are unmistakably a result of climate change. Here are 3 ways that explain how:
Increased drought creates an increased fire risk. As climate change leads to decreased snow-pack and precipitation in western states, leaves, grass, and other vegetation dry out faster — and burn more easily and quickly. Autumn precipitation is particularly vital for ending the summer fire season, but in 2018, autumn precipitation in Northern California was only 20–30% of its average. This led to a longer and more deadly fire season. Since 1970, the average western wildfire season has lengthened from five months to seven.
Combined with drought, higher temperatures induced by climate change contribute to drier vegetation. This makes land and forests more vulnerable to catching fire. Since 1970, temperatures in the American West have increased by approximately twice the global average, and four of the five hottest summers on record in California have occurred in the last five years. This dramatic rise in temperatures contributed to the Camp Fire in southern California — which claimed more than 80 lives in 2018.
Dry vegetation from low precipitation and hot temperatures sets the stage for high winds to spread fires widely — making initially small fires catastrophic. The Santa Ana winds, which bring dry air from the Great Basin area of the West into southern California, create a second fire season from October to April. During this time, increased rain and snowfall have historically soaked vegetation and prevented severe wildfires — but during periods of drought caused by climate change, seasonal high winds spread fires three times faster, making communities even more vulnerable. Fires started in these months have been responsible for 80% of the economic loss from fires since 1990.
Hotter and drier weather created by our changing climate has lengthened the time of year communities are most vulnerable to wildfires, while making these wildfires more devastating. This creates a serious threat to the 12 million Americans who live in areas with frequent wildfires who do not have the resources to prepare or recover.
While these fires rage, President Trump and his cabinet of former fossil fuel lobbyists continue to deny the science, undermine climate action, and undo environmental protections. By failing to take appropriate action on climate change, President Trump and his team are choosing to create conditions that favor more uncontrollable, more unpredictable, and more devastating fires. We must protect our communities, and work to build a 100% clean future.
The positions of American Progress, and our policy experts, are independent, and the findings and conclusions presented are those of American Progress alone. A full list of supporters is available here. American Progress would like to acknowledge the many generous supporters who make our work possible.