92 contacts and counting.
It's another day in Trump's America—and another day to stand up for what's right. Get the facts to fight back.
Guess who's still cooperating with Special Counsel Robert Mueller?
As part of a new plea deal with Mueller's team, President Trump's former attorney and fixer Michael Cohen pleaded guilty in federal court this morning to lying to Congress about the Trump-Russia investigation. The Russia investigation has now revealed at least 92 contacts, including 27 meetings, between the Trump team and Russian-linked operatives.
Cohen's admissions are not looking great for Trump:
Cohen said he "engaged in negotiations to build a tower in Moscow for Mr. Trump well into the 2016 presidential election"—until June 2016—and agreed to travel to Russia for meetings on the project. He previously led Congress to believe that negotiations ended in January 2016.
Cohen also said he discussed the project with Trump on more than three occasions (and briefed Trump's family members), so the strategy of ignorance won't work for the president this time. Trump previously denied involvement in any deals with Russia.
Trump's reaction to Cohen's plea was the usual string of denial, insults, and nonsense, but he canceled an upcoming meeting with Russian President Vladimir Putin just after the news broke.
Cohen is far from the only Trump associate to have lied to Congress regarding Mueller's investigation. According to The Moscow Project, at least six other members of Trump's inner circle have been credibly accused of lying to Congress.
House Democrats will have subpoena power soon. Will Trump's cronies lie before Congress again?
CONGRESS IS GOING TO LOOK A BIT DIFFERENT COME JANUARY.
Nearly every House race has been decided, and the new class of Democratic House members is more diverse and representative of the American public than ever before.
The same can't be said for their Republican counterparts. Surprise, surprise.
Share this graphic on Facebook and Twitter: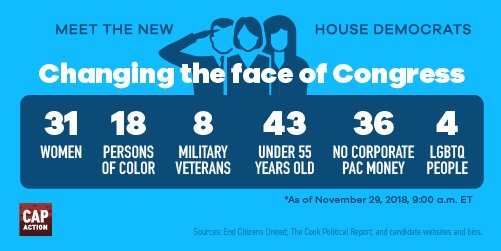 THINKING CAP: THE LIFE AND DEATH OF SANDRA BLAND.
This episode contains sensitive language that may not be suitable for all listeners.
In July 2015, Sandra Bland, a 28-year-old black woman from Chicago, was arrested and jailed for failing to use a turn signal. Three days later, she was found hanging from a noose in her jail cell, sparking a groundswell of protests and activism nationwide. Now, three years later, a new HBO documentary explores the never-before-told circumstances surrounding her death, punctuated by Sandra's own commentary that seemed to foretell her own fate. This week's pod was recorded at the Center for American Progress' live screening of the documentary, "Say Her Name: The Life and Death of Sandra Bland," in which Daniella moderated a panel with Cannon Lambert, the Bland family attorney, and David Heilbroner, the film's co-director.
The positions of American Progress, and our policy experts, are independent, and the findings and conclusions presented are those of American Progress alone. A full list of supporters is available here. American Progress would like to acknowledge the many generous supporters who make our work possible.