A Guide to the Eighteen Federal Investigations Faced by Former EPA Administrator Scott Pruitt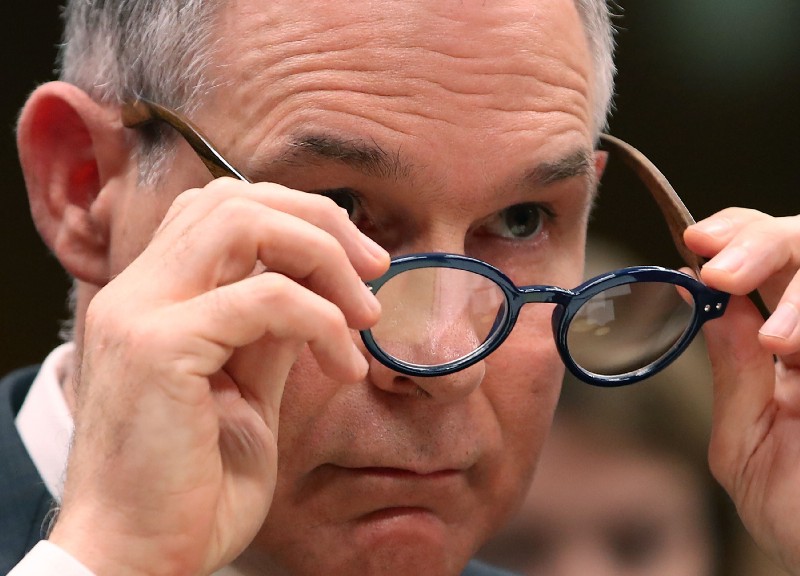 Scott Pruitt resigned as Administrator of the Environmental Protection Agency effective July 6, 2018. He was only in office for 500 days, but he stayed busy during that time — but not with policy matters. Instead, Pruitt was ensnared in an unprecedented number of ethical scandals, a number of which have triggered federal investigations.
First, it was first class flights, followed quickly by the $50-a-night condo owned by a lobbyist, expensive international travel, significant and unauthorized raises for staff, and illegally high costs for strange protective office improvements, all on the taxpayer dime.
These ethical transgressions have not occurred in a vacuum. There are now eighteen official open investigations on Pruitt's actions, even after only a year in office.
To help monitor these ongoing investigations, this site will be tracking and updating the status of each. We will be updating this page as new investigations are opened or open ones are completed, so check back frequently for updates.
Open Investigations*
EPA Inspector General Investigations:
1. Inspector General (IG) investigation to explore the frequency, cost, and extent of Pruitt's travel: On August 28, 2017, the EPA IG's Office announcedthat it would be opening an investigation into the frequency of Pruitt's travels to Oklahoma. The investigation was also intended to determine "whether EPA policies and procedures are sufficiently designed to prevent fraud, waste and abuse with the Administrator's travel that included trips to Oklahoma." The probe was expandedin January 2018 to include Pruitt's travels through the end of 2017, including to Morocco, a trip which cost $100,000.
2. IG investigation into Pruitt's meeting with an industry group: EPA IG opened an investigation in December 2017 to analyze Pruitt's April 2017 meeting with a coal mining industry group, the National Mining Association. Reportedly, Pruitt urged association members in the meeting to request that President Trump pull the U.S. out of the Paris climate deal. Democrats from the House Energy and Commerce Committee released a letter from EPA IG Arthur Elkins Jr. confirming the review of the meeting.
3. IG investigation into Pruitt's spending on a secure phone booth: In response to a request from House Oversight Committee Ranking Member Frank Pallone, the EPA IG in December 2017 opened an investigation into how the agency decided to spend "more than $25,000 installing a secure, soundproof communications booth" for Pruitt's office. Since the start of the investigation, new spending details have been released indicating that the booth actually cost closer to $43,000. In a hearing before the House Energy and Commerce Committee, Pruitt claimed that he had no knowledge of the booth's cost during its construction process, but rather that his staff had signed off on it.
4. IG investigation into Pruitt's use of Safe Drinking Water Act hiring authority: In January 2018, the EPA IG's Office began an investigation into "the Office of the Administrator's use of its authority to fill administratively determined positions created pursuant to the Safe Drinking Water Act Amendment of 1978." Pruitt or his staff had used this specialized authority, intended for hiring experts quickly, to hire a number of political staff for his personal office.
5. IG investigation over questionable spending on Pruitt's security detail: In April 2018, it was reported that the EPA IG was conducting a previously undisclosed probe into "questionable spending by [Pruitt's] swollen security detail." The team tasked with protecting Pruitt had been accruing expenses upward of $3 million from salary, overtime, and travel expenses, far more than Pruitt's predecessors.
6. IG investigation to audit compliance with Trump's 2-For-1 order:In April 2018, the EPA IG's office opened an investigation into the agency's compliance with Trump's executive order that directed agencies to retire two regulations for an new regulation issued.
7. IG investigation into Pruitt's conduct in office:In April 2018, Congressman Ted Lieu and Don Beyer released an EPA IG letter to the public that confirmed his office was reviewing Pruitt's conduct while in office. This includes a look into Pruitt's $50-a-night condo rental from a lobbyist, and the agency's ex post facto ethics approval of the arrangement.
8. IG investigation into Pruitt's use of security detail on personal trips to Disneyland and the Rose Bowl: After a request from Senator Whitehouse, the EPA IG office confirmed in April of 2018 that they were looking into Pruitt's use of a taxpayer-funded security detail on vacation to Disneyland, the Rose Bowl, and on other personal trips.
9. IG investigation into Pruitt's condo rental: Separate from #7, the EPA IG's office confirmed in April 2018 that they were reviewing Pruitt's $50-a-night condo rental and lease. This was after Democrats from both the House and Senate called on the IG to review the arrangement, which was between Pruitt and the wife of a lobbyist with energy clients who had business before the EPA at the time Pruitt lived in the condo.
10. IG investigation into Pruitt's use of multiple email accounts: EPA's IG Arthur Elkins released a letter on May 15 saying his office would investigate whether Pruitt complied with EPA policy and federal law when using multiple email accounts, in response to a request from Democratic Senators Tom Carper (DE) and Jeff Merkley (OR). The investigation will also explore whether all of Pruitt's accounts were searched in response to Freedom of Information Act (FOIA) requests.
EPA Inspector General Reviews:
11. IG review of EPA political appointee Samantha Dravis' employment records: After it was brought to light that EPA political appointee Samantha Dravis may have been absent from the agency for a number of months between November and February of 2017–2018, the EPA IG confirmed that he would open a review into whether she had reported for work or not while still receiving compensation.
U.S. House Investigations:
12. House Oversight Committee investigation into Pruitt's first class flights and spending: House Oversight Chairman Trey Gowdy began investigating Pruitt in February of 2018 for his many taxpayer-funded first class flights. In April, the committee expanded its review to cover ethical questions around Pruitt's $50-a-night condo rental on Capitol Hill.
Executive Office of the President Investigations:
13. White House internal investigation of Pruitt's behavior: In April 2018, the White House began a review of Pruitt's actions generally, after reports surfaced about his below-market-rate condo rental from the wife of an energy lobbyist.
14. Office of Management and Budget (OMB) investigation into Pruitt's soundproof phone booth: The White House's OMB opened an investigation into Pruitt and his agency's spending of more than $43,000 on a secure, private phone booth in Pruitt's office. OMB Chief Mick Mulvaney announced this investigation after a Government Accountability Office (GAO) report found that Pruitt had violated the Anti-Deficiency Act with the phone booth spending.
Government Accountability Office (GAO) Investigations:
15. GAO investigation into Pruitt's involvement in a video with an outside stakeholder group: In November of 2017, the GAO began examining whether Pruitt violated legal provisions that prohibit lobbying and propaganda that uses agency resources when he appeared in a video produced by the National Cattlemen's Beef Association. The video requested that the Association's members submit comments to EPA on its Waters of the United States rule revision.
16. GAO investigation into Pruitt's role in choosing members of Science Advisory Boards: After Pruitt essentially dissolved EPA's Science Advisory Board and appointed a number of industry scientists instead, Senate Democrats requested that GAO open an investigation to examine Pruitt's actions regarding the board more closely. The GAO accepted this request.
17. GAO investigation into EPA Tweet on Andrew Wheeler's Confirmation:When Pruitt appeared in front of the Senate Appropriations Subcommittee on Interior and the Environment on May 16, 2018, Senator Udall asked GAO to review an April 13th tweet from the official EPA twitter account that included the phrase, "The Democrats couldn't block the confirmation of environmental policy expert and former EPA staffer." GAO has agreed to review the tweet given its partisan nature, to see if it violated laws against the use of government appropriations for publicity or propaganda.
U.S. Office of Special Counsel (OSC) Investigations:
18. OSC investigation into Pruitt's potential retaliation against staff:The U.S. OSC, an independent investigative agency, is looking into whether Pruitt may have retaliated against EPA staffers questioning his excessive spending, and other decisions. As many as six EPA staffershave claimed that Pruitt has sidelined them after they questioned a spending or travel decision, either through demotions, reassignments or even firing.
Completed Investigations:
GAO ruled that Pruitt violated two laws with his $43,000 phone booth: The GAO completed one investigation in April of 2018, ruling that the EPA and Pruitt violated a requirement that the agency notify Congress before spending more than $5,000 on office equipment. The booth also broke a related appropriations law, the Anti Deficiency Act.
*Note: In counting these investigations, we used a broad umbrella — meaning we included an Inspector General "review" (as opposed to official investigation), a House investigation, an internal White House investigation, and an OMB investigation. Additionally, in some instances, some of the investigations appear materially similar to one another. When there is a distinction made about their content — for example, between #s 7 and 9 on this list, requested separately by Sen. Whitehouse and Rep. Lieu, to the latter of whom the EPA IG wrote, "We will release each of these separate reviews as we complete them, and will inform you and your staff when we do so" — we have included them as separate and distinct investigations.
Last updated June 25, 2018.
The positions of American Progress, and our policy experts, are independent, and the findings and conclusions presented are those of American Progress alone. A full list of supporters is available here. American Progress would like to acknowledge the many generous supporters who make our work possible.