Accountability for Kavanaugh is long overdue
It's another day in Trump's America—and another day to stand up for what's right. Get the facts to fight back.
It's time for Kavanaugh to face a real investigation
Last October, the Senate confirmed Brett Kavanaugh to the Supreme Court, bringing the number of conservative ideologues on the court to five—enough to overturn Roe v. Wade, rule in favor of Trump's attacks on the Affordable Care Act, and serve as a rubber stamp on many of this administration's most horrific executive actions and policies.
Despite a history of allegations of sexual assault against Kavanaugh, McConnell and leading Senate Republicans never conducted a real investigation and disparaged the women who came forward. The supposed FBI investigation was a joke, tiny in scope and hampered by Trump's barrage of political attacks on the process.
The New York Times story this weekend was yet another painful reminder of just how little was done to ensure Kavanaugh was subject to any true oversight. But something is different now: The House has a Democratic majority that is actually interested in accountability.
Share this article on Facebook and Twitter to demand a real investigation to hold Kavanaugh accountable: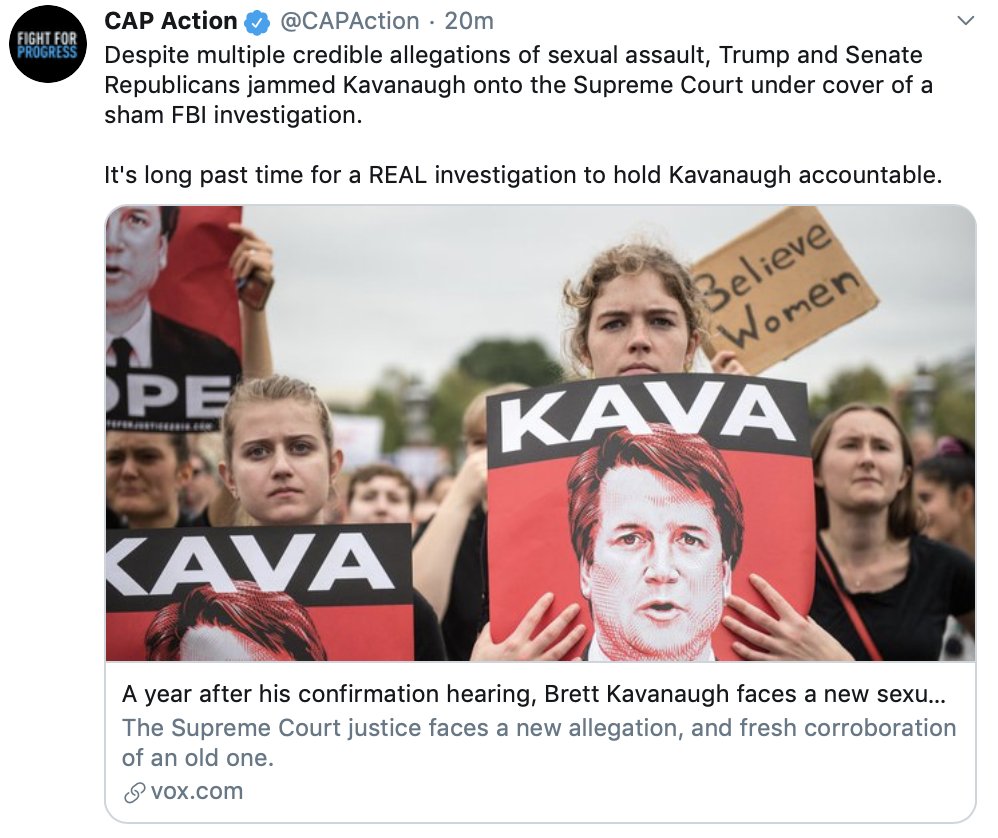 Ask not what these dictators can do for you…
This weekend, we learned from Trump's Twitter feed that the role of Commander in Chief had been outsourced to Saudi Arabia:
"Saudi Arabia oil supply was attacked. There is reason to believe that we know the culprit, are locked and loaded depending on verification, but are waiting to hear from the Kingdom as to who they believe was the cause of this attack, and under what terms we would proceed!"

It raised an interesting question. While Trump has methodically alienated our traditional democratic allies, he has been extremely generous with our authoritarian adversaries. Let's compare what Trump has given these regimes on behalf of our country with what we've gotten in return:
Saudi Arabia
Trump's Gift: A promise to go to war with anybody who attacks the Saudi military supply. Previously he sided with them in a blockade against Qatar, overriding his own Secretary of State's public condemnation of the blockade.
What America Got: A murdered Washington Post journalist and a cover-up that Trump continues to abet.
What Trump Got: The Saudi royal family rented out an entire floor of his struggling New York City hotel for a month.
Russia
Trump's Gift: Constantly praised Putin, legitimized his regime, and repeated Kremlin talking points. Most recently, at the G7 summit, Trump openly lobbied for Russia to be readmitted.
What America Got: An ongoing attack on our democracy.
What Trump Got: The attack was to get him elected.
North Korea

Trump's Gift: Legitimization of Kim Jong Un as a major leader on the world stage, completely ignoring his savage human rights record, and a halt to new sanctions.
What America Got: North Korea continuing their work on their nuclear and missile programs, increasing their ability to hit the US directly.
The positions of American Progress, and our policy experts, are independent, and the findings and conclusions presented are those of American Progress alone. A full list of supporters is available here. American Progress would like to acknowledge the many generous supporters who make our work possible.