America is on fire. Trump doesn't seem to care.
This piece was originally published in the September 14, 2020 edition of CAP Action's daily newsletter, the Progress Report. Subscribe to the Progress Report here.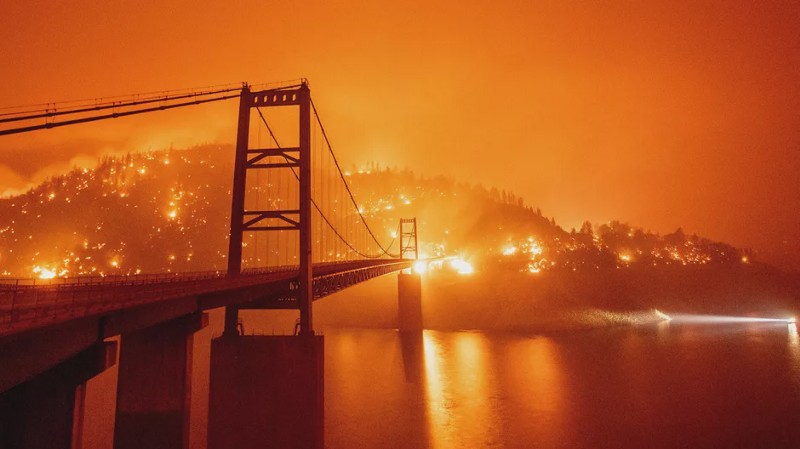 "It's happening everywhere. It's happening now. And it affects us all."
— Joe Biden, speaking today about the ongoing wildfires that have turned California's sky orange and drastically worsened air quality, forcing many to confront the harsh reality that climate change is happening now.
According to a new report, 47% of American families are going hungry — during a pandemic — on the Trump administration's watch.
For Black and Latinx families, that number is even higher.
Share this graphic on Twitter and Facebook to get the facts out: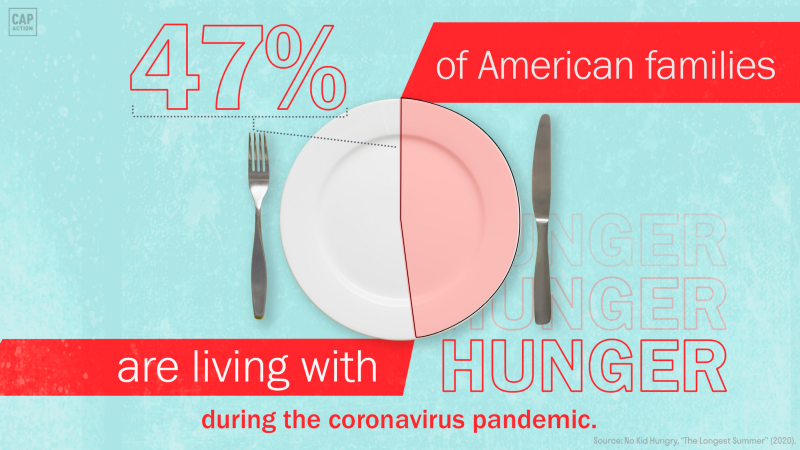 IN THE NEWS
As dozens of wildfires continue across California, Oregon, and Washington state, Americans are waking up to the urgent reality of climate change and demanding action from those in power. While we've known how dangerous climate inaction is for years now, the unsettling images of orange skies and ash-covered windows have forced even more people to confront the fact that climate change isn't some crisis for future generations — it's here, and its devastating impacts have already begun.
Feeling the pressure, Trump finally visited California today, where he told a panel of experts and officials that he thinks "it's going to start getting cooler, actually." As you might have guessed, this is false, and is the opposite of what climate experts tell us. Trump has previously (also falsely) blamed poor forest management for the severity of California's wildfires. The truth is, according to experts, that climate change is responsible for their unprecedented intensity.
Joe Biden addressed the wildfires today in a speech from his home state of Delaware. In contrast to Trump, Biden took a serious and fact-based approach to the crisis that's playing out before our eyes, focusing on the real, devastating impacts of climate change that contributed to the severity of the fires and other extreme weather across the country, including hurricanes and floods.
Biden spoke to the urgency of this moment and acknowledged the hopelessness many have felt, especially in recent weeks. "It's hard to see the sun rise and believe today will be better than yesterday when America faces this historic inflection point," he said. Calling this "a time of real peril, but also a time of extraordinary possibilities," Biden pledged to do everything he can to right the ship and finally confront this crisis. "I want you to know that we can do this."
Did you know there are just 16 days left to respond to the 2020 Census? The accuracy of the Census count determines whether your area will receive adequate federal resources and representation for the next decade — but an estimated 14 million people still haven't been counted. Complete the census here if you haven't already, then reach out to 3 friends to remind them to follow suit.
IN CASE YOU MISSED IT
In the middle of a pandemic that has already cost 194,000 lives — and in violation of Nevada state law — Trump held an indoor campaign rally last night. The rally violated Nevada's restrictions on large gatherings, as the governor certainly didn't hesitate to point out. "He doesn't believe the rules apply to him," said Gov. Steve Sisolak (D-NV) ahead of Trump's visit. The event was Trump's first indoor rally since the infamous June rally in Tulsa, Oklahoma, which you may recall preceded a case spike in the region as well as the death of notable attendee Herman Cain from coronavirus.
[Sensitive content warning: Police violence] Police in Lancaster, Pennsylvania shot and killed an autistic man yesterday afternoon. Crowds that gathered to demand answers and accountability following the death of 27-year-old Ricardo Munoz were met with tear gas from police. As of this afternoon, the officer responsible for the shooting has been placed on leave.
Promote democracy by becoming a poll worker this fall! If you're able to do so, it's likely that your state could use the help. Plus, many states offer a stipend for people who work the polls. Click here to learn more and sign up to work the polls in your state.
WHAT WE'RE READING
Like the Progress Report? Our team relies on the support of grassroots progressives like you. Chip in $5 or whatever you can to power our work.
The positions of American Progress, and our policy experts, are independent, and the findings and conclusions presented are those of American Progress alone. A full list of supporters is available here. American Progress would like to acknowledge the many generous supporters who make our work possible.