This piece was originally published in the September 21, 2020 edition of CAP Action's daily newsletter, the Progress Report. Subscribe to the Progress Report here.
"That's the dissenter's hope: That they are writing not for today, but for tomorrow."
— Ruth Bader Ginsburg (1933–2020)
200,000 American lives — gone.
200,000 grieving families.
Trump's chaos has a deadly price. Share this video on Twitter and Facebook to get the facts out: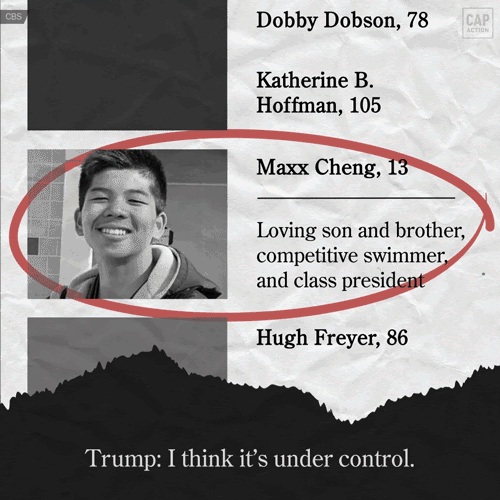 IN THE NEWS
By now we've all heard the tragic news that broke on Friday evening: Supreme Court Justice Ruth Bader Ginsburg has passed away. Having triumphed over cancer four times throughout her life, Ginsburg ultimately succumbed to one final bout of pancreatic cancer. She was 87 years old.
As a student, a professor, a lawyer, and a judge, Ruth Bader Ginsburg was a pioneer for women in the legal field and beyond. One of the only women in her law school class, she managed to care for her young children and her sick husband while keeping up with her coursework. Ginsburg graduated first in her class at Columbia Law and went on to co-found the ACLU's Women's Rights Project, where she argued five sex discrimination cases before the Supreme Court. According to her family, Ginsburg issued the following statement to her granddaughter just days before her death: "My most fervent wish is that I will not be replaced until a new president is installed."
As we mourn the loss of Justice Ginsburg, it's difficult not to worry about what comes next — especially given the grim political realities of 2020. While common sense, Senate Democrats, Ginsburg's dying wish, and the precedent set by Republicans in 2016 would suggest that we wait to confirm Ginsburg's replacement until after we know who the next president will be, Mitch McConnell of course has other plans. (We're not surprised — just disappointed.) Trump announced that he plans to announce a nominee for the seat as early as Friday, and some signs point to two main contenders: Amy Coney Barrett and Barbara Lagoa. We'll have more on the potential nominees soon.
There's a lot on the line in the approaching battle over the Supreme Court. First and foremost is Roe v. Wade. An anti-Roe majority would be devastating for millions of Americans seeking reproductive care. It was just last year that reproductive rights advocates fought to stave off a wave of egregious state-level abortion restrictions, and it's clear that anti-choice legislators are ready to pounce on the first opportunity they have to challenge Roe in the nation's highest court. And with the Court set to hear arguments on a Trump-backed Affordable Care Act repeal lawsuit that could gut health care coverage for some 23 million Americans just days after November's election, this fight could not be more urgent.
What can we do? As progressives grapple with this latest crisis, we're united around one immediate action item: Doing everything we can to prevent the Senate from confirming a nominee until after Inauguration Day. Senators Murkowski (R-AK) and Collins (R-ME) have said they don't think the Senate should vote to confirm a new nominee until after the election, but we'd need two more GOP defectors to seal the deal.
It's up to us to protect the Supreme Court. Call and tweet at your senators TODAY and demand that they commit to not confirming a nominee until after the next president is inaugurated.
IN CASE YOU MISSED IT
At least 200,000 people have now died from the coronavirus in the United States. At 7pm ET tonight, join Kristin Urquiza and Americans across the country in lighting a candle in memory of the 200,000 Americans who are no longer with us.
As we passed this unthinkable death toll, Trump made another mid-pandemic campaign stop in Ohio today. This was his fourth rally in five days, continuing a trend of disregarding coronavirus precautions with large unmasked crowds. His administration's botched handling of the pandemic — and its lies to the American people about the danger it posed — have led to the deaths of more than 4,580 Ohioans.
WHAT WE'RE READING
Like the Progress Report? Our team relies on the support of grassroots progressives like you. Chip in $5 or whatever you can to power our work.
The positions of American Progress, and our policy experts, are independent, and the findings and conclusions presented are those of American Progress alone. A full list of supporters is available here. American Progress would like to acknowledge the many generous supporters who make our work possible.