Another Trump ally abandons ship
It's another day in Trump's America—and another day to stand up for what's right. Get the facts to fight back.
Former Trump defender confirms the quid pro quo
Something wasn't adding up last month when Ambassador Gordon Sondland testified that he didn't know why Trump withheld key military aid from Ukraine. When several other witnesses confirmed that Trump withheld the aid to pressure Ukraine to interfere in U.S. elections for his own political gain, Sondland's testimony seemed even more questionable.
That's because it was. Scrambling to walk back his prior testimony, Sondland admitted yesterday that "he told Ukrainian officials that military aid was tied to their commitment to investigations President Trump wanted."
In other words? He helped advance Trump's impeachable abuses of power.
Share this tweet to spread the word: Trump's defenses are crumbling.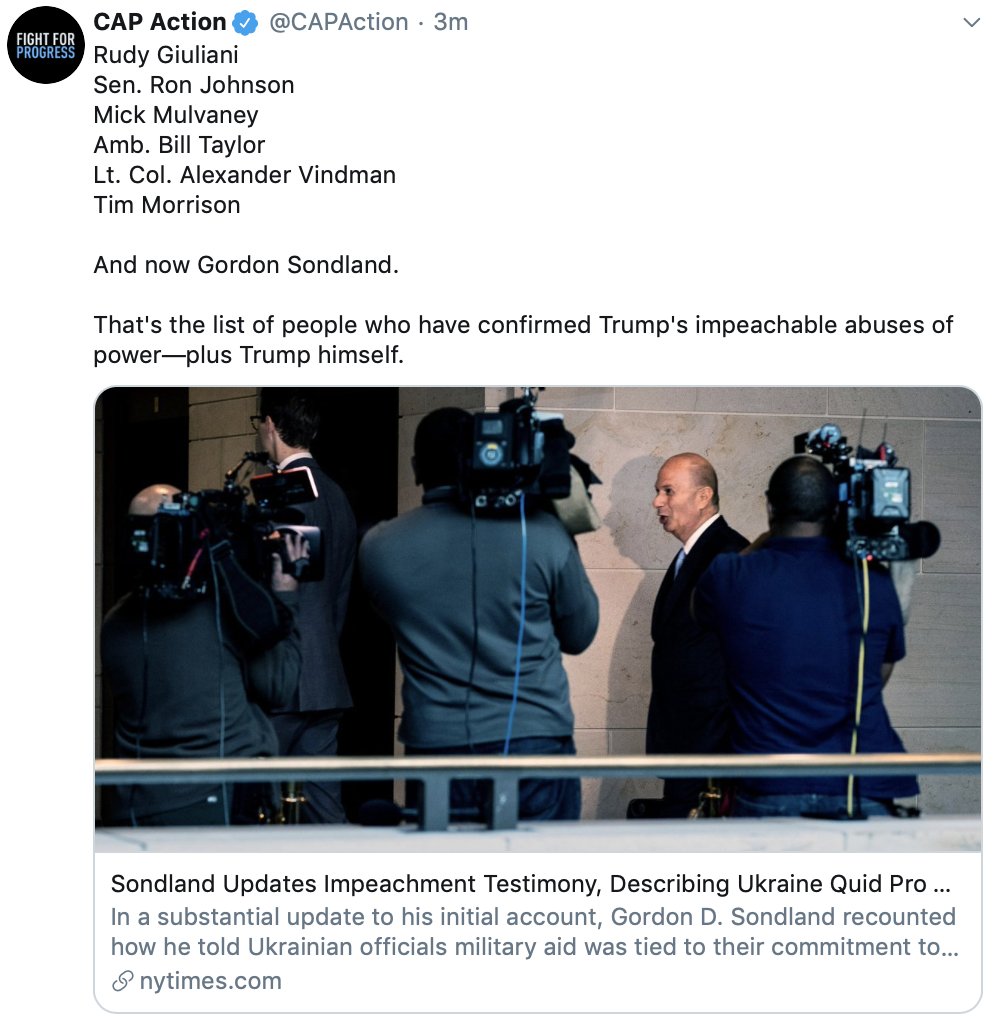 One year out from the 2020 election
As evidenced by last night's election results, Americans are sick and tired of Trump's economy—an economy that works for the wealthy and well-connected, leaving working people to fend for themselves.
With less than one year until Election Day 2020, we took a look at Trump's economic record. Here's what we found:
The economy is slowing down. Job growth is down 15% under Trump, and the manufacturing sector is in a recession.
Trump's policies help the rich and powerful—not working Americans. After running on a promise to help working families, Trump has instead rewarded his wealthy donors at every turn. From his $2 trillion tax bill for the wealthy to his attempts to rip health care away from 20 million Americans, Trump has made clear where his loyalties lie. And by opposing a much-needed minimum wage increase, he sided once again with his corporate allies.
Trump's erratic trade wars are costing working families. Despite his assertion that "trade wars are good, and easy to win," Trump's trade-wars-by-tweet have cost the U.S. 300,000 jobs. As a result of his reckless tariffs, farm bankruptcies in the Midwest have skyrocketed 45% since Trump took office, and working families are finding it harder to make ends meet.