"This is about basic human decency."
Imagine: Your child is born with a congenital heart defect. You are told that without immediate, invasive surgery, your days-old child will not survive.
For Maggie Chism, this scenario was her reality. Her daughter Evelyn was born on September 7, 2016 with a dangerous heart condition. Without the Affordable Care Act and protections for pre-existing conditions, Evelyn would have died. Without access to affordable health care, Maggie Chism would have been powerless to stop it.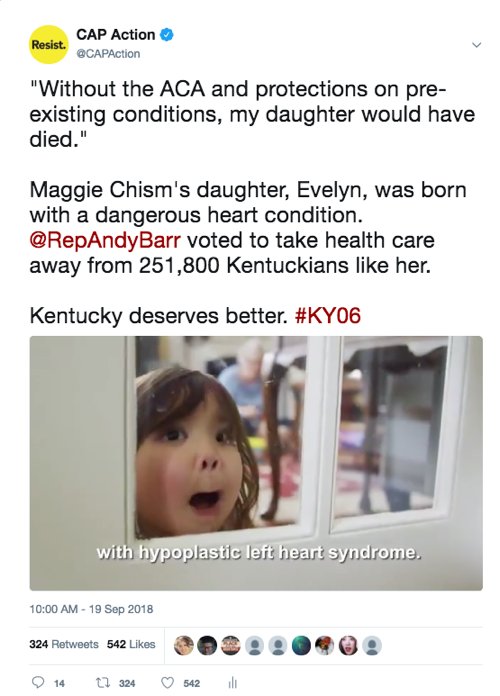 Maggie's own representative, Rep. Andy Barr (R-KY), voted to repeal the Affordable Care Act at the same time that Evelyn was recovering in the hospital from her second open-heart surgery and a potentially life-threatening cold. For Maggie Chism, not knowing whether they were going to be able to afford vital care for Evie was "the scariest moment of my life."
Congressional Republicans remain as determined as ever to repeal the ACA, regardless of the dire consequences for hundreds of millions of Americans like Evie.
While this is what they plan to do to working- and middle-class families around the country, these same politicians are doing everything in their power to enrich themselves and their corporate donors.
America deserves better.
BULLYING BLASEY FORD.
Last night, attorneys for Dr. Christine Blasey Ford made a simple request: the professor is willing to testify publicly, but she wants the FBI to do its own standard investigation to establish the common facts first.
This is a more-than-fair request, especially in light of Dr. Blasey Ford's offensive treatment at the hands of Senate Republicans, including members of the Senate Judiciary Committee. Senate Republicans are trying to bully Dr. Blasey Ford into a partisan process aimed at discrediting her story and exonerating Judge Kavanaugh.
But Trump and Senate Republicans balked, telling Dr. Blasey Ford that there would be no investigation, there would be no other witness allowed, and that if she doesn't show up on Monday, then they don't care about her.
Why are Republicans trying to rush through the nomination of a man who has been credibly accused of sexual assault? Maybe it's because public support for Brett Kavanaugh is at an historic low, and sinking.
According to a new Reuters/Ipsos poll, 36% of polled adults said they did not want Kavanaugh on the Supreme Court. 33% of women respondents oppose his confirmation.
Dr. Blasey Ford submitted to and passed an FBI polygraph test. Yet, Senate Republicans are once again making it clear they have no interest in uncovering the truth—at the expense of sexual assault survivors and of our country.
We asked yesterday whether Republicans could meet even the dismally low bar of giving Dr. Blasey Ford the same treatment that Anita Hill got more than 25 years ago. Well, the FBI investigated Hill's claims—and Republicans are blocking even that step.
For additional context on health care stories, see here.
The positions of American Progress, and our policy experts, are independent, and the findings and conclusions presented are those of American Progress alone. A full list of supporters is available here. American Progress would like to acknowledge the many generous supporters who make our work possible.