Believe women—delay the vote.
It's time for you to raise your voice.
President Trump's Supreme Court nominee, Brett Kavanaugh, has been accused of sexual assault. Although she wanted her story to be confidential, Professor Christine Blasey Ford now has bravely came forward to share her story of sexual assault.
The Senate Judiciary Committee must halt Kavanaugh's confirmation vote until Dr. Ford's voice can be heard publicly, fairly, and in full.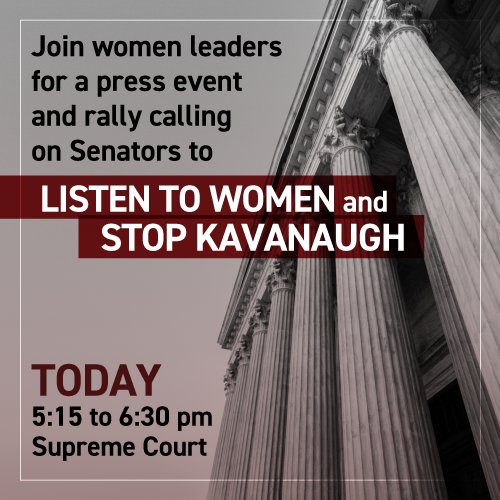 Head to the Supreme Court today at 4:00p to let our senators know #WhatsAtStake. Then, join women leaders at 5:15p to demand the Judiciary Committee delay the vote immediately.
If you aren't able to participate in person, tune in to @CAPAction.

LET HER BE HEARD.
Trigger warning: the following contains sensitive material about an account of sexual assault.

Dr. Christine Blasey Ford publicly came forward yesterday with her personal account of violent sexual assault by Supreme Court nominee Brett Kavanaugh. The following is her personal account to The Washington Post:
"Ford said that one summer in the early 1980s, Kavanaugh and a friend — both 'stumbling drunk,' Ford alleges — corralled her into a bedroom during a gathering of teenagers at a house in Montgomery County. While his friend watched, she said, Kavanaugh pinned her to a bed on her back and groped her over her clothes, grinding his body against hers and clumsily attempting to pull off her one-piece bathing suit and the clothing she wore over it. When she tried to scream, she said, he put his hand over her mouth."
"I thought he might inadvertently kill me," said Ford, now a 51-year-old research psychologist in northern California. "He was trying to attack me and remove my clothing."
Dr. Ford courageously relayed the incident to some Democratic lawmakers upon learning that Kavanaugh was on the shortlist for the nomination, with the express wish to remain anonymous. After her privacy was invaded this past weekend, Ford decided to come forward.
Her story was corroborated by years-old notes from her therapist, and the Washington Post noted that she first reached out to them before Kavanaugh was even settled on as the nominee. Ford even took the extreme step of volunteering for a lie-detector test, which she passed.
Any attempt to dismiss her story is unacceptable. We need the Senate Judiciary Committee to delay the vote and ensure an opportunity for a full investigation of the facts.
Yet, Chairman Grassley made it his mission from the start to obscure details of Kavanaugh's nomination from the public, withholding 96% of the judge's records under the guise of confidentiality.
The attempt to rush Kavanaugh into a lifetime seat while hiding the truth about him has to stop, and it has to stop now.
Ford's story received a range of feedback from elected officials. Democrats are calling to delay Kavanaugh's committee confirmation vote until Dr. Ford is heard. Senators Flake and Graham said they wanted to hear more from Ford. Murkowski and Corker also expressed misgivings about allowing the vote to proceed without delay.
Republican Chairman Grassley of the Judiciary Committee released a statement essentially calling the account a Democratic political tactic to impede the nomination and touting the letter of support the committee organized from 65 of Kavanaugh's female high school contemporaries.
As of this morning, only 2 of those 65 women said they still stood by Kavanaugh.
Conservative news anchor Megyn Kelly laid out the defense that will doubtlessly be used by many Republicans: "It's been 34 years. He was allegedly 17 when it happened. How is he supposed to defend himself?"
It doesn't matter if the assault happened in high school. If you are credibly accused of sexual assault, you should be disqualified from a lifetime appointment to the Supreme Court of the United States.
Until Dr. Ford's brave testimony is publicly and fairly heard, we must delay the vote to confirm Brett Kavanaugh to the Supreme Court.
Stand up tonight. Speak out.
The positions of American Progress, and our policy experts, are independent, and the findings and conclusions presented are those of American Progress alone. A full list of supporters is available here. American Progress would like to acknowledge the many generous supporters who make our work possible.