Biden's Airport Infrastructure Upgrades Are Creating Jobs, Strengthening the Economy, and Improving Air Travel
Upgrades to U.S. airport infrastructure through the bipartisan infrastructure law are creating jobs, growing local economies, and improving traveler experience.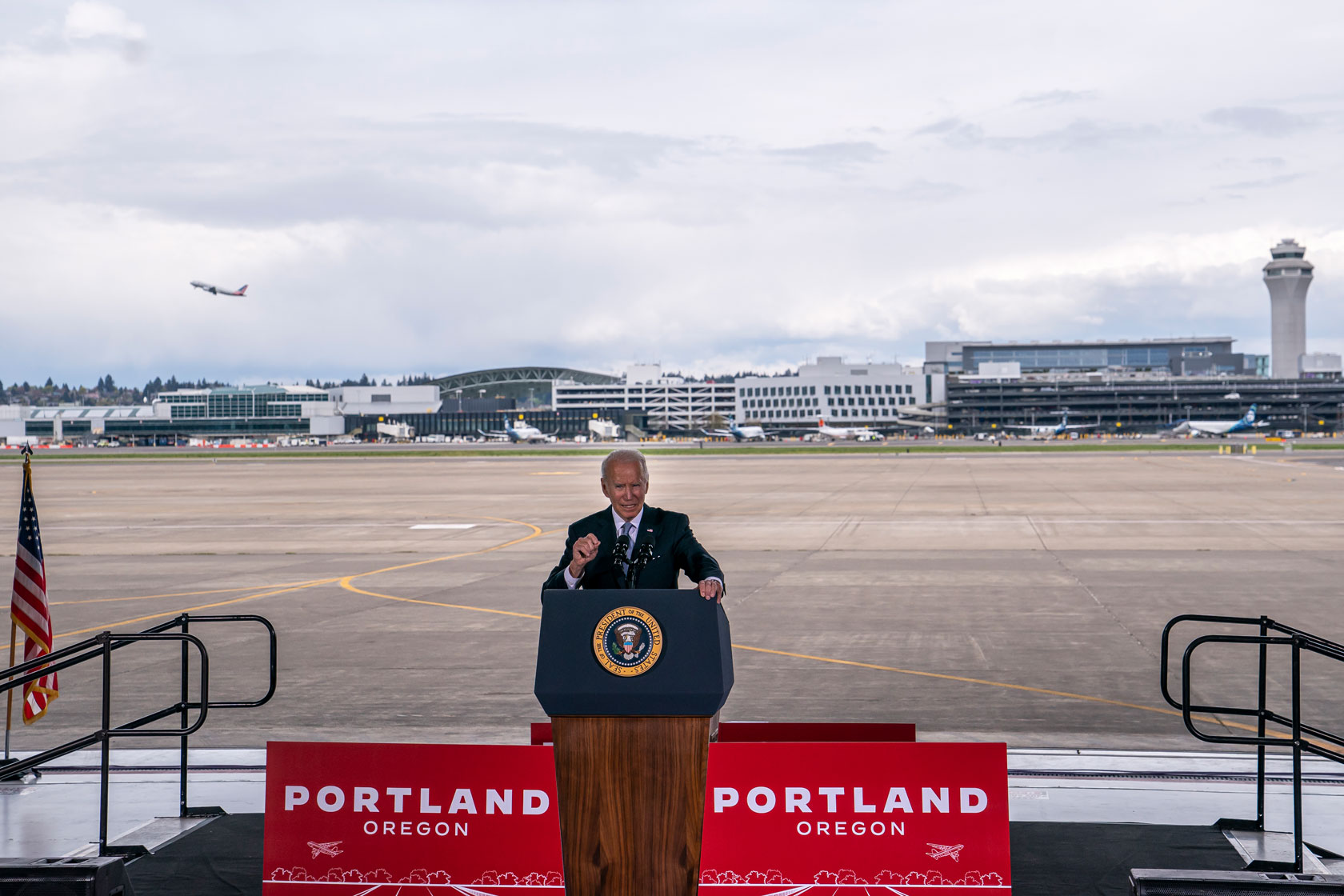 President Joe Biden's economic plans are building an economy that works for all Americans. This new CAP Action newsletter focuses on elevating trend stories on how the president's economic policies are growing the economy by investing in people and places all over the country.
For many U.S. cities, airports are the lifeblood of their local economies, supporting thousands of jobs, tourism, cargo logistics, and more. President Biden's bipartisan infrastructure law allotted $25 billion for infrastructure improvements to America's airports. Combined with the administration's efforts to rein in junk user fees—such as those imposed by airlines in order for families to be seated together—the air travel experience in America is looking brighter under President Biden's leadership.
Last week, the Federal Aviation Administration (FAA) announced $1 billion in grants to 99 airports across the country. This is the second round of competitive infrastructure funding awards announced by the FAA. The first round of funding, totaling approximately $1 billion, was awarded last year to 85 U.S. airports. Many of these funds are supporting projects that have already broken ground or have been allocated for imminent upgrades.
Here is a look at how some communities are already benefiting or will benefit from this airport funding:
North Carolina
In January, Asheville Regional Airport broke ground on construction of a new air traffic control tower that will enable a terminal expansion project, creating or supporting 4,500 jobs. Aviation Week reports that "construction has started on a new air traffic control tower at Asheville Regional Airport (AVL) in North Carolina, paving the way for the expansion of the airport's passenger terminal. … AVL and FAA broke ground Jan. 25 on the new tower, which is expected to be completed in 2025. … Funds allocated via U.S. infrastructure legislation passed in 2021 will pay for $15 million of the tower project's cost. … [T]he new … tower will sit across the runway … enabling the airport to demolish the old ATC tower and begin terminal expansion." In a March 3, 2023, phone interview between the Center for American Progress Action Fund and Tina Kinsey, vice president of marketing and public relations at Asheville Regional Airport, Kinsey shared that an economic and employment impact statement from Associated General Contractors of America estimated that the terminal expansion project will create and support approximately 4,500 jobs—including 2,500 construction jobs, 1,000 indirect (for example, engineering and supplier-related) jobs, and 1,000 jobs induced by the expansion's economic impact on the community.
Michigan
An express bus route from Detroit to the Detroit Metropolitan Wayne County Airport will reduce travel time to the airport by almost 60 percent. Detroit Public Radio reports: "The [Regional Transit Authority of Southeast Michigan (RTA)] is working on an express bus route that will run from downtown Detroit to Detroit Metro Airport. The goal is for the trip to take 25-35 minutes, much shorter than the 261 FAST bus operated by SMART that currently services the airport. The current route makes stops along Michigan Avenue and usually takes longer than an hour to reach the airport. … Money for the express bus project came from Carbon Reduction Program dollars funded by the Federal Bipartisan Infrastructure Law. The RTA hopes to launch the service by early next year."
This year, Detroit's airport (DTW) will replace 18 domestic and international bag carousels with infrastructure law funding, reducing travelers' wait time at baggage claim. In July 2022, Michigan Gov. Gretchen Whitmer (D) announced that the DTW would receive $49.6 million in funding for upgrades through the bipartisan infrastructure law. In a March 6, 2023, email to CAP Action, Erica Donerson, vice president of communications and external affairs at the Wayne County Airport Authority, shared: "A portion of the funds will be used to upgrade the Domestic and International Baggage Claim devices that were installed when the terminal opened in 2002. This project includes the replacement of 11 domestic and seven international bag carousels, along with new flight information screens. The Notice of Intent to Fund from the FAA stated DTW would receive $17.6 million for the baggage claim devices; however, [DTW] received favorable bids which reduced the amount to approximately $10.8 million. The contract has been awarded and the equipment is expected to be installed later this year. The improvements should reduce the repairs required to maintain the baggage handling system."
Additional passenger boarding bridges will boost the Grand Rapids airport's gate capacity by more than 50 percent. An $8.6 million grant to the airport will "support the addition of eight new passenger boarding bridges on its new state-of-the-art expanded Concourse A." The Grand Rapids airport said "these improvements will expand the airport's gate capacity by over 50 percent." Transportation Secretary Pete Buttigieg (D) also stated that it will improve accessibility by helping passengers "walk or roll more comfortably from their gate to their plane."
Arizona
A taxiway project breaking ground at Phoenix Sky Harbor International Airport this year will create 3,000 (predominantly union) jobs. The Arizona Republic reports that "the long waits to take off upon boarding a plane and getting off after landing could soon shorten. That's what the future of flying to and from Phoenix Sky Harbor International Airport could look like with a new taxiway, funded in part from the federal Bipartisan Infrastructure Law. … It's expected to improve the flow of aircraft once completed, enhancing the customer experience and possibly translating to current and future carriers expanding their flight capacity." Construction gets underway this year. According to Cronkite News, "U.S. infrastructure coordinator Mitch Landrieu said the project will create about 3,000 temporary jobs, many of which will be union carpenters, and that union workers hit 'every mark' that the infrastructure law requires." Fabian Sandez of the Carpenters Local 1912 affirmed, "This project will bring good paying jobs, wages and benefits to members and their families."
Pennsylvania
A Pittsburgh International Airport terminal modernization project partially funded by the bipartisan infrastructure law will create more than 14,000 jobs and generate $2.5 billion in economic activity. Blue Sky News reports: "Pittsburgh International Airport's new terminal program got a boost last week when federal officials announced a $3.5 million grant. This year's grant from the Bipartisan Infrastructure Law—signed by President Joe Biden in 2021—ups the federal commitment to the Terminal Modernization Program to a total of $23.5 million over two years. Last year, federal officials announced $20 million for the new terminal." In a March 7, 2023, email to CAP Action, Matthew Neistein, public affairs manager at the Allegheny County Airport Authority, said the project will benefit the community through "$2.5 billion in economic activity … [and]14,300 direct and indirect jobs … and [enhance travelers' experience through, among other ways, shorter] passenger walks, … wait, [and] … baggage delivery times."
Lehigh Valley International Airport infrastructure upgrades are creating or supporting 108 jobs, increasing Transportation Security Administration (TSA) screening capacity by 85 percent. The FAA announced that Lehigh Airport would receive $8.5 million in grants through the bipartisan infrastructure law from December 2021 through July 2022. In a March 7, 2023, email to CAP Action, Colin Riccobon, director of public and government relations at Lehigh-Northampton Airport Authority, said a "$35-million infrastructure investment" partially funded through the aforementioned grants will bring "a new TSA Checkpoint and Terminal Connector" online in 2023. The project "includes capacity for (4) TSA security checkpoint screening lanes, improved vertical circulation equipment (elevators and escalators), shorter walking distances with separation of arriving and departing passengers, and enhanced air purification systems. Since groundbreaking in 2021, the project has created approximately (100) temporary construction jobs and will add an additional (8) full-time positions for the Transportation Security Administration (TSA). … [T]he new TSA Checkpoint/Terminal Connector project will increase 300 passengers per hour with the existing (2) lanes to approximately 555 passengers per hour."
New Hampshire
An infrastructure grant will cover two-thirds of the cost of expanding the arrivals hall at Portsmouth International Airport, preventing travelers from having to wait outdoors in poor weather upon arrival. The Portsmouth Herald reports: "The Portsmouth International Airport at Pease has received a $7 million federal grant to help pay for the expansion and upgrade of its Arrivals Hall and baggage claims area. … At times right now, when there's a troop flight that comes around the same time as an Allegiant Airlines flight, it sometimes forces people to wait outside in the elements because there's simply not enough room in the arrivals/baggage area. … 'You potentially could have 300 servicemen and women coming in on a troop flight and roughly 200 more people on an Allegiant flight,' [Executive Director of the Pease Development Authority Paul] Brean said. … Brean stressed that the design work on the project is already complete, making it 'shovel ready' so work could begin as soon as this spring."
Wisconsin
This spring, the Appleton International Airport is beginning construction of a commercial aviation ramp that will support increased air traffic. In December 2021, the Appleton International Airport (AIA) was awarded a $3 million grant through the bipartisan infrastructure law. The AIA is utilizing this funding to update and expand its 25-year-old commercial aviation ramp. In a March 6, 2023, phone interview with CAP Action, Jesse Funk, air service and business development manager at the AIA, said construction of the upgraded aviation ramp begins this spring.
Georgia
Upgrades to Hartsfield-Jackson Atlanta International Airport's concourse D will support more than 500 jobs. Fox 5 Atlanta reports: "Major upgrades are coming to Hartsfield-Jackson Atlanta International Airport through the recently passed bipartisan infrastructure law. … The $40 million investment to Hartsfield-Jackson is designed to improve travelers' experience at the airport and make things run more efficiently. Specifically, the money will improve Concourse D – widening and modernizing the terminal, upgrading passenger experience with larger waiting areas and restrooms, improving ADA accessibility, and more. … The plan will support more than 500 construction jobs at the airport."
In the news
Social media spotlight
We capped insulin prices at $35 a month for millions of seniors with diabetes on Medicare.

Now, Eli Lilly lowered the price of insulin for everybody.

It's a big deal, and it's time for other manufacturers to follow.

— President Biden (@POTUS) March 5, 2023
All across America, factories are opening up to build semiconductor chips, electric vehicles, and advanced batteries to power those vehicles.

That means jobs. Good-paying jobs.

— President Biden (@POTUS) March 4, 2023
We're making sure the EV revolution creates good-paying manufacturing & construction jobs in the heart of America.

I'm meeting with construction workers today & looking forward to 5,000 new jobs here in Glendale, KY when the new Battery Park facility opens. pic.twitter.com/aKY5APNqT5

— Secretary Pete Buttigieg (@SecretaryPete) March 3, 2023
We need more batteries to power the future, and we will manufacture more in Colorado. We are excited to welcome Amprius to Colorado, bringing over 300 new good-paying jobs and joining Colorado's innovative and collaborative business community. pic.twitter.com/0cOs6IKRxj

— Governor Jared Polis (@GovofCO) March 7, 2023
The positions of American Progress, and our policy experts, are independent, and the findings and conclusions presented are those of American Progress alone. A full list of supporters is available here. American Progress would like to acknowledge the many generous supporters who make our work possible.