Biden's Policies Are Cutting Americans' Internet Expenses and Boosting Broadband Access
New laws are laying the groundwork to connect all Americans to affordable high-speed broadband.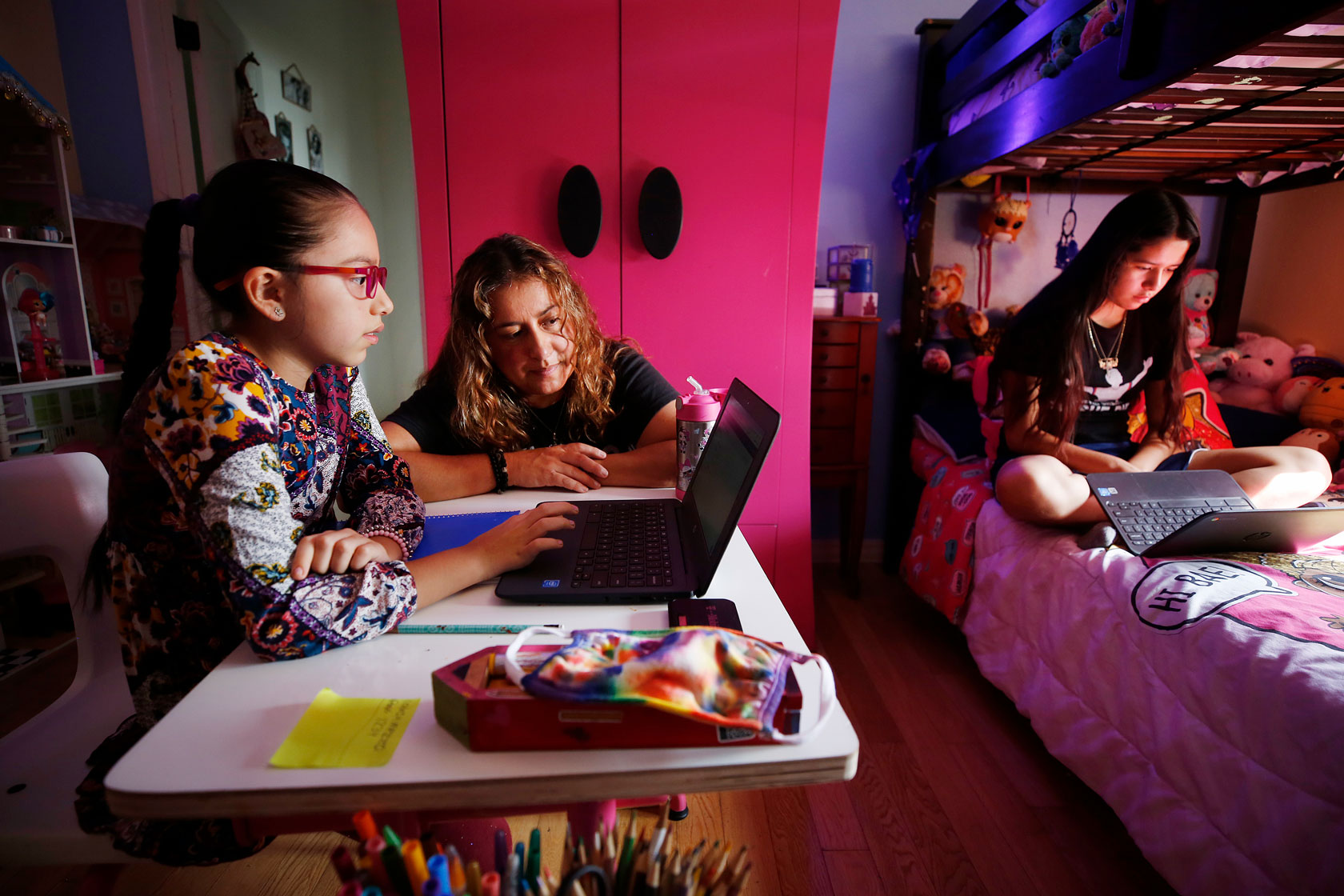 President Joe Biden's economic plans are building an economy that works for all Americans. This new CAP Action newsletter will be focused on elevating trend stories on how the president's economic policies are growing the economy by investing in people and places all over the country.
Lack of access to affordable and reliable high-speed internet has long been a challenge for rural and urban communities alike. But thanks to President Biden's economic accomplishments, millions of Americans are already saving hundreds of dollars per year on their internet bills while states lay the groundwork for unprecedented internet expansion projects. These efforts will grow the economy by boosting private sector investments by internet service providers; fighting inequities in internet access; and connecting workers, students, and patients to the services they need to fully participate in society.
Here is a look at how Americans are already benefiting from Biden's broadband expansion efforts.
Cutting Americans' monthly internet bills
President Biden's Infrastructure Investment and Jobs Act, also known as the bipartisan infrastructure law, created the Affordable Connectivity Program (ACP), which helps make internet access more affordable:
Offering Americans monthly internet discounts: The ACP provides Americans earning under 200 percent of the federal poverty level—among other qualifying individuals, such as Pell Grant, Supplemental Security Income, and Supplemental Nutrition Assistance Program (SNAP) recipients—a $30 monthly discount on their internet service. Additionally, qualifying Americans living in eligible Tribal communities can receive an even larger $75 monthly discount on their internet service. The Universal Service Administrative Co. finds that more than 16.3 million households have enrolled in the ACP as of February 20, 2023.
Boosting ACP enrollment: The strong enrollment numbers follow robust outreach and enrollment efforts led by state and local government officials and agencies; partnerships between organized labor and the private sector; and faith-based community partners, among others.
Encouraging internet providers to offer low-cost options: The ACP has spurred several internet service providers—including Verizon, Comcast, Google Fiber, Charter Communications, and Mediacom—to offer low-cost options that, when combined with the federal subsidy, are or will make internet service available to ACP beneficiaries for free or at little cost.
The program's success has yielded bipartisan support. Former Republican Federal Communications Commission Commissioner Michael O'Rielly said of the program, "ACP is our best solution to address broadband affordability so far. Its primary attribute … is that the benefit flows to the consumer." Meanwhile Josh Williams, Republican member of the Ohio House of Representatives, said the ACP is "designed to give consumers a choice on the service that makes sense for them or to switch providers. That should appeal to adherents of limited government and provides a model on how government can be a catalyst for economic growth and opportunity."
What Americans are saying
Kandie Guynn, an Indigenous Chickasaw mother of four living on Tribal land in Oklahoma, recently wrote in The Oklahoman: "My family was prepared to give up access to the internet in order to afford food and gas. Fortunately, because of the Affordable Connectivity Program, I didn't have to make that decision. Once I applied, my monthly bill went from $100 to $24."​​
Brittnay, a mother of two in Nevada, said, "I have two kids in school and almost all their assignments are online now, and half the time [they could]n't get on the internet. … I'm looking forward to this program [the ACP]. I definitely need it. We need it."
Boosting broadband access
President Biden's bipartisan infrastructure law and the American Rescue Plan are supporting several efforts to boost broadband access, including the Internet for All initiative, the Tribal Broadband Connectivity Program, ReConnect Program, and the Capital Projects Fund.
Funding the Internet for All initiative: Since August 2022, the National Telecommunications and Information Administration (NTIA) has distributed about $300 million in Internet for All planning grants to 49 states as well as Washington, D.C., and Puerto Rico. Another roughly $430 million in planning grants have been distributed to support Tribal communities and minority-serving institutions (MSIs) of higher education participating in the Internet for All program. These grants are helping states, localities, Tribes, and MSIs prepare to implement five-year plans to deploy high-speed broadband in every community across the country. These grants precede a June 30, 2023, deadline for the NTIA to announce Internet for All funding allocations, which states will use to effectuate their connectivity plans.
Increasing access in Tribal communities: While states will not receive their Internet for All funding allocations until this summer, more than 130 Tribal communities have already received nearly $1.73 billion for broadband expansion on Tribal lands. Passamaquoddy Pleasant Point in Maine was the latest community to receive funding—a $500,000 grant that will bring high-speed internet to the nearly 250 Tribal households and community centers within Passamaquoddy. Sen. Susan Collins (R-ME) echoed this monumental step toward expanding digital access in a statement with Sen. Angus King (I-ME): "[H]igh-speed Internet is absolutely essential to business development and job growth in rural areas, and it opens doors to new opportunities in telemedicine and education."
Boosting internet access in underserved communities: Last week, the U.S. Department of Agriculture's ReConnect Program—which funds construction, enhancements, and improvements to broadband infrastructure—announced a $63 million investment to bring high-speed internet access to thousands of families, businesses, schools, and farms across Minnesota, Illinois, Michigan, and Mississippi. Leveraging some of the $2 billion in resources for ReConnect provided by the bipartisan infrastructure law, this funding will ensure reliable access to high-speed broadband for nearly 8,500 people, 463 farms, and 176 businesses. Sen. Amy Klobuchar (D-MN), co-chair of the Senate Broadband Caucus, highlighted how this funding will benefit Minnesota: It will allow "thousands of families to access critical opportunities online while enabling farms to connect to new technologies such as precision agriculture." Separately, on Tuesday, the Treasury Department announced an "award of approximately $355 million to Arizona, Tennessee, and Wyoming to increase access to affordable, reliable high-speed internet to over 189,000 homes and businesses."
In the news
Social media spotlight
High-speed internet is a necessity, but too many families can't afford it.

President Biden created the Affordable Connectivity Program to help reduce this cost – and over 16 million households are already enrolled.

Sign up at https://t.co/rYeK5u6Ho7. pic.twitter.com/mcQOPavWFd

— The White House (@WhiteHouse) February 20, 2023
BIG NEWS: I just announced that @EMP_Shield plans to invest $1.9B in a computer chip production facility in Burlington that creates 1,200 good-paying jobs. pic.twitter.com/MlJH9LELAW

— Governor Laura Kelly (@GovLauraKelly) February 20, 2023
In the past year, we have:

✅Launched 3,700+ bridge repair projects
✅Begun repair of 69,000 miles of roadway
✅Awarded funds for 3,000+ clean buses
✅Expanded affordable high-speed internet to 16M+ households

All thanks to @POTUS' Bipartisan Infrastructure Law.

— Mitch Landrieu (@MitchLandrieu46) February 21, 2023
Our clean energy future isn't just about protecting our environment and incredible outdoors, it's about creating new, good-paying jobs that will help Coloradans support themselves and their families. pic.twitter.com/IKqu0hlG5i

— Governor Jared Polis (@GovofCO) February 13, 2023
Spread the word: thanks to the Inflation Reduction Act, seniors on Medicare can now get the shingles vaccine for free, saving over $100 on their shots. pic.twitter.com/D8jvMY5icc

— Rep. Colin Allred (@RepColinAllred) February 19, 2023
The positions of American Progress, and our policy experts, are independent, and the findings and conclusions presented are those of American Progress alone. A full list of supporters is available here. American Progress would like to acknowledge the many generous supporters who make our work possible.