Biden's Policies Are Lowering the Costs of and Expanding Access to Health Care
Recent legislative victories are making it easier for Americans to obtain health coverage, afford prescription drugs, and live healthier lives.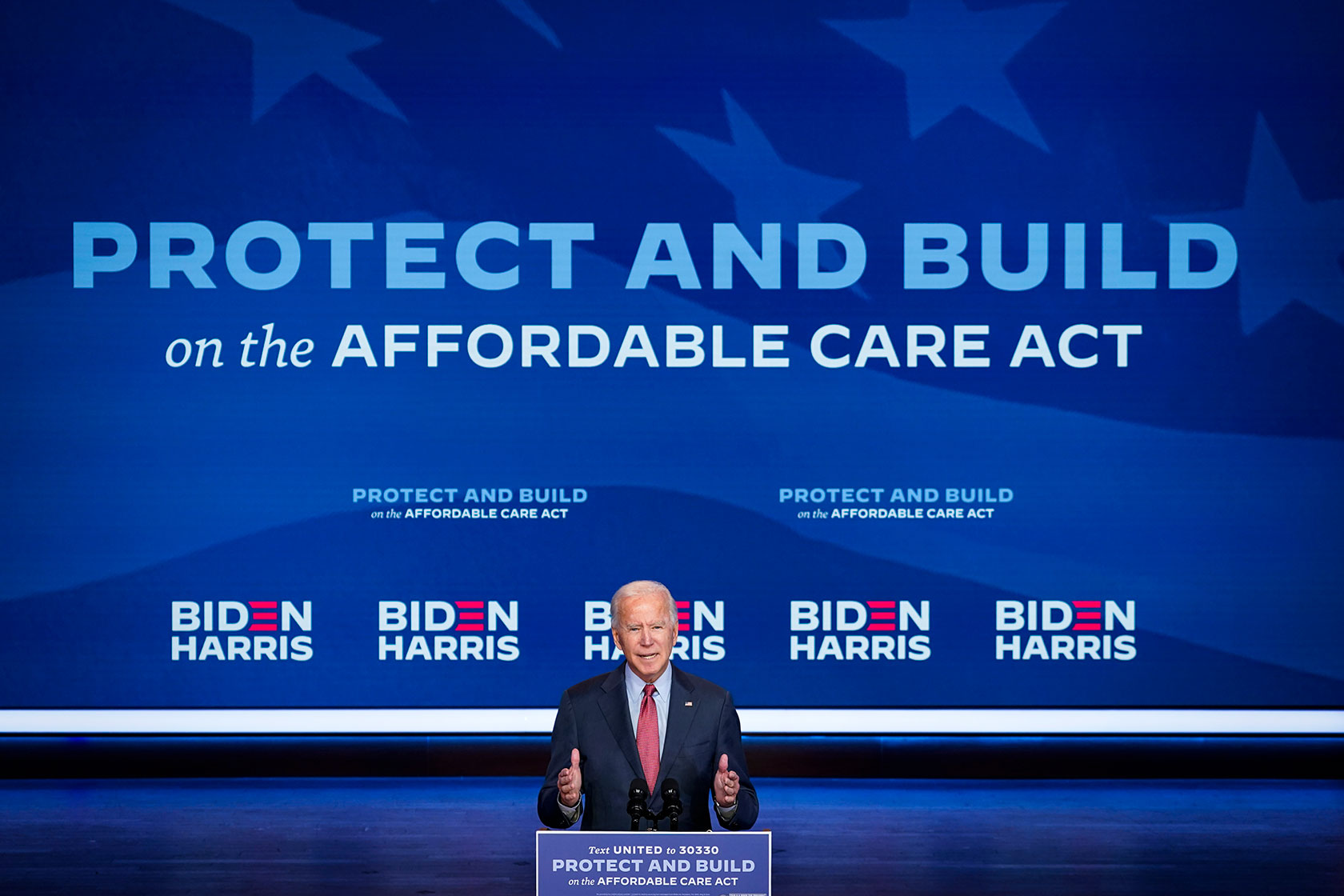 President Joe Biden's economic plans are building an economy that works for all Americans. This new CAP Action newsletter focuses on elevating trend stories on how the president's economic policies are growing the economy by investing in people and places all over the country.
The United States has made enormous strides in boosting health care access and affordability, as well as improving health outcomes, under President Biden's leadership. For example, the national uninsured rate reached a record low in 2022, and 8.2 million fewer Americans were struggling with medical debt in early 2022 compared with early 2020. None of these achievements were predestined; rather, they are the direct result of critical legislative victories that are improving Americans' health and financial security.
Here is a snapshot on how President Biden's policies are already bettering the lives of Americans across the country.
Expanding access to coverage and reducing medical debt
The Biden administration's policies are making health care coverage easier to afford and access, boosting families' health and financial security:
What Americans are saying about expanded health care coverage
Yamelisa Taveras
Allentown, Pennsylvania
CEO, Counseling Solutions of the Lehigh Valley
In an op-ed in The Morning Call, Taveras said:
The Biden administration … dedicated federal funds to ensure states can more feasibly, quickly transition mothers and guarantee a full year of postpartum coverage. … Now, new mothers will have continuous coverage and will be able to spend more time bonding with their new babies. I am grateful … for … this plan, which will save lives and would have prevented some of the problems I had during my first pregnancy.
Jazzmine Jacks
Phoenix, Arizona
Hairstylist and makeup artist; mother of a 2-year-old boy
In a quote submitted to CAP Action, Jacks said:
It's good to have Medicaid because a lot of people can't afford health care, but they should still be able to get care for themselves, especially Black woman who are going through things that others don't. It's good to have health care for mother and baby for a full year after because so many things happen. Pregnancy is unpredictable, and the ability to have coverage is important.
Lowering the cost of prescription drugs and vaccines
The Biden administration's policies are lowering the cost of needed health care, including insulin and vaccines:
What Americans are saying about prescription drug and vaccine savings
Robin Craycroft
Springfield, Missouri
Counselor; future retiree
In an HHS video, Craycroft said:
I have to have insulin to stay alive. When I heard about that $35 cap, I cried tears of joy. … That's life-changing for us. We can buy a house now, we can save money.
Read more about Robin's story here.
An anonymous reader of the Chicago Tribune submitted this quote to the publication's "Speak Out" series:
Recently, I went to a Walgreens in Elgin to get a long-delayed shingles vaccine. It was delayed so long because as a senior citizen on Social Security, the vaccine price was a hardship for me. But when I stepped up to the window to pay, I was surprised to learn it was free. Thanks to a bill that was passed by the Democrats last fall and signed into law by President Joe Biden, a number of vaccines are now free for senior citizens with Medicare Part D. I just wanted to thank them they have made a real difference in the lives of seniors like me.
Patricia Smith
Locust Grove, Virginia
In an op-ed in the Fredericksburg Free Lance-Star, Smith wrote:
I wish to thank Rep. Spanberger for her support of the Inflation Reduction Act and for her continuing support for lower health care costs. I recently received a shingles vaccine, and I am happy that this, and all my vaccines, have been free.
In the news
Bloomberg: "The billions of dollars of fiscal incentives baked into the [Inflation Reduction Act] mean the world's biggest energy and industrial companies now view the US as the most attractive place to build renewable, carbon capture, and hydrogen facilities. That's a problem for allies in Europe, Canada and elsewhere who are now playing catch-up to attract the capital for large-scale clean-energy projects."
Barrons: "President Joe Biden's policies appear to be having their desired effect. It should mean more jobs and cheaper electric vehicles for American[s] in the long run."
Reuters: "The blood thinner Eliquis from Bristol Myers Squibb, Pfizer's breast cancer drug Ibrance and AbbVie's leukemia treatment Imbruvica are likely to be among 10 big-selling medicines subject to U.S. price negotiations for 2026, according to five Wall Street and academic analyses shared with Reuters. Last year Congress passed the Inflation Reduction Act (IRA), giving the U.S. government power to start the first price negotiations over prescription drugs for its Medicare health program covering more than 60 million Americans, most over age 65."
Social media spotlight
We're building an America that leads the world again.

In manufacturing, infrastructure, clean energy, and more. pic.twitter.com/SIMuHZE60U

— President Biden (@POTUS) March 12, 2023
When you make your home more energy efficient, you can lower your utility bills AND get tax credits or rebates for doing it. Democrats in Congress and the Biden administration passed the Inflation Reduction Act to save consumers money, and building a clean energy future.

— Sen. Cory Booker (@SenBooker) March 7, 2023
Semiconductor chips were invented here in America, but we only produce about 10% of the world's supply. It's time to change that, and with the CHIPS Act, we're investing in American, and Texas chip manufacturing and bolstering our national security. https://t.co/0zyVFQKJVP

— Rep. Colin Allred (@RepColinAllred) March 7, 2023
I called on prescription drug companies to bring down the price of insulin to $35 for everyone on their own, and Eli Lilly did just that. pic.twitter.com/Nxut3lJnCl

— Joe Biden (@JoeBiden) March 4, 2023
We are connecting every household in America with affordable and accessible high-speed internet. pic.twitter.com/fyRdzGLepn

— Vice President Kamala Harris (@VP) March 9, 2023
The positions of American Progress, and our policy experts, are independent, and the findings and conclusions presented are those of American Progress alone. A full list of supporters is available here. American Progress would like to acknowledge the many generous supporters who make our work possible.