Biden's Policies Are Revitalizing Chip Manufacturing in America
New laws are incentivizing chip manufacturers to bring operations to the United States, creating tens of thousands of American jobs, boosting the use of made-in-America semiconductors, and spurring investments in workforce training and education programs.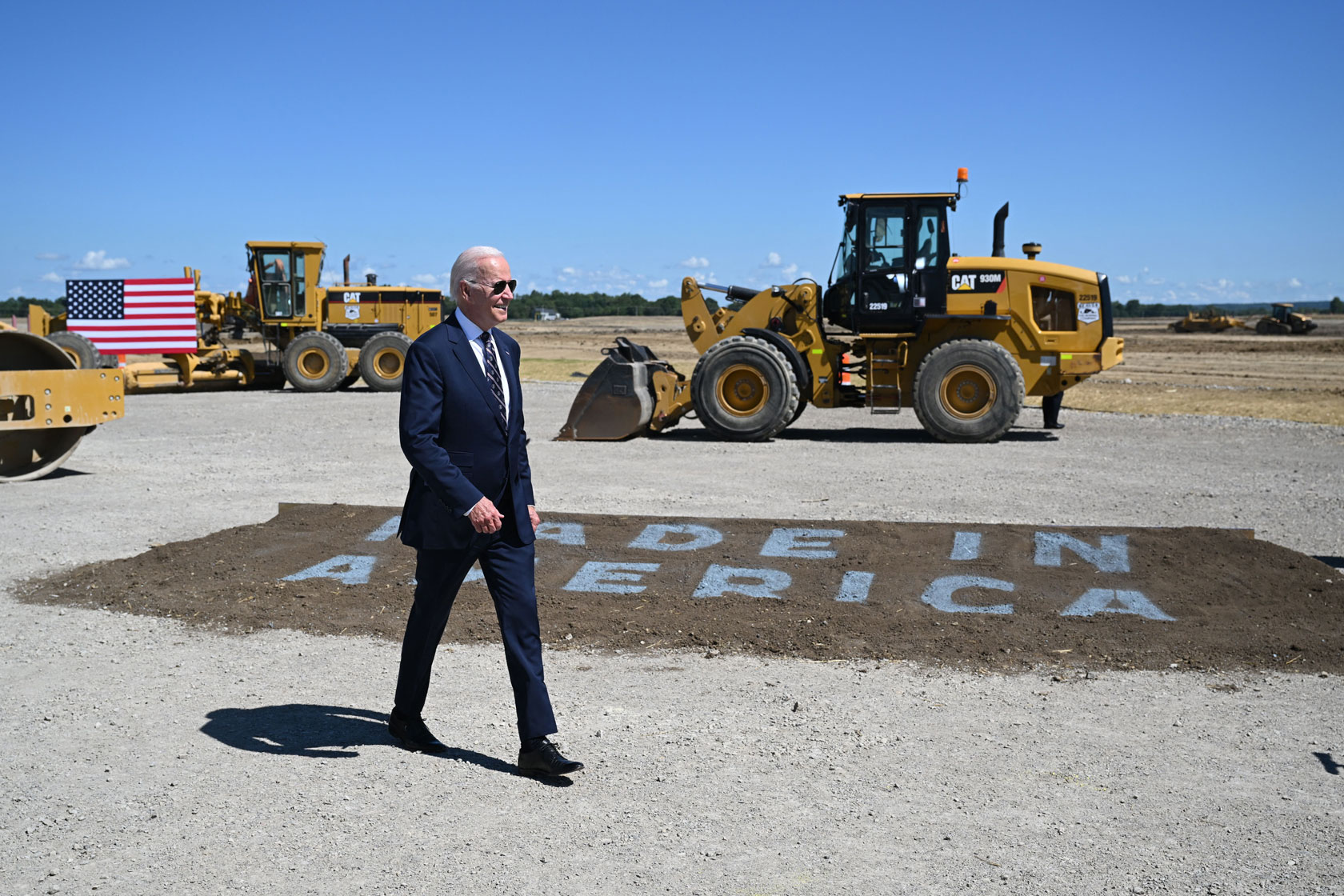 This article contains a correction.
President Joe Biden's economic plans are building an economy that works for all Americans. This new CAP Action newsletter will be focused on elevating trend stories on how the president's economic policies are growing the economy by investing in people and places all over the country. 
The COVID-19 pandemic underscored the vulnerability of the semiconductor supply chain and the risks it poses to the production of vital products such as cars, computers, home appliances, and other essential goods. To shore up the country's economic security, insulate Americans from price hikes caused by unforeseen global challenges, and create hundreds of thousands of well-paying jobs people can raise a family on, President Biden signed into law a new bill, the CHIPS and Science Act, supported by Democrats and Republicans in Congress that will make the United States a leader in semiconductor manufacturing. The investments that law has inspired—in semiconductor manufacturing, private sector commitments to use U.S.-made chips, and education and workforce training—are already transforming communities from coast to coast.
Here is a look at some of the communities and individuals already benefiting.
New York
In October, Micron announced a $100 billion investment to build the world's largest memory manufacturing facility in central New York. The company and state officials predict the historic investment, made possible by the CHIPS and Science Act, will create 50,000 well-paying jobs. According to Syracuse.com, David Anderson, president of NY CREATES, noted these "are positions available to people with a wide range of education levels – from PhDs to high school diplomas and everything in between." Micron CEO Sanjay Mehrotra said there "will be a spectrum of jobs — technical and non-technical jobs — including construction, support, service, and of course engineering, operators and technicians. … It's going to be a whole range of jobs, average wages over $100,000 for the Micron team members." But Micron is not alone in boosting chip manufacturing and innovation in the Empire State: GlobalFoundries' upstate New York manufacturing facility will benefit from a deal with QualComm to more than double its chip purchases—a more than $4 billion commitment—which will create thousands of jobs.
These transformative investments are incentivizing major American companies to boost their use of U.S.-made semiconductors. For instance, last month, General Motors Co. announced an exclusive partnership with GlobalFoundries to acquire all its U.S.-made semiconductors from the New York plant. General Motors said the deal "will help establish a strong, resilient supply of critical technology in the U.S."
To realize the full potential of these investments, Micron, New York state, and localities are investing $500 million to train the workforce of the future. The company is also partnering with local trades unions and other educational institutions to shore up workforce training and "help socially and economically disadvantaged individuals benefit" from these investments. An additional $9 million in federal funding provided through the CHIPS and Science Act and recent omnibus bill is supporting "the expansion of manufacturing programs, STEM education and workforce training."
Arizona
In December, Taiwan Semiconductor Manufacturing Co. (TSMC) announced a $40 billion investment to stand up two chip manufacturing factories in Maricopa County. The investments are expected to create "10,000 high-paying high-tech jobs, including 4,500 [permanent] direct TSMC jobs." The Phoenix Business Journal reports the project is also expected to create 21,000 construction jobs and 13,000 jobs for suppliers. But TSMC isn't the only semiconductor producer powering Arizona's manufacturing renaissance. Intel is expanding its plants in the suburbs of Arizona, committing to a $20 billion investment to build two new factories on its campus. According to Intel, the investment will bring upward of 3,000 permanent jobs, more than 3,000 construction jobs, and nearly 15,000 local long-term jobs.
Already, U.S. companies—including Apple, Tesla, and chip designers NVIDIA and AMD—have announced their intent to source these U.S.-made chips for mobile devices, laptops, self-driving technologies, and more.
By boosting workforce training and apprenticeship programs in Maricopa County, semiconductor manufacturers and educational institutions that are committed to making Arizona a hub of their U.S. operations are ensuring local residents can benefit from the surge in new jobs. Sen. Mark Kelly (D-AZ) helped Arizona State University (ASU) secure "grants for research and development and work force training" for Arizonans to ensure ASU students are at the forefront of semiconductor expansion in Arizona.* On top of this, ASU has already leveraged a workforce development grant to ensure its students have access to the training necessary for roles in the semiconductor industry with programs focused "on giving hands-on experience … to ASU students and those in the Maricopa Community Colleges." Similarly, Maricopa Community Colleges, in coordination with Intel, TSMC, and other semiconductor manufacturers, is working to develop a curriculum for any Arizonan who is looking to enter the semiconductor workforce and take advantage of one of the thousands of new job opportunities. Meanwhile, Chandler Gilbert Community College has developed a "'boot camp' style course … designed to train future semiconductor processing technicians" that includes 40 hours of training and takes two weeks to complete. So many Arizonans are eager to join the industry that the waitlist back in October 2022 contained upward of 1,300 people.
North Carolina
In September, Wolfspeed Inc. announced a $5 billion investment in Chatham County to build a manufacturing campus to produce silicon carbide materials, which are needed for a host of clean energy projects. This new manufacturing hub is projected to expand North Carolina's economy by $17.5 billion over the next 20 years. In addition to creating a booming semiconductor hub in the state, Wolfspeed is expected to bring more than 1,800 jobs with an average salary of $77,753—more than $35,000 higher than the county's current average salary. The high-paying jobs alone are expected to "increase the payroll by more than $140 million per year for the region." Roy Cooper (D-NC) said of the announcement: "Wolfspeed's decision further validates North Carolina as the epicenter of clean energy. … This is another milestone in our drive toward a clean energy economy."
But Wolfspeed isn't just investing in well-paying jobs; it's also partnering with the North Carolina Community College System to make sure North Carolinians have access to the workforce development and training for these jobs. Together, they will develop a program that provides "customized training through its network of community colleges to help fill [these] 1,800 jobs." The North Carolina Community College System's interim president, William Carver, spoke about the important investment of this workforce development partnership: "The North Carolina Community College System stands ready to assist all of the training partners to create the next world-class hub for silicon chip manufacturing."
Texas
Investments by Samsung, Texas Instruments (TI), and GlobiTech have put the Lone Star State on the map as a semiconductor manufacturing leader. Samsung has begun construction of a new chip manufacturing plant in Taylor, Texas, as part of its $17 billion investment that will create "2,000 direct jobs [and] at least 6,500 construction jobs." While the company anticipates it will begin producing chips in the back half of next year, Texas is already feeling the impact of this investment. Local NBC News affiliate KXAN reports: "Samsung's new chip manufacturing plant is still about a year away from its expected opening date, but the company is churning more than dirt in Taylor– it's also churning the economic engine in the surrounding area. 'We do benefit tremendously from the proximity,' said Robert Farley, economic development director for the City of Hutto, located just a few minutes west of Taylor.'" This project precedes what could be a massive additional investment by the company: "Samsung has submitted an application to the Texas comptroller that outlines a long-term plan to build up to 11 Texas chip-making plants in the coming decades. The plan calls for an investment of $192 billion. Plans call for nine of those plants to be constructed in Taylor and the other two in Austin."
At the north end of the state, TI has announced a $30 billion investment to build four manufacturing plants in Sherman, Texas. WFAA reports: "About 4,000 new jobs are set to be created with the TI expansion." Meanwhile, GlobiTech has announced a $5 billion investment to stand up a chip plant in Sherman. Axios reports the plant will create 1,500 jobs. In light of these announcements, and in a sign of how transformative these investments could be for the local economy, single-family-home permits in the surrounding towns of Anna and Van Alstyne were up significantly as of the middle of last year.
To ensure the chip manufacturers have the staffing they need, the University of Texas at Dallas is building programs to help students get the training they need. Thanks to the omnibus funding bill signed into law last year, the university has been granted $3 million to "provide infrastructure and curriculum for job training in collaboration with community college partners and area businesses" to bolster the semiconductor workforce.
Utah
Last month, TI also announced an $11 billion investment—the largest in Utah's history—to build a semiconductor manufacturing facility in Lehi, Utah, which will create and support more than 2,400 jobs, including 800 jobs directly with TI paying an average salary of $110,000. TI incoming president and CEO, Haviv Ilan, said: "With the anticipated growth of semiconductors in electronics, particularly in industrial and automotive, and the passage of the CHIPS and Science Act, there is no better time to further invest in our internal manufacturing capacity."
To ensure it has the workforce to support this new factory, TI said it will be "strengthening its partnership with the Alpine School District and will invest $9 million to improve student opportunities and outcomes."
Colorado
What Americans are saying 
Paul Yost
Portsmouth, Ohio
Engineering professor; chief technology officer and founder, Yost Labs
In a quote submitted to CAP Action, Yost said:
The CHIPS and Science Act will create thousands of jobs in the planning and construction of new projects. As a professor, I'm thrilled to see expanded funding for STEM education to develop a workforce who will be employed in the new factories. I'm hopeful my students will see more job opportunities and keep their entrepreneurial and innovative ideas here in Ohio and elsewhere within the United States.
Mike Knisley
Columbus, Ohio
Executive secretary-treasurer, Ohio State Building and Construction Trades Council
In an op-ed in the Plain Dealer, Knisley said:
Perhaps no single project exemplifies this economic potential more than the new Intel plants being constructed by our workers in New Albany, just outside of Columbus. The jobs coming from this project, which was made possible by President Biden's investments in domestic semiconductor manufacturing, will not just employ thousands of workers over the next four or five years; the effects will be multigenerational.
Social media spotlight
Today, I held a roundtable in Missoula about the potential for a Montana Tech Hub.

When we wrote the CHIPS Act, I made sure rural America had a seat at the table. Now, we have the chance to create jobs and reduce our reliance on other countries by investing in R&D here at home. pic.twitter.com/THo4Lzi8rA

— Senator Jon Tester (@SenatorTester) February 21, 2023
The U.S. used to produce almost 40% of the world's supply of microchips.

Now, that number is closer to 10%.

Our bipartisan CHIPS Act is going to change that.

— Senator Mark Kelly (@SenMarkKelly) February 17, 2023
Form Energy's manufacturing plant to be built in Weirton is truly a team effort made possible by bipartisan cooperation. And let me be clear, without the #InflationReductionAct that I wrote, today's announcement & the 750 #jobs that come with it would not be possible. https://t.co/gTJ3lbUjSr

— Senator Joe Manchin (@Sen_JoeManchin) February 24, 2023
We're building a charging network from coast to coast – and creating good-paying jobs while doing it. pic.twitter.com/v6Vp6n7G07

— President Biden (@POTUS) February 27, 2023
Our clean energy future is brought to you by @POTUS' clean energy laws. JOBS, JOBS, JOBS. ?? https://t.co/pPc0hVHoiD #AmericanMade

— Secretary Jennifer Granholm (@SecGranholm) February 27, 2023
Touring the site of what will be one of the biggest EV battery factories in the world – right here in De Soto, Kansas.@POTUS said he's bringing manufacturing jobs back to the US. Now, we're seeing that promise being delivered. pic.twitter.com/HiQjNUjUoh

— Secretary Pete Buttigieg (@SecretaryPete) February 27, 2023
* Correction, March 8, 2023: This article has been updated to clarify the nature of the funding Arizona State University received through the CHIPS and Science Act.
The positions of American Progress, and our policy experts, are independent, and the findings and conclusions presented are those of American Progress alone. A full list of supporters is available here. American Progress would like to acknowledge the many generous supporters who make our work possible.