Big banks are cashing in on the pandemic
This piece was originally published in the July 14, 2020 edition of CAP Action's daily newsletter, the Progress Report. Subscribe to the Progress Report here.
"Schools are not ready to open."
— Angela Skillings, an Arizona teacher who shared a classroom this summer with two colleagues, all of whom have since contracted coronavirus
Big banks have made up to $24 billion in fees off of Paycheck Protection Program (PPP) loans intended to keep small businesses afloat during the pandemic. That's more money than what small businesses in almost every state received.
Corporations are racking up a profit during this crisis while working families suffer.
Watch and share this video on Twitter and Facebook to get the facts out: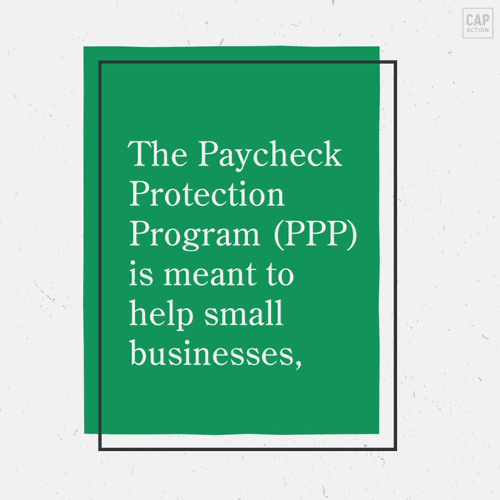 IN THE NEWS
Secretary of Education Betsy DeVos has spent the past few days ignoring public health experts and demanding that schools reopen for in-person classes this fall without any federal plan or additional funding to keep them safe. This comes amid alarming surges in coronavirus cases and deaths in multiple U.S. states. Some schools, however, are taking matters into their own hands. The San Diego and Los Angeles school districts, two of the largest in the country, have announced that classes will be held entirely online this fall.
Following intense pressure and a growing number of lawsuits from major universities, ICE walked back its plan to deport international students who attend U.S. colleges that are holding online-only classes this fall. The original plan was met with criticism from activists, educators, and public health experts, all of whom agreed that it would force students to make impossible choices that could jeopardize their safety and their education.
IN CASE YOU MISSED IT
The Supreme Court issued a 5–4 ruling early this morning to allow the Department of Justice to carry out its first federal execution in nearly two decades. The decision fell along ideological lines, with the five conservative-leaning justices rejecting the plaintiff's claim that the method of lethal injection used would constitute cruel and unusual punishment in violation of the Eighth Amendment. The plaintiff was executed shortly after the ruling was handed down. Since taking the lead at DOJ last year, Attorney General Bill Barr has directed the agency to resume use of the federal death penalty despite concerns over the types of drugs used to conduct executions.
According to a new report, in not a single state, county, or metropolitan area in the U.S. can someone earning minimum wage afford to rent a 2-bedroom apartment without spending more than 30% of their income. These numbers underline the already harsh reality of America's affordable housing crisis. But it's about to get even worse. The federal freeze on evictions expires at the end of July, and millions of renters are facing a bleak and uncertain future in the midst of a global public health crisis.
WHAT WE'RE READING (AND WATCHING)
Got 5 minutes? Tell your senators to pass the HEROES Act to make sure every American is able to vote safely. Then spread the word by sharing on Facebook and Twitter.
The positions of American Progress, and our policy experts, are independent, and the findings and conclusions presented are those of American Progress alone. A full list of supporters is available here. American Progress would like to acknowledge the many generous supporters who make our work possible.