Broken promises, racism, and national (in)security
It's another day in Trump's America—and another day to stand up for what's right. Get the facts to fight back.
Trump asked Native Americans, "What do you have to lose?"
The answer? Everything, because of Trump's broken promises that hurt every American.
Trump promised to protect health care for all Americans. His administration has broken that promise countless times with efforts to rip away health care in Congress and in the courts, putting quality, affordable care at risk for millions of families.
Native Americans around the country—including tribes like Amber's in Schurz, Nevada—are paying the price with their health.
Watch and share Amber's story on Facebook and Twitter to spread the word: Trump's broken promises have real consequences.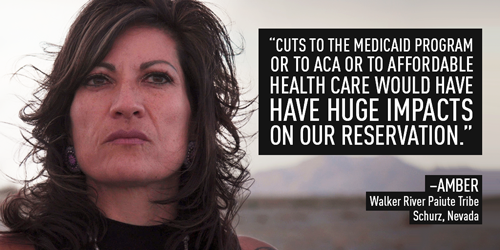 Trump skips being president, goes with racist tweets instead
Previous presidents made some effort to actually spend their days working for us, the American people. That's not Trump's cup of tea, so instead he's spent another several days completely fixated on racist tweets against Members of Congress:
Trump launched a vile attack on Rep. Elijah Cummings (D-MD), describing his Baltimore district as a "disgusting, rat and rodent infested mess." Trump's racism is rampant and his motives transparent: as Chair of the Oversight Committee, Cummings is one of the Democrats most aggressively investigating Trump's crimes. Watch CNN's Victor Blackwell's powerful response.
Trump conveniently failed to mention that his son-in-law, Jared Kushner, owns low-income housing projects in Baltimore that have racked up multiple violations for their horrendous conditions.
Many in the media strongly condemned the racist attacks, and The Baltimore Sun Editorial Board blasted Trump in a Saturday evening editorial: "We would tell the most dishonest man to ever occupy the Oval Office, the mocker of war heroes, the gleeful grabber of women's private parts…that he's still not fooling most Americans into believing he's even slightly competent in his current post. Or that he possesses a scintilla of integrity."
Dan Coats out as intelligence chief, to be replaced by a Trump enabler
Director of National Intelligence Dan Coats was one of the few officials to fact-check Trump's dangerous lies and warn the public of the serious threat Russia's attacks pose to our democracy. Most recently, the White House edited out Coats' harsh condemnation of Russia for their attempts to interfere in 2018. For his patriotism, he earned a frosty relationship with Trump and now, the loss of his job.
His replacement, Rep. John Ratcliffe (R-TX), is a partisan Trump apologist and an outspoken critic of the Mueller investigation. If confirmed, Ratcliffe will be the least qualified DNI since the office's inception.
At a time when Trump is actively inviting foreign governments to interfere in our elections, we need intelligence officials who stick to the facts and are willing to stand up to Trump's lies—not enable them. Ratcliffe is unfit to serve as director of national intelligence.
The positions of American Progress, and our policy experts, are independent, and the findings and conclusions presented are those of American Progress alone. A full list of supporters is available here. American Progress would like to acknowledge the many generous supporters who make our work possible.