Broken promises.
It's another day in Trump's America—and another day to stand up for what's right. Get the facts to fight back.
Andrea Mitchell was born with multiple pre-existing conditions.
First, they told her she wouldn't live past 18. Then 21. Because of health care, she defied the odds.
Her representative, Congressman John Faso (R, NY-19), promised Andrea, who stood before him with tears in her eyes, that he would never vote to rip health care away from New Yorkers like her. He lied.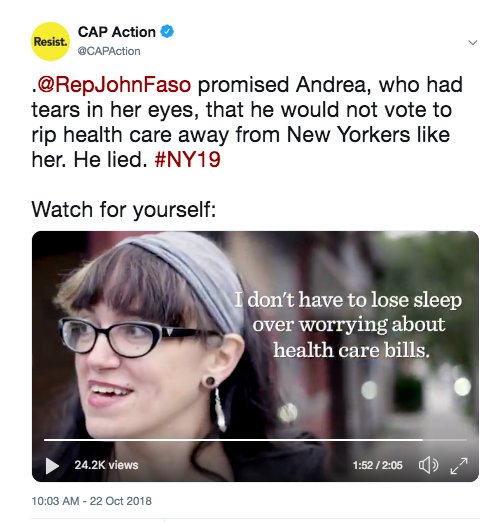 WON'T BE ERASED.
Yesterday's alarming New York Times report details the Trump administration's ongoing effort to "effectively erase the existence of transgender people under the law."
According to the report, a Department of Health and Human Services (HHS) memo penned last spring strongly suggests imposing a narrow definition of sex as a "biological, immutable condition determined by genitalia at birth" across federal policies. Per the Department's guidance, gender would be unchangeable and defined as either male or female unless "reliable genetic evidence" is presented as a rebuttal.
This is the latest in a long, determined line of attacks the Trump administration is waging on the transgender community. From the Department of Education memo rescinding Obama-era protections for students, to the transgender military ban, to the likely rollback of protections for transgender people in the ACA, this administration has made it clear: attacking the civil rights of transgender and gender nonconforming people is one of its core goals and they will ignore the law and science to achieve that agenda.
They won't get away with this heartless, targeted attack. Trans people #WontBeErased. Congress must act to pass The Equality Act and make clear once and for all that all LGBTQ people are protected under our nation's civil rights laws.
For more information on the way widespread discrimination continues to shape LGBT people's lives, explore this Center for American Progress report from May of 2017.
PROGRESSIVE SPOTLIGHT: DEBATE NIGHT IN FLORIDA
In last night's Florida gubernatorial debate, Mayor Andrew Gillum left us with words that bear repeating today:
"In Trump's America, we've been led to believe that we've got to step on our neighbor's shoulder, in their face, in their backs in order to get ahead. Well, I reject that…We deserve better. We want better. We want better schools, access to health care, a clean economy, a restorative justice system that works where…the community and law enforcement work together for all of our benefit."
The positions of American Progress, and our policy experts, are independent, and the findings and conclusions presented are those of American Progress alone. A full list of supporters is available here. American Progress would like to acknowledge the many generous supporters who make our work possible.