Brought to You by Biden: Infrastructure Law Continues Key Investments in Economic Development, Climate
Funding through the bipartisan infrastructure law continues to support critical investments in the economy and clean energy nationwide.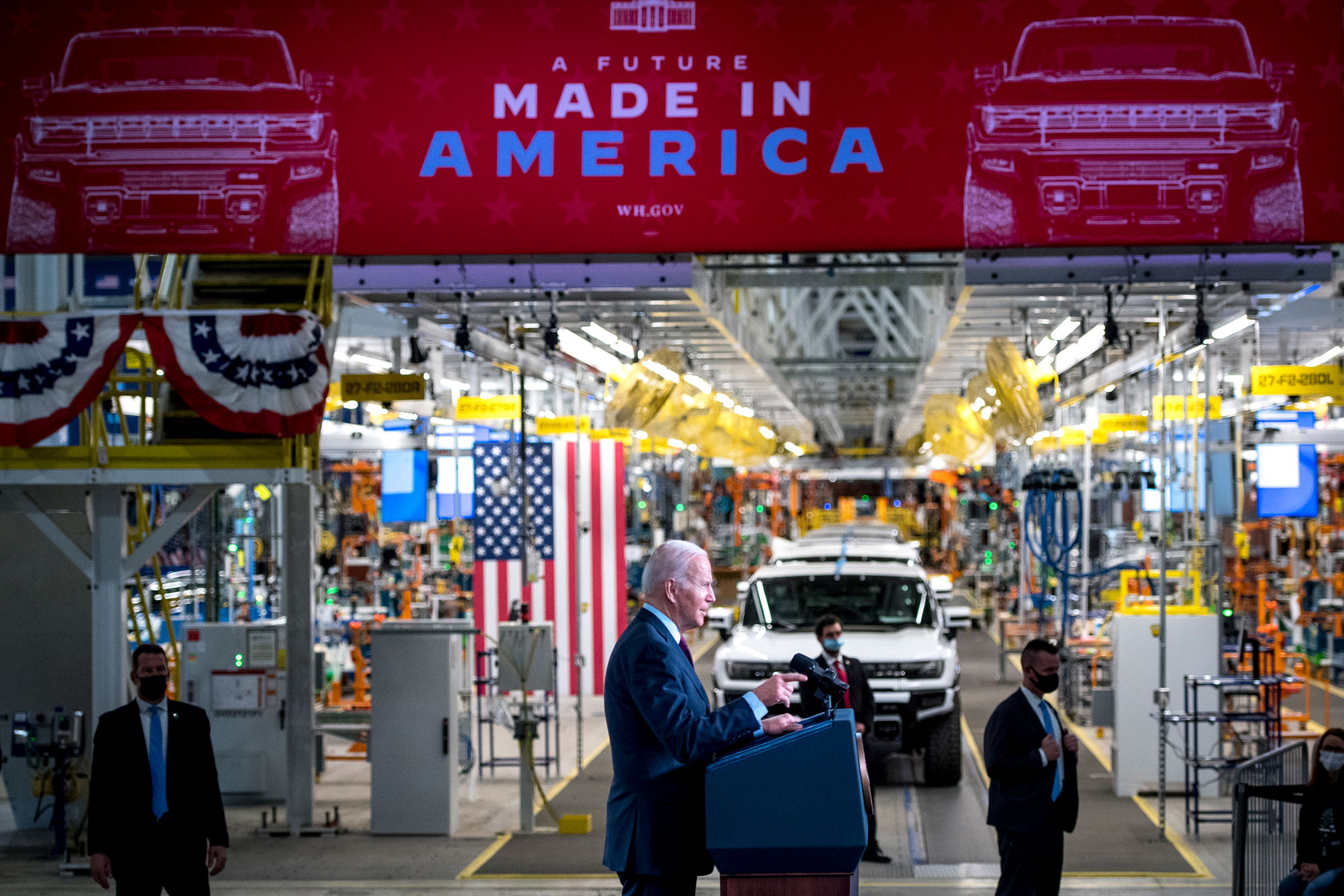 Federal funding made possible through President Joe Biden's Infrastructure Investment and Jobs Act, also known as the bipartisan infrastructure law, continues to make much-needed investments in communities across the country more than nine months after the law's passage.
This summer, the Biden administration announced and implemented numerous new critical federal investments in energy and economic development across the United States. From the biggest investment in affordable broadband to funding for retrofitting rural and urban communities that have historically experienced underinvestment with upgraded wastewater and electric grid systems, President Biden is making communities nationwide safer and more resilient against climate change.
See a roundup below of how the administration's funding is making possible community-changing investments in economic development, climate action, and infrastructure.
Economic development
$800 million for job training programs in industries such as broadband, construction, and clean energy
The "biggest internet investment in our nation's history" to bring high-speed plans at no or low costs to more than 19 million Americans who lack affordable internet access
$3.1 billion to alleviate the country's battery shortage by helping domestic manufacturers make more batteries in the United States
Climate action
Infrastructure
These investments come in addition to those already being made using funding from the American Rescue Plan (ARP). For example, in June, the U.S. Department of Housing and Urban Development announced that for the first time, it has been able to directly help unsheltered people experiencing homelessness secure subsidized housing through choice vouchers using leftover ARP funds. And with the passage of the Inflation Reduction Act, the administration is set to oversee even more investments in critical areas.
See examples of how Biden administration funding is benefiting state and local communities across the country below:
Arizona: "Phoenix-Mesa Gateway Airport receives $14+ million from Federal Gov," ABC 15, July 7, 2022
"Part of the $14.4 million awarded to Mesa will go toward constructing a new permanent terminal to replace the existing temporary terminal. Passenger traffic is expected to grow by more than 50% over the next 10 to 15 years."
Florida: "Biden Admin Invests $1.5 Billion Toward Everglades Restoration," NBC 6, July 21, 2022
"The River of Grass is getting an upgrade thanks to the Biden Administration's $1.5 billion investment in Everglades restoration, including $1.1 billion through the Bipartisan Infrastructure Law. 'It is the largest federal investment in our River of Grass restoration effort ever,' said Rep. Debbie Wasserman Schultz, D FL-23."
Georgia: "Georgia to receive $46 million from President Biden's bipartisan infrastructure law," Fox 31, July 29, 2022
 "In an ongoing effort to combat the effects of climate change and address the growing costs of extreme weather events negatively impacting communities, the U.S. Department of Transportation's Federal Highway Administration … today announced new guidance and $7.3 billion in formula funding to help states and communities better prepare for and respond to extreme weather events like wildfires, flooding, and extreme heat. This is a first-of-its-kind program, made possible by President Biden's Bipartisan Infrastructure Law."
Georgia: "Atlanta airport gets $40M from feds for Concourse D expansion," The Atlanta Journal Constitution, July 7, 2022
"Hartsfield-Jackson International Airport is getting $40 million from the federal government to widen Concourse D—one of the most crowded and cramped areas of the airport, as part of a round of grants to airports nationwide from the bipartisan infrastructure law."
 Iowa: "Major Iowa Road Plans Bolstered By Federal Infrastructure Law Approved," Iowa Starting Line, June 15, 2022
"A large part of the funding available for this program comes from the Infrastructure Investment and Jobs Act … signed by President Joe Biden in November 2021. According to the White House, Iowa will receive about $5 billion overall, with $3.4 billion for highways and $432 million for bridge replacement and repairs."
Kansas: "EPA loan to help cover costs of Johnson County wastewater treatment facility upgrades," KSHB 41, May 16, 2022
"The bipartisan infrastructure law approved earlier this year kept the WIFIA [Water Infrastructure Finance and Innovation Act] program alive. U.S. Representative Sharice Davids, who serves Johnson County in Washington, D.C., supported the law from its inception. She said modernizing infrastructure like wastewater treatment facilities benefits a community's health and economic development opportunities." 
Louisiana: "163 orphaned oil wells on federal lands in Louisiana to be cleaned up," KPLC, May 26, 2022
"The White House announced a $33 million investment through President Biden's infrastructure law that they say will create jobs cleaning up orphaned oil and gas wells across the country, including Louisiana."
Michigan: "Michigan businesses to get boost from $30 million Biden investment in railroad upgrades," The American Independent, June 2, 2022
"The administration said that up to $21.3 million will go toward the Great Lakes Central Railroad, the largest railroad in Michigan, spanning the state's central and northern regions. The Detroit News reported that the federal funds will be used to lay new rail, rehabilitate or replace bridges and culverts, and install 30,000 railroad ties. Another $8.4 million in federal funding is going to be allocated to the West Michigan Railroad Co., which operates in southwestern Michigan."
Michigan: "Michigan airports awarded funding to improve dated infrastructure," Click On Detroit, July 12, 2022
"The Whitmer Administration announced funding for three Michigan airports during U.S. Transportation Secretary Pete Buttigieg's visit to Grand Rapids. The three airports getting funding to update infrastructure include Bishop International Airport (FNT), Detroit Metropolitan Wayne County Airport (DTW) and Gerald R. Ford International Airport (GRR)."
New Hampshire: "166 infrastructure projects awarded billions in federal funding," The Washington Post, August 11, 2022
"The Berlin project will use wasted heat at a wood-burning power plant to dispense with snow and try to transform a community hit hard by the decline of the paper industry. The Burgess BioPower plant replaced part of a former pulp mill in the city. 'This is a game changer for Berlin,' Sen. Jeanne Shaheen (D-N.H.) said in a statement." 
New Jersey: "Bad Route 206 intersection is poster child for how $1T infrastructure law can help rural N.J," NJ.com, May 30, 2022
"'We're going to break ground in the next few weeks,' [Rep. Andy] Kim said at the nearby Pandora Diner afterward. 'I wanted to bring him out here to see it. This one example is the first in my district, a direct connection between what passed in Congress and what will be fixed in the community.'"
Nevada: "Infrastructure law funds Nevada sagebrush restoration projects," Nevada Current, June 20, 2022
 "Funding from the bipartisan Infrastructure Investment and Jobs Act signed into law last year will support 15 projects across the state, including a study on the impacts of mining exploration and development on sagebrush ecosystems."
Pennsylvania: "Three Pennsylvania airports receive $49M in federal funding," Transportation Today, July 11, 2022 
"The Airport Terminals Program, a federal grant program created by the Bipartisan Infrastructure Law, recently awarded three Pennsylvania airports $49 million."
Texas: "DFW Airport lands $35 million for new zero-carbon power plant," Dallas Morning News, July 7, 2022
"DFW International Airport will get $35 million from the federal government to cover some of the costs of a new zero-carbon power plant, part of an effort to cut the airport's greenhouse emissions and hit ambitious environmental goals. The $35 million grant from the U.S. Department of Transportation and the Federal Aviation Administration is part of the latest round of money coming to airports from the Bipartisan Infrastructure Bill passed in the fall."
Wisconsin: "Wisconsin will receive $79 million to replace lead pipes," WISN, July 13, 2022
"The city of Milwaukee is getting a boost to replace lead pipes in hopes of ensuring clean drinking water. A bipartisan infrastructure law is sending $79 million to Wisconsin. Known to be a health risk for decades, more than 40% of the homes in the city of Milwaukee still have lead water service lines. That's more than 66,000 citywide." 
Wisconsin: "$22.5 million infrastructure bill funds south-central Wisconsin transportation projects," NBC 15, July 15, 2022
"The Bipartisan Infrastructure Law is providing about $22.5 million for 25 projects across Wisconsin this year in areas with populations above 50,000, Gov. Tony Evers and the Wisconsin Department of Transportation announced Friday. This money will fund projects in two places in Rock County and two in Dane County, NBC15′s viewing area!"
Social media spotlight
Today, we're announcing $2.2 billion for transportation projects in all 50 states to:

✅ Strengthen supply chains

✅ Put passenger safety first

✅Expand bike & pedestrian access

That's @POTUS' Bipartisan Infrastructure Law at work. https://t.co/6ZLwoYF4wF

— Mitch Landrieu (@MitchLandrieu46) August 11, 2022
Today, we're proud to announce that the 22nd Street Project in Tucson, AZ will receive $25M in RAISE funding.

This is one of 160+ projects that we're funding through this program, with funds from the Bipartisan Infrastructure Law. pic.twitter.com/ppIwHHI8ug

— Secretary Pete Buttigieg (@SecretaryPete) August 11, 2022
.@POTUS has invested $20.5 billion in public transit through the Bipartisan Infrastructure Law.

This is the largest investment in public transit in American history – and will create more good jobs using American made products and reduce pollution.

— The White House (@WhiteHouse) June 16, 2022
In Grand Rapids to announce federal funding to help the airport add 8 passenger boarding bridges to accommodate more travelers in a growing region. It's one of 85 projects to improve air travelers' journeys nationwide, using @POTUS' Bipartisan Infrastructure Law. pic.twitter.com/Jw0cesTuWX

— Secretary Pete Buttigieg (@SecretaryPete) July 11, 2022
NEWS: Colorado will receive nearly $46M from the Bipartisan Infrastructure Law for transportation projects that will connect rural communities, reduce congestion & strengthen local economies.

This is the biggest investment in roads & bridges in generations — and it's delivering.

— Michael Bennet (@SenatorBennet) August 11, 2022
The project will improve bus bays and revitalize the station plaza and public spaces around Five Points — all part of @MARTAtransit's plans to upgrade the station.

Read more here:https://t.co/G18g1rZGFl

— Ossoff's Office (@SenOssoff) August 11, 2022
ICYMI: Yesterday, Mayor @RandallWoodfin and I welcomed @SecretaryPete to Birmingham to announce a new @USDOT program from the Bipartisan Infrastructure Law that will reconnect our communities and pave the way for more equitable economic development.

Listen in! ?? pic.twitter.com/KKPo92k5qa

— Rep. Terri A. Sewell (@RepTerriSewell) July 1, 2022
Great news for the Los Angeles International Airport (LAX) which is in my 43rd CD. Through the Bipartisan Infrastructure Law, the airport will receive $50 million to reconstruct and modernize its terminal roadway system, including reconfiguring the Central Terminal Area entrance. pic.twitter.com/aWSyNLv4EE

— Maxine Waters (@RepMaxineWaters) July 11, 2022
Spent the morning at the Steubenville Water Plant, talking about the investments we're making with the Bipartisan Infrastructure Law.

Safer drinking water, cleaner lakes and rivers, union jobs that can't be shipped overseas – this bill is doing a lot of good for Ohioans. pic.twitter.com/WAJUreW4iQ

— Sherrod Brown (@SenSherrodBrown) June 28, 2022
"The Bipartisan Infrastructure Law included the largest investment ever in public transit"

"It will make a difference—especially in so many communities that haven't had reliable transit"

—Chairman @SenSherrodBrown pic.twitter.com/q5IyaAnhYH

— Senate Democrats (@SenateDems) July 12, 2022
✅Upgrading passenger experience
✅Improving airport efficiency
✅Creating over 500 jobs

Sen. @ossoff today announcing upgrades are coming to @ATLairport Concourse D through the Bipartisan Infrastructure Law. pic.twitter.com/xlnqEHUb78

— Ossoff's Office (@SenOssoff) July 7, 2022
Excited to share that the bipartisan infrastructure law is contributing MAJOR new funding to lift downtown Merriam out of the floodplain & protect hundreds of homes and businesses from flooding.

Certainty, safety, and opportunity. That's what this means for our community. #KS03 pic.twitter.com/ZytMotEu8C

— Rep. Sharice Davids (@RepDavids) June 13, 2022
Resilient wastewater systems are critical so that we can fill our cups, brush our teeth, and cook our meals without a second thought.

With funding from the Bipartisan Infrastructure Law, West Virginia has $83 million dollars for water projects like this in 2022 alone. pic.twitter.com/JBRqcA0a18

— Michael Regan, U.S. EPA (@EPAMichaelRegan) June 6, 2022
The Bipartisan Infrastructure Law which I helped write and pass invests in Nevada's infrastructure, including over $100,000 in funding for the Beatty Airport.

I got to check it out in person and see just how the funding will be used to benefit the Silver State. #RosenRuralTour pic.twitter.com/rde48ggsHy

— Senator Jacky Rosen (@SenJackyRosen) June 29, 2022
It was so great to spend my morning with @SecretaryPete touring Lehigh Valley International Airport to learn how ABE's $5 million Bipartisan Infrastructure Law grant and the $600,000 I secured for the airport this year will enable more people to safely and conveniently travel. pic.twitter.com/rNuHIzc0YP

— Rep. Susan Wild (@RepSusanWild) August 2, 2022
The positions of American Progress, and our policy experts, are independent, and the findings and conclusions presented are those of American Progress alone. A full list of supporters is available here. American Progress would like to acknowledge the many generous supporters who make our work possible.
Author Zahir Rasheed
Former Research and Press Assistant