CAP Action Fund and Sen. Harry Reid join to advocate for energy independence
Sen. Harry Reid outlines Senate bill that would increase energy efficiency to make America energy independent and fight global warming.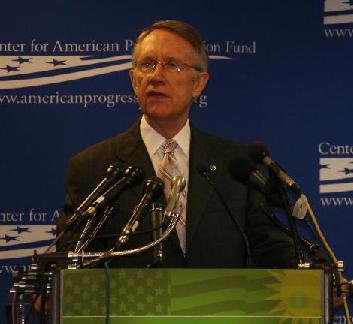 "Science has been ignored at the Federal level for too long, but that time is over," Senate Majority Leader Harry Reid (D-NV) told an audience today in a speech at the Center for American Progress Action Fund.
Reid came to the Center to advocate, along with the Action Fund, for a progressive energy agenda that would benefit families, increase energy independence, and reduce global warming. The agenda focuses particular attention on boosting investments in clean alternative energy technologies such as wind and solar power, spurring biofuels production, and encouraging auto companies to build hybrids in return for health care costs relief.
Sen. Reid spoke about America's need for energy independence, why achieving energy efficiency is so important, and how the bill currently under consideration by the Senate will pave the way toward a clean energy future. He also contrasted the aggressive strategy of Senate progressives with the indecisive tactics of President Bush, whose approach at the recent G8 summit towards basic energy reforms was to give it "serious consideration" but reject action.
Americans consume 21 million barrels of oil per day, Reid cited, explaining that this over-reliance on oil causes America to heavily finance oil-rich countries, many of whom pose a long-term risk to national security. "$300 billion (per year) found its way to people who seek to do us harm," said Sen. Reid. The senator also decried the rise in energy costs for middle-class families, asserting that "Big oil is digging deeper into our pockets."
Rising energy costs and well-financed global enemies combine with the threat of global warming to create a serious and urgent triple threat. "No reasonable person doubts that global warming is real, and humans are at least primarily responsible," said Sen. Reid. The Senator's statement is in agreement with a recent International Panel on Climate Change report that concludes emissions must peak no later than 2015 if irreversible damage is to be avoided. Many CAP proposals seek to address energy dependence and global warming by relying on efficiency, clean alternative energy technologies, cleaner cars and fuels, and a cap and reduce emissions program.
H.R. 6, crafted under bipartisan cooperation throughout the committee process would require cleaner cars and fuels, boost investments in efficiency, and spur innovation and job creation. Among the bill's major provisions is one that would set a new energy efficiency standard for federal buildings and vehicles. If passed, S.1419 would reduce American consumption of oil by a projected estimate of 4 million barrels per day.
When asked about the political challenges S.1419 faces, Sen. Reid responded by saying that he is "not worried about his (President Bush's) veto" as much as he it is worried about getting the bill through Congress." The Senate requires sixty votes to invoke cloture on the bill, ten of which would be cast by Republican members. Sen. Reid expressed optimism about getting these votes because of the bipartisan environment under which the bill was constructed.
The task of reaching energy independence and avoiding irreversible global warming is going to be solved with American ingenuity, a point that the Senator was quick to embrace. "Innovation is what Americans do best," said Reid. "If anyone doubts the ability of America to meet this challenge, they don't know America."
For more information about the event, see:
The positions of American Progress, and our policy experts, are independent, and the findings and conclusions presented are those of American Progress alone. A full list of supporters is available here. American Progress would like to acknowledge the many generous supporters who make our work possible.