Congress crushes Trump's "emergency."
It's another day in Trump's America—and another day to stand up for what's right. Get the facts to fight back.
In an extraordinary rebuke of Trump, bipartisan majorities in both the House and Senate voted to block his illegal national emergency declaration.
This is what democracy looks like. This is Congress putting a check on the president. This is how it's supposed to work.
Once again showcasing his contempt for the Constitution, Trump plans to veto the bill and move forward with his illegal plan to strip money from the military in order to build his wall. But Congress' bicameral and bipartisan rebuke could have serious implications for any court battles. Vox explains why.
The wall's entire premise is a flat-out lie. There is no emergency. The American people know it, Congress knows it, and Trump knows it, too.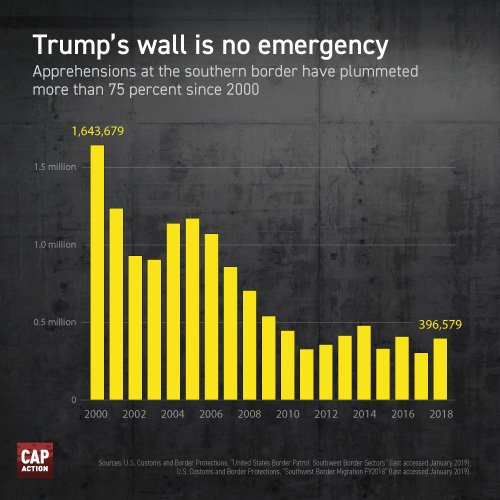 GOP HANDBOOK: 2 STEPS TO COURT-PACKING
Senate Republicans are Trump's biggest weapon in his fight to fill the courts with far right, anti-choice, anti-everything-progressives-care-about, elitist judges. Now, they want to take it a step further.
Senate Majority Leader Mitch McConnell is threatening to change the rules to further speed confirmation of Trump's lower court nominees with the explicit purpose of "leaving few vacancies for the next potential Democratic president."
McConnell's court-packing scheme will have decades-long consequences. Far-right federal judges will be the true legacy of the Trump-era GOP—not massive tax breaks for the wealthy or ripping health care away from vulnerable Americans.
By stealing a Supreme Court seat, by blocking Obama judges, by confirming a Supreme Court Justice credibly accused of sexual assault, and by now eliminating all constraints in order to jam through far-right ideologues, Senate Republicans have done serious damage to the federal judiciary.
It's two-step court-packing. And if we do nothing, it's going to have consequences for an entire generation.
THINKING CAP: WHAT SHOULD WE EXPECT FROM THE POLICE?
It's 2019, and we still can't answer a fundamental question: What should our society expect from our police officers and departments? A former Justice Department prosecutor, a journalist, an academic, and a police chief offered their personal insights into what policing should and shouldn't look like in this day and age, and how policing intersects with criminal justice reform and social support systems writ large.
This episode of Thinking CAP is a lightly edited version of their conversation. Listen here.
The positions of American Progress, and our policy experts, are independent, and the findings and conclusions presented are those of American Progress alone. A full list of supporters is available here. American Progress would like to acknowledge the many generous supporters who make our work possible.