Conservative Health Reform Proposals
New report shows how conservative proposals would leave Americans with pre-existing conditions struggling to find affordable insurance.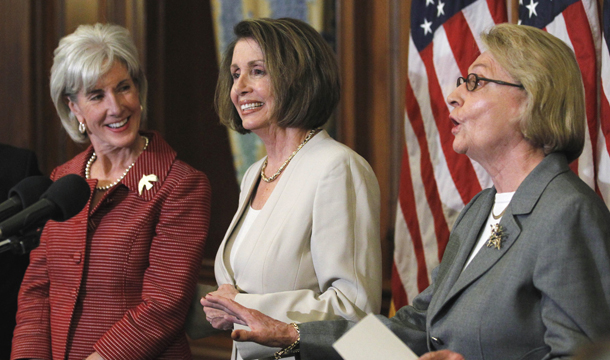 Read the full report (pdf)
Introduction
Most nonelderly Americans with private health insurance—nearly 162 million in 2006—get their insurance from an employer. A significant number of these Americans—56 million—have one of 12 pre-existing health conditions, including asthma, cancer, depression, diabetes, and hypertension, which put them at greater risk of facing financial difficulty, and even bankruptcy, because of medical bills.
Some conservative health reform proposals seek to change how most Americans get their health insurance. These proposals could ultimately place many of these 56 million Americans in danger of not getting the care that they need because of a lack of access to adequate health insurance.
Some of the most prominent conservative proposals include:
Providing a financial incentive for people to get health insurance coverage from a variety of other sources—namely, individual health insurers but also professional associations and religious organizations
Eliminating the income tax exclusion for contributions to job-based health
insurance and substituting a tax credit or tax deduction, regardless of the source
of health insurance
Allowing individual health insurers to operate across state lines without complying with the laws in the states in which they operate and without proposing a set of national standards with which they must comply
These conservative proposals do not include provisions that help people who have a pre-existing health condition access health insurance, afford those choices that are available to them, or ensure that their health insurance adequately covers their condition. Instead, the proposals methodically undermine existing provisions that help them do so. This paper discusses the implications of these proposed insurance reforms for people with conditions such as cancer, depression, diabetes, and heart disease.
The Health Insurance Portability and Accountability Act of 1996, or HIPAA, created a federal floor of protections in the dominant segment of the private health insurance market—the group, or employer-based, market—against certain forms of medical underwriting. Through medical underwriting, insurers determine how much of a risk an applicant poses by evaluating their medical history, current medical conditions, age, and other factors. As a result people with a medical condition or a medical history maybe prevented from getting the insurance they need. Insurers engage in medical underwriting principally because they are concerned about consumers waiting until they are sick to buy insurance (called adverse selection) and the health care costs associated with high users of health care.
Given that 10 percent of health care spenders represent 70 percent of health care spending, insurers seek to avoid insuring those who fall or are likely to fall into that category. As a result of medical underwriting, to the extent the law allows, an insurer will decide if it should decline to offer insurance, exclude coverage for certain medical conditions, or charge a premium that is higher than the standard rate. HIPAA blunted many of the harsh effects of medical underwriting, reflecting a national ethos that the role of private health insurance is not only to insure against a risk of loss but to facilitate access to health care.
This floor breaks down, however, under conservative proposals that focus on individual coverage and make significant changes to insurance market regulation. Ostensibly, employer-sponsored health plans will still be held to the HIPAA standard. Employees will still benefit from these protections, unless they buy insurance through an individual health insurer, a professional association, or a church. The latter choices—encouraged by these proposals to replace employerbased coverage as the dominant players in the private health insurance market— will not have an obligation to insure any of the greater number of people that will come to them with federal tax credit in hand for health insurance coverage. Instead, they could be subject to even fewer restrictions than apply to them now.
This prospect would put people with existing conditions in serious jeopardy. By removing the practical ability of states to enact laws that temper the sharp edge of medical underwriting, individual health insurers and professional associations will be able to limit their risks to younger and healthier persons. Some older, less healthy people will be left out.
Those who can obtain coverage in the individual health insurance market may find themselves with insurance that does not adequately cover their health care needs and places them in a precarious financial position. Plans sponsored by employers will be at a competitive disadvantage resulting in the loss of job-based coverage for Americans whose employers drop coverage. And states, which have been struggling with this issue for decades, will be left with an even tougher challenge than currently exists. Their efforts to cover the uninsured will be hampered by restrictions on the regulatory tools they will have available to them. The resulting uninsured population is likely to consist of more people who are sicker, and therefore will likely be even more expensive to cover than it is presently. As a result, the states' means to cover the low-income and the uninsurable, namely Medicaid and high-risk pools, will be further burdened. A lack of sufficient funding to address these issues only means a more substantial financial burden for those who require the most health care services.
Read the full report (pdf)
The positions of American Progress, and our policy experts, are independent, and the findings and conclusions presented are those of American Progress alone. A full list of supporters is available here. American Progress would like to acknowledge the many generous supporters who make our work possible.