Contempt for the rule of law
It's another day in Trump's America—and another day to stand up for what's right. Get the facts to fight back.
"It is our constitutional duty to respond."
House Democrats sent a clear message to Trump and his allies today: If Republicans in Congress won't hold you accountable, we will.
This morning, Democrats on the House Judiciary Committee started the process to hold Attorney General William Barr in contempt of Congress for his refusal to release the unredacted Mueller report and underlying materials, despite a congressional subpoena. This is just the latest in a string of actions by the Administration asserting that Trump is above the law.
Share Rep. Nadler's words to spread the message: The rule of law is at stake. Congress must do everything they can to protect it.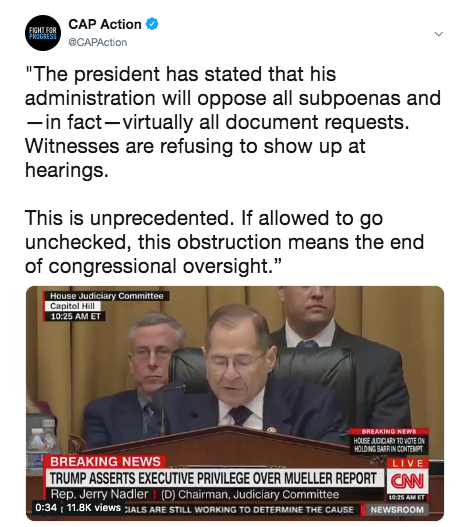 Trump and his allies are obstructing the release of other important information, too:
Treasury Secretary Mnuchin is blatantly breaking the law by refusing to release Trump's tax returns, despite Congress's legal right to demand them.
New reporting shows that, between 1985 and 1994, Trump lost more money than any other individual American taxpayer (more than $1 BILLION) and paid zero federal taxes for 8 of those years. Trump's "defense" is that he was just manipulating his finances to game the tax system. No wonder he doesn't want us to see what's in his recent returns.
Addressing Trump's most harmful legacy
Conservatives, led in the Senate by Majority Leader McConnell, are using the Trump presidency to jam-pack the courts with extreme, partisan jurists—judges whose views endanger millions of Americans.
The packing of the federal judiciary is Trump's quietest and perhaps his most harmful legacy. The threat it poses to reproductive rights, voting rights, election outcomes, workers' rights, and future generations can't be ignored.
Progressives must respond to this power grab and fix structural problems in our judiciary. The Center for American Progress is trying to bring this conversation to the forefront. Read CAP's new report detailing proposals to reform our courts and combat the court-packing crisis.