Correction, Senator Burr, sir.
It's another day in Trump's America—and another day to stand up for what's right. Get the facts to fight back.
There is already clear evidence suggesting that the Trump campaign colluded with Russia during the 2016 election. So why did Senate Intelligence Chairman Richard Burr (R-NC) mislead the American people when he recently said that "we don't have anything that would suggest there was collusion by the Trump campaign and Russia"?
Maybe the senator is confused. We can help him out. Here are 5 clear examples of collusion, as identified by the Moscow Project: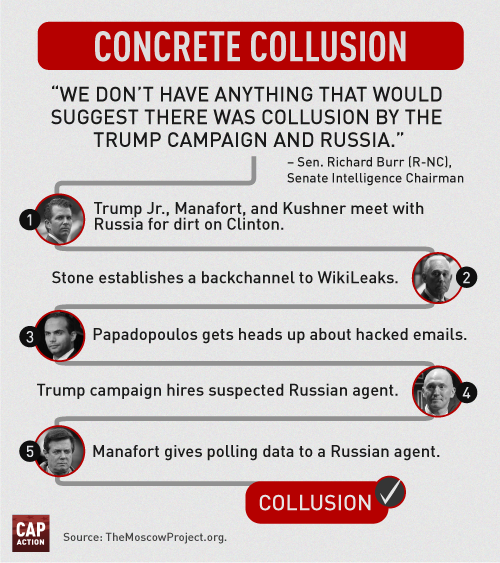 BIG PROGRESSIVE IDEA: EXPAND SOCIAL SECURITY.
On February 18th, the last of the nation's millionaire earners will stop contributing to Social Security for the entire year, even though 94% of Americans contribute all year long.
Why? Here's the deal:
Currently, America's highest earners catch a break thanks to the payroll tax cap of $132,900. Rich Americans don't have to pay Social Security payroll taxes on any dollar earned over $132,900.
In contrast, 94% of American workers contribute the 12.4% payroll tax to Social Security all year long.
As an increasing share of income goes to millionaire and billionaire earners, it means less funding goes to Social Security—because so much income is above the cap. As a result, Social Security's trust funds have lost $1.4 trillion since 1983, the last time the program saw major changes.
If Trump's claims about his 2016 income are true, he stopped paying into Social Security that year just 40 minutes into January 1st.
Lifting the payroll tax cap would not only require the richest Americans to contribute their fair share, but would also allow Social Security benefits to be expanded at a time when many families struggle to save for retirement and pensions are increasingly a thing of the past.
That's why Senate Democrats just introduced the Social Security Expansion Act, which would "subject any income above $250,000 to the existing 12.4% Social Security payroll tax." The bill, which is also being introduced in the House, would also increase Social Security benefits, "with low-income seniors receiving a boost of nearly $1,300 a year."
The American public overwhelmingly favors expansion of this vital program. Meanwhile, President Trump—who ran on a promise not to cut Social Security—has called for a whopping $72 billion in cuts to the program in his fiscal year 2019 budget.
THE GOP'S CORPORATE JUDGE FACTORY.
Senate Republicans have been Trump's rubber stamps in his crusade to stack the courts with Trumpian, conservative judges. Now, they want to help him ram nominees through even faster.
Next to tax cuts for the wealthy, judges who will automatically side with corporations instead of the people are the best way that Republicans can rig the government and the economy for their wealthy donors.
A new GOP proposal would limit debate time on Trump's district court judicial nominees from 30 hours to as little as 2 hours. These are lifetime appointments, and Republicans want to end a thorough vetting process because they know that Trump's nominees have overwhelmingly alarming records on civil and human rights issues. Now, they want to turn up the speed on the assembly line so that their nominations can't even be fully inspected.
See a full statement from the Center for American Progress here.
The positions of American Progress, and our policy experts, are independent, and the findings and conclusions presented are those of American Progress alone. A full list of supporters is available here. American Progress would like to acknowledge the many generous supporters who make our work possible.