Other countries protect people from gun violence
It's another day in Trump's America—and another day to stand up for what's right. Get the facts to fight back.
So why don't we?

For every one million people in the United States, 112 are killed by guns. In France, that number is 24. In Germany, 10. The UK: 2. Japan: 0.
All of these countries have video games. All of them have people living with mental illness. Only our country has a gun violence epidemic, because only our country has gun laws so lax that you can buy weapons of war at the department store.
Trump and Senate Majority Leader Mitch McConnell could do something about it today, but they won't—not unless we make it clear that they don't have a choice. Our lives are worth more than NRA blood money.
Enough is enough. Share this graphic on Facebook and Twitter to spread the word: This is a uniquely American problem, and it's time for the Republican-led Senate to act.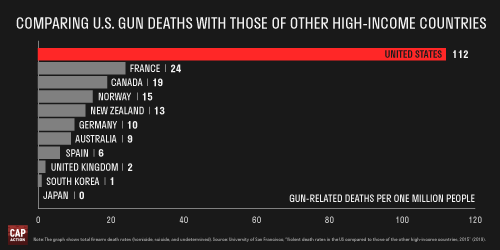 The gun murder rate in the U.S. is 25 times higher than in other high-income nations. As the Center for American Progress pointed out, "every other developed nation in the world does a better job of protecting its people from gun violence." Here are a few steps Congress could take right now to make our country safer:
Universal background checks: H.R. 8 and H.R. 1112: The House already passed two bills to reduce gun violence. One would mandate universal background checks (which 97% of Americans support) and the other would close a dangerous loophole that enables people prohibited from owning guns to purchase them before a background check is completed. They're simply waiting for a vote in the Senate, which McConnell refuses to hold.
Ban assault weapons and high-capacity magazines: Weapons of war have no place in our communities. It's long past time to ban assault weapons and high-capacity magazines. And don't buy Republican lawmakers' argument that Americans don't support this. Even 55% of Republican voters are comfortable with banning assault weapons.
Extreme risk protection orders, sometimes called "red flag laws," are a good step to reduce gun violence, especially suicides. They allow family members or law enforcement to file petitions to "temporarily remove firearms from a person who poses an imminent risk of harm to themself or others." But don't let Republicans like Lindsey Graham fool you; these protection orders aren't nearly enough on their own.
Read more on six key ways to reduce gun violence in America from CAP's gun violence prevention team.