COVID has now wiped out the equivalent of many major U.S. cities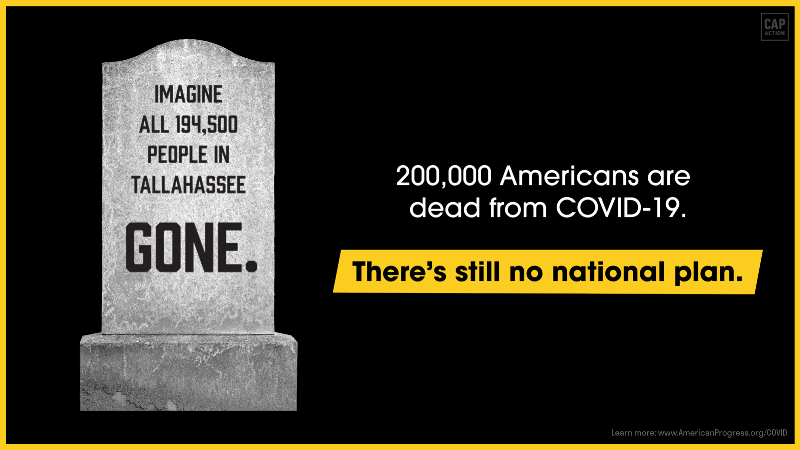 This piece was originally published in the September 18, 2020 edition of CAP Action's daily newsletter, the Progress Report. Subscribe to the Progress Report here.
25
The number of lies Trump told at his rally last night
Nearly 200,000 Americans have died from the coronavirus. That's more than the populations of 670 individual major U.S. cities.
Trump's chaos has a deadly price.
Share this graphic on Facebook and Twitter to get the facts out: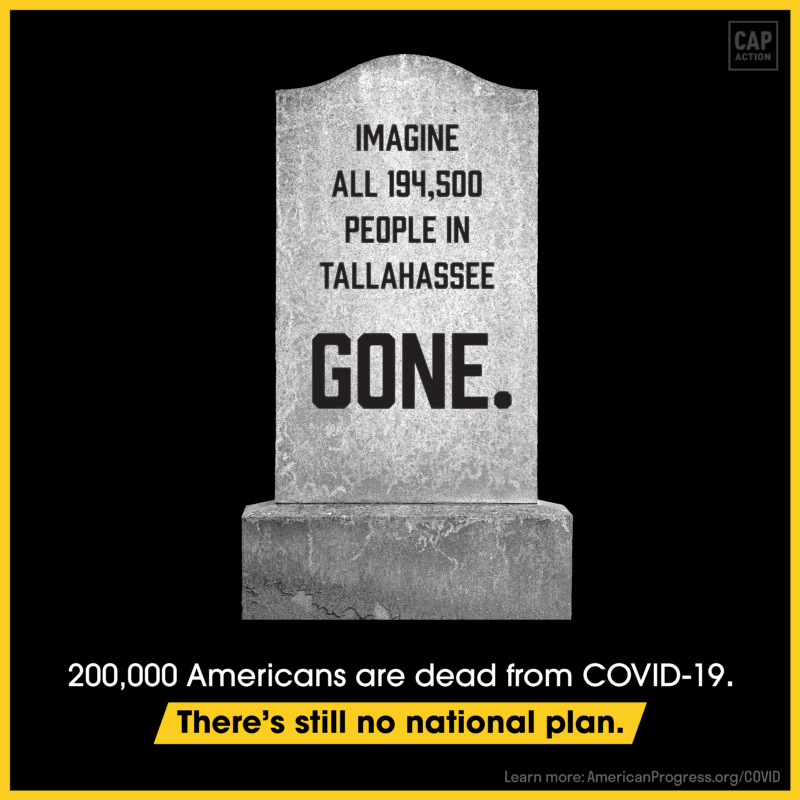 IN THE NEWS
Trump announced that he plans to sign an executive order to support "patriotic education" through the creation of a new initiative he's calling the "1776 Commission." In reality, this "commission" sounds a lot more like government propaganda than patriotism. "Our youth will be taught to love America with all of their heart and all of their souls," Trump said in his announcement last night. He also doubled down on his attack of racial awareness education, baselessly accusing schools of teaching "hateful lies" and calling anti-racism teachings "child abuse."
This new commission is obviously targeted at The 1619 Project, a Pulitzer Prize-winning initiative spearheaded by journalist Nikole Hannah-Jones (@nhannahjones) that focuses on correcting the record on racism in America and highlighting the true history and contributions of Black Americans. Once again, Trump and his allies are blatantly pushing white supremacist propaganda into school curriculums under the guise of "loving America." As Hannah-Jones wrote in a tweet last night, one headline said it all: Trump downplays legacy of slavery in appeal to white voters.
An Associated Press review of medical records confirmed recent allegations that women at a Georgia ICE facility were subjected to hysterectomies without their consent and without medical justification. Earlier this week, a former nurse at the facility spoke out in a complaint to the agency's Inspector General about how she witnessed immigrant women detained at the center — many with a language barrier — undergo procedures which they never sought or didn't fully understand.
IN CASE YOU MISSED IT
Trump is stopping by North Carolina tomorrow for another campaign rally as the pandemic continues to kill hundreds of Americans every day. His administration's botched handling of the pandemic — and its lies to the American people about the danger it posed — have led to the deaths of more than 197,000 Americans, including more than 3,100 North Carolinians.
Today is National Black Voter Day! Organized by a coalition of civil rights organizations, today's inaugural National Black Voter Day aims to protect the Black vote amid widespread attempts at voter suppression that are often targeted at Black communities. The fight for voting rights has never been more important. Just this week, we learned that Trump-appointed commissioners are halting the release of an extensive report on voter suppression and recommendations to combat it.
The Trump-appointed National Labor Relations Board banned bargaining over COVID-19 worker safety issues. This gives employees almost no control over their safety in the workplace, and they can even be fired for speaking out about hazardous conditions.
WHAT WE'RE READING
Like the Progress Report? Our team relies on the support of grassroots progressives like you. Chip in $5 or whatever you can to power our work.
The positions of American Progress, and our policy experts, are independent, and the findings and conclusions presented are those of American Progress alone. A full list of supporters is available here. American Progress would like to acknowledge the many generous supporters who make our work possible.