Cracks in the GOP firewall
It's another day in Trump's America—and another day to stand up for what's right. Get the facts to fight back.
Republicans waver on impeachment as public support grows
As public support for impeachment increases, cracks are beginning to show in the GOP's firewall.
After Trump's acting chief of staff Mick Mulvaney confirmed (though later tried to retract) Trump's impeachable misconduct last week, former Ohio Republican Governor John Kasich came out in support of impeachment: "Do I think impeachment should move forward and go for a full examination and a trial in the Senate? My vote would be yes…It's what my conscience tells me."
Kasich is the first prominent Republican to publicly support holding Trump accountable for his impeachable abuses of power.
Share this video to spread the word: It's time for more Republicans to show this courage.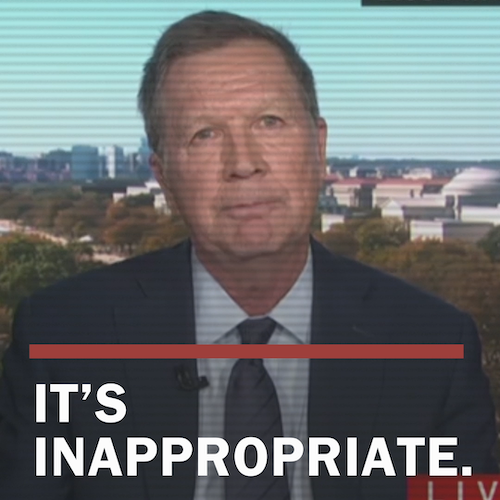 Several other Republicans also broke ranks over the past few days, condemning Trump's actions and indicating their support of an impeachment investigation:
Sen. Mitt Romney (R-UT): "We certainly can't have presidents asking foreign countries to provide something of political value. That is, after all, against the law."
Rep. Francis Rooney (R-FL): "Let the facts speak…I want to get the facts and do the right thing, because I'm going to be looking at my children a lot longer than I'm looking to anybody in this building."
Former Rep. Charlie Dent (R-PA): "Foreign assistance…is condition based. But the conditions are never that you're going to investigate…your own political opponent. You can't do that."
The Trump administration still thinks it's above the law
This morning, the acting director of the Office of Management and Budget, Russ Vought, announced that he and another OMB employee, Michael Duffey, will refuse congressional requests to testify in the House's impeachment inquiry. Vought also defied a congressional subpoena last week (which may be, lest anyone forget, illegal). It's clear that Trump and his political allies think they're above the law.
Why are Trump's political appointees at OMB refusing to cooperate? Because Trump's decision to illegitimately hold up military aid to Ukraine created a paper trail at OMB and elsewhere. Congress has a right to question OMB officials in regards to Trump's impeachable offenses—and obstruction from Trump's staff won't stop them.
Learn more from CAP Action's Sam Berger here.
The positions of American Progress, and our policy experts, are independent, and the findings and conclusions presented are those of American Progress alone. A full list of supporters is available here. American Progress would like to acknowledge the many generous supporters who make our work possible.