Enough of the culture of corruption.
It's another day in Trump's America—and another day to stand up for what's right. Get the facts to fight back.
For two years, Trump, his cronies in Congress, and his Cabinet have infected every level of government.
See how it started.
See who is in on it.
See how it grew.
It's time to finally put a check on the culture of corruption.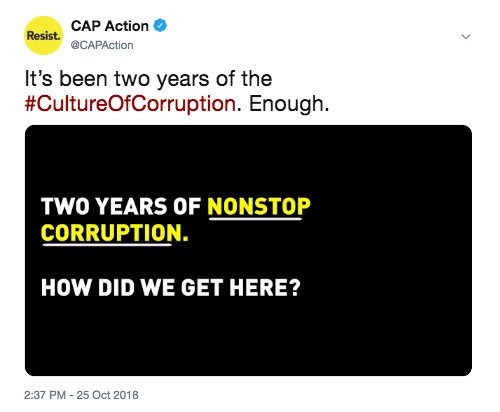 THEIR LATEST EFFORT TO HIDE THE TRUTH.
Republicans are actively trying to sabotage protections for pre-existing conditions. Remember that.
In the courts and in Congress—despite the lies they spew on the campaign trail—Republicans are ceaselessly attacking American healthcare.
Today, in a transparent attempt to mislead American voters less than two weeks before an election centered around health care, President Trump unveiled a new plan to lower drug costs.
If you're skeptical, you're not alone. Trump and congressional Republicans have consistently sabotaged the very policies that keep health care affordable and protections for pre-existing conditions in place—why would anyone believe they would stop now?
As Rachel Maddow reminded us this week, "Don't listen to what they say. Watch what they do."
Click here for a list of the multiple times House Republicans have voted to fully repeal the ACA and overturn protections for people with pre-existing conditions.
"WITHOUT HEALTH CARE, MY HUSBAND WOULD HAVE DIED."
Lea knew from the beginning that she wanted to make a life with her husband. When he was diagnosed with brain cancer—which his insurance designated as a pre-existing condition—their world turned upside down.
Because of the ACA, there is now no lifetime cap on her husband's coverage. They don't have to wonder if they'll be able to afford the lifesaving medical care he needs.
Lea's representative is Peter Roskam (R, IL-06). He voted to rip health care away from 710,200 Illinoisans. Illinois deserves better.
THINKING CAP: A MUELLER INVESTIGATION REFRESHER
Former U.S. attorney Joyce Vance knows a thing or two about this country's legal institutions. Vance joins Ed and Daniella to talk a range of topics, from the efficiency of special counsel Robert Mueller and his investigation into the Trump campaign's ties to Russia, to the influence and legacy of U.S. Attorney General Jeff Sessions. Vance also shares her thoughts on what to expect from Mueller's investigation in the coming weeks and how much of the final report—if any—the public will get to see. Listen to the episode here.
The positions of American Progress, and our policy experts, are independent, and the findings and conclusions presented are those of American Progress alone. A full list of supporters is available here. American Progress would like to acknowledge the many generous supporters who make our work possible.