Faith Groups Join to Halve Poverty in 10 Years
Katie Wright reports on Fighting Poverty with Faith, an ongoing interfaith initiative to fight poverty and help those suffering from its effects.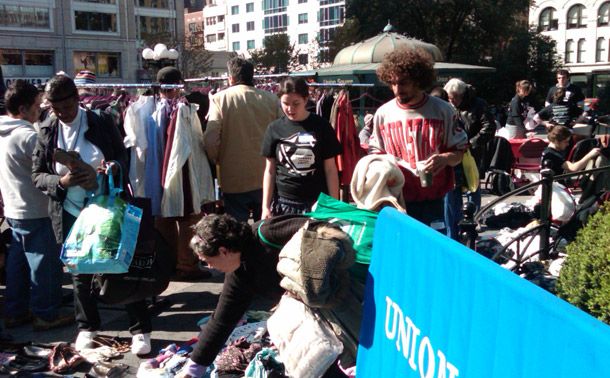 There are 43.6 million Americans and 15.5 million children living in poverty today. These are crisis-level numbers and bringing them down will take communities coming together and committing to reducing poverty nationwide. It's a welcome sign, then, that communities across the country are responding to this urgent call to action by ramping up their efforts to reduce poverty. State, local, and national organizations representing a diverse array of advocacy areas—including child well-being, homelessness, people of faith, and the business community—have joined in support of the Half in Ten campaign's antipoverty advocacy efforts.
In a parallel effort, three faith-based organizations—the Jewish Council for Public Affairs, Catholic Charities USA, and the National Council of Churches in Christ—are spearheading Fighting Poverty with Faith, a faith-centered mobilization to cut poverty in half by 2020. The initiative is now in its third year. It's a month-long effort that challenges faith-based groups across the country to raise awareness about poverty and its solutions. This year's policy focus is on protecting the social safety net and human needs programs, promoting effective job-creation strategies, and taking action in one's own community.
"We have learned over the years that it is not enough to set aside time to volunteer at soup kitchens and food banks to help those living in poverty," said Dr. Conrad Giles and Rabbi Steve Gutow, the chair and president of the Jewish Council for Public Affairs, respectively. "After providing temporary relief, we return to our daily lives, but the nation's most vulnerable are still faced with the same challenges they had before. Fighting Poverty with Faith highlights our responsibility to our neighbors in need and encourages our nation's leaders to address poverty issues head-on, providing lasting relief for those who need it the most."
It's not surprising that faith organizations are some of Half in Ten's strongest allies in the fight to cut poverty in half in 10 years. The responsibility to care for the poor permeates the sacred texts of many religions, including Christianity, Judaism, and Islam. Antipoverty advocacy gives faith organizations the opportunity to embody the values of their traditions and remind the world that poverty is an issue that affects all people. Shared faith and the community it fosters bridges persistent and divisive income and political barriers, and it has the power to unite Americans from all walks of life.
More than 51 national organizations endorse Fighting Poverty with Faith's goal to cut poverty in half in 10 years as of October 2010, making this the largest number of supporting partners in Fighting Poverty with Faith's history. Many of those groups take their endorsement even further by hosting and organizing events, placing opinion editorials in local papers, or building a commitment to reduce poverty into their strategic plans.
One of the initiative's most successful events was an interfaith homeless resource fair sponsored by Columbia University and New York University Hillels and Yeshiva University. Student volunteers provided blankets and food to nearly 100 homeless participants and heard stories of individuals struggling with homelessness over shared lunches.
Fair organizers are now compiling the homelessness stories into a document that will be sent to elected officials in New York to raise the issue of homelessness and poverty in the state. News of the successful fair spread in student newspapers and heightened volunteer interest in poverty issues.
Ilana Hostyk, president of the Social Justice Society at Yeshiva University, explains how the interfaith homeless resource fair furthers the movement to reduce poverty and homelessness:
It is very easy for New York City residents to walk past, step over and generally ignore the countless numbers of homeless people in our midst. Unfortunately, looking the other way and pretending not to see a homeless individual does not make the problems related to homelessness go away. By humanizing the homeless community's plight and telling their stories to our families, friends, neighbors and elected officials, we can inspire real reform and help these individuals find sustainable options for food and shelter.
The Detroit Jewish Community Relations Council and the Council of Islamic Organizations of Michigan demonstrate another innovative, interfaith approach to the Fighting Poverty with Faith challenge. Muslim and Jewish health care professionals will offer free health screenings to low-income workers in Detroit as part of an interfaith health fair on November 7. The screenings will target low-income workers without insurance who do not qualify for government-provided or other no- or low-cost health care programs. The health fair represents a unique approach to fighting poverty and aptly demonstrates an understanding of the interconnectedness of poverty and health outcomes.
Individuals wishing to participate in a more spiritual way will be interested to know that faith leaders from the three coordinating Fighting Poverty with Faith partner organizations developed an interfaith prayer emphasizing the great need for concerned people of faith to come together and help those searching meaningful work. Those looking to participate in Fighting Poverty with Faith mobilization can find a calendar of local and national events as well as key policy and religious poverty resources on the Fighting Poverty with Faith web site.
The 2010 Fighting Poverty with Faith initiative officially concludes on November 22 with a convening of faith leaders and elected and administration officials in Washington, D.C. This event ends the month's programming, but the initiative's coordinating partners and national groups like Half in Ten undoubtedly will continue work with the faith community in the fight to cut poverty in half in 10 years and advocate for some of the nation's most vulnerable families and children.
Katie Wright is a Special Assistant to the Half in Ten Campaign at the Center for American Progress Action Fund.
The positions of American Progress, and our policy experts, are independent, and the findings and conclusions presented are those of American Progress alone. A full list of supporters is available here. American Progress would like to acknowledge the many generous supporters who make our work possible.
Authors Katie Wright
Policy Analyst