Five Facts on the Trump Economy
Today, the Bureau of Labor Statistics' "Jobs Day" released showed that job growth continued to slow, with an average of approximately 165,000 jobs added monthly this year compared to roughly 223,000 in 2018. Monthly job growth in the 30 months since Trump took office has averaged about 191,000 — slower than the monthly average of 220,000 under the final 30 months of Obama's term. Disappointingly, wage growth also appears to be tapering off, with real median wages rising only 0.56% since the beginning of the year.
Moreover, there is reason to believe that the economic recovery Trump inherited is starting to show signs of weakness. Moreover, the Trump administration's tax cuts — which directed billions of dollars to multinational corporations and the ultra-wealthy — are providing few tangible benefits for low- and middle-income workers.
Share this jobs chart on Facebook and Twitter to show how job growth is down 15% under Trump.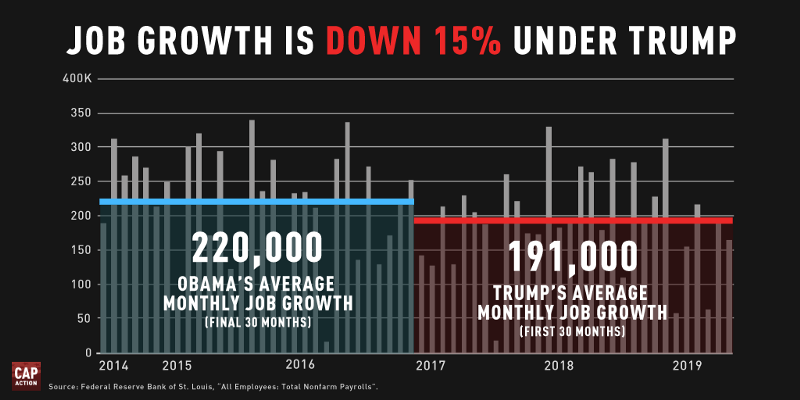 FIVE FACTS ON THE TRUMP ECONOMY
The Midwest manufacturing sector dipped into contraction territory, with the Chicago Purchasing Management index — a barometer for business activity — falling for the second consecutive month. Nearly simultaneously, the Trump administration announced plans to impose 10% tariffs on the remaining $300 billion worth of Chinese imports to the U.S., which only adds more uncertainty to an already precarious economic situation and will further burden American households.
The Trump administration's tax cuts have boosted business investment abroad by 300% — six times as much as it increased domestically over the same period. Meanwhile, federal government borrowing is set to top $1 trillion for the second year in a row, largely due to lost revenue from Trump administration's corporate tax giveaway.
Any short-term economic benefit from the Trump administration's tax cuts seems to have ended, with GDP slowing and expected to slow further. Despite the Trump administration's claim that the tax cuts would pay for themselves, revenues fell by 2.7% — or $83 billion — from 2017 to 2019. Compare this to the last time that economic growth neared 3% in 2015, when tax revenue grew by 7%.
Consumer debt has broken an inflation-adjusted record of $4 trillion, as middle-class Americans take on more debt to balance stagnant wages and higher costs of living. Yet the Trump administration's tax cuts, which were marketed as a way to help the middle class, handed the lion's share of benefits to the wealthiest tax payers.
Lowe's announced it is laying off thousands of workers despite receiving a large windfall from the Trump corporate tax cuts. Early in 2018, Lowe's was one of the many big corporations that touted the one-time bonuses it planned to pay workers as a result of the Trump administration's tax cuts. But the bonuses were much smaller than the headlines suggested, and now the company is closing stores and laying off employees. A recent study found that bonuses for U.S. workers are actually smaller now than before the tax cuts took effect.
The positions of American Progress, and our policy experts, are independent, and the findings and conclusions presented are those of American Progress alone. A full list of supporters is available here. American Progress would like to acknowledge the many generous supporters who make our work possible.