Five Ways that COVID and Climate Change are Turning Heat Deadly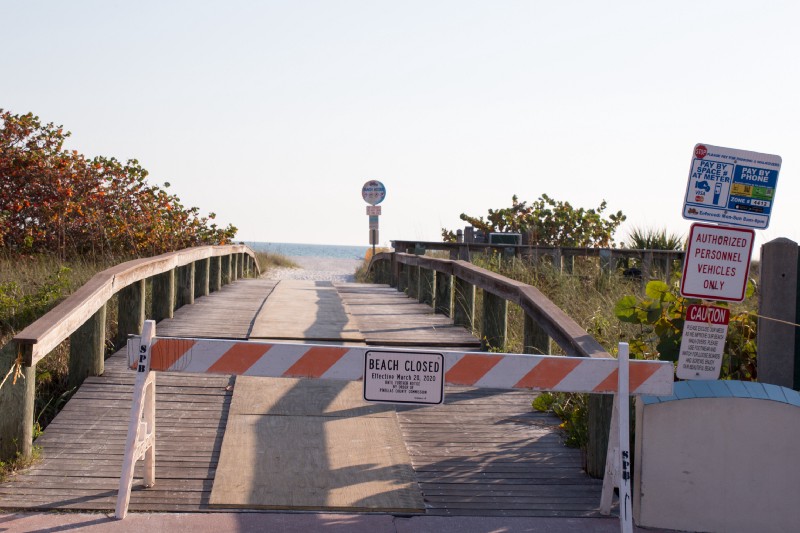 The United States is still deep in the midst of the public health emergency posed by COVID-19, with over five million confirmed cases as of August 17th. Due to concerns about the virus spreading indoors, activities from classes to dinners have moved outside in hopes of mitigating the danger. Unfortunately, in the middle of one of the hottest summers on record, simply staying outdoors is not a safe option for all Americans.
While it's easy to imagine the deadly impact of weather events like hurricanes and tornadoes, the death toll from these dramatic events falls far short of the death stemming from heat waves in the United States. As of 2019, the hottest five summers on record had taken place five years in a row. 2020 looks poised to continue that trend. Scientists say that heat waves will become more frequent and intense as our planet continues warming, meaning that by 2050, without action the number of days per year that hit 105 degrees Fahrenheit could quadruple.
Below are five ways that COVID-19 and climate change combine to create deadly conditions for people in extreme summer heat — and how this crisis ultimately hurts poor communities as well as Black, Latinx, and Indigenous communities the most.
Extreme Heat is Impacting Many of the Parts of America Hardest Hit by COVID-19
While the spiking summer heat has been felt as far north as Siberia, in the United States the areas most impacted by dangerous temperatures this year has coincided with the more recent increase in positive cases of COVID-19. Temperatures have hit dangerous levels from Los Angeles, California to Houston, Texas to Orlando, Florida. Temperatures in Phoenix, Arizona set new records this summer, with an average thermometer reading of 99 degrees Fahrenheit. Along the east coast, authorities attributed triple-digit temperatures to the death of a thirty-year old man in Baltimore. Despite extreme heat and other dangerous impacts, President Donald Trump continues to deny climate change, famously labeling it a hoax.
Trump's denial of reality extends to the COVID-19 pandemic with deadly impact: even as Trump labelled the virus another hoax, infections were soaring in parts of the country. The summer spike in cases has been driven by infections across the West and the South — many of the same states that are currently experiencing heat waves. In the South, excess deaths — a measure of the casualties of a deadly pandemic whose victims don't always reach the hospital — were 6,000 per week in the last two weeks of July, and 57,000 since March.
2. COVID-19 Spreads Most Rapidly in Closed Spaces
Dangerous and uncomfortable temperatures have forced people to stay inside, which could exacerbate the spread of COVID-19 — especially given the growing scientific consensus that the virus has airborne transmission. Studies have shown that air conditioning specifically appears to increase dispersal of the virus by spreading viral particles across enclosed indoor spaces. Contract tracers in multiple states have zeroed in on indoor dining and bars as a source of community outbreaks. The extreme heat that in many parts of the country is driving Americans who do have indoor access to stay and gather inside is creating a very dangerous situation for COVID-19 transmission.
Despite these concerns, President Trump has pushed states to go ahead with plans to reopen schools. These plans have already proven disastrous: in less than one month open, Indiana schools have seen more than 100 confirmed cases across multiple buildings. In Georgia, 1,200 students and staff members have already received a quarantine order in hopes of preventing further spread.
3. Cooling Centers and Homeless Shelters are Closing in the Pandemic
Unfortunately, many people lack access to home air conditioning. As many as one-third of Americans do not have air conditioning in their homes. Not all of those who do have access can afford to pay the electric bill: prior to the financial pressure created by the pandemic, 30 million households struggled to pay their energy bills — a problem particularly prevalent among low-income, Black, or Latinx households. Historically, these families have been encouraged to visit public centers where they can access air conditioning during deadly heat waves. But in cities like Rochester, NY and Portland, OR these centers have been closed during the pandemic.
For people without homes, the threat posed by extreme heat is even more dangerous. Homeless shelter providers have reported a summer surge in demand for housing. For these populations, isolating is not always an option: people without homes are among the populations with the highest proportion of cases of COVID-19. But President Trump has offered harsh measures in response to homelessness, proposing 15% cuts to the budget for the Department of Housing and Urban Development, empowering police forces to destroy encampments where people seek shelter, and providing homeless shelters with lists of traits that would allow them to deny service to trans people without homes.
4. Urban Residents Lack Access to Parks During the Pandemic
Extreme heat poses a higher risk to city residents because of the urban heat island effect. Because of heat retained by paved surfaces, as well as waste heat produced by energy consumption, the temperature can be as much as 22 degrees higher in cities than in the area around them. Parks can help counteract this effect — areas within a ten minute walk of a park are as much as six degrees cooler than the rest of a city.
Parks have been an essential space for many people during the pandemic. Unfortunately, many parks were closed early in the crisis due to concern about community virus spread. California Governor Gavin Newsom initially reacted to the pandemic by ordering the closure of all beaches and state parks in America's most populous state. Park closures mean that many outdoor activities were forced to move to hotter, more tightly-packed streets and sidewalks. President Trump has actively worked to dismantle, privatize, and open America's parks to development, leading the largest rollback of national monuments in history and weakening protections for 1,000 times more areas than he has protected.
5. Park Access is Not Evenly Distributed
Black and Latinx communities have been hardest hit by COVID-19, with death rates more than twice the rate for white Americans. These same communities are most vulnerable to extreme heat, and lack equal access to parks. One hundred million Americans, nearly one third, do not have a park within a ten minute walk of their place of residence. Parks located in communities of color are also often only half as large, and on average five times more crowded, than those located in white neighborhoods. Once again, President Trump has made this situation worse through his rhetoric and his actions, playing on racist fears to end programs that would allow low-income housing in suburban areas in order to preserve housing segregation.
Conclusion
Climate change has its own deadly impact, but it also exacerbates the inequalities felt across American society. With a safe and stable climate, COVID-19 would still be more deadly for Black, Latinx, and Indigenous Americans because of lack of access to medical care, because fewer members of those communities are able to access remote work, and because of underlying medical conditions. Climate change makes these inequalities all the more deadly, forcing people to choose between dangerous heat and a deadly virus. American leaders must address both of these crises with the seriousness and urgency they deserve.
The positions of American Progress, and our policy experts, are independent, and the findings and conclusions presented are those of American Progress alone. A full list of supporters is available here. American Progress would like to acknowledge the many generous supporters who make our work possible.