How we get to universal health coverage:
It's another day in Trump's America—and another day to stand up for what's right. Get the facts to fight back.
"Health care is fundamental to anything else that we want to be able to do."
In the face of relentless Republican attacks that could leave 20 million Americans without health coverage and millions more without protections, progressive leaders must make universal health coverage a top priority.
At our Workers Forum last month, we sat down with participants after their time on stage like former Rep. Beto O'Rourke (D-TX), who made a compelling argument for universal coverage in the United States: "Health care is fundamental to anything else that we want to be able to do."
Share Rep. O'Rourke's case for universal health care on Facebook and Twitter: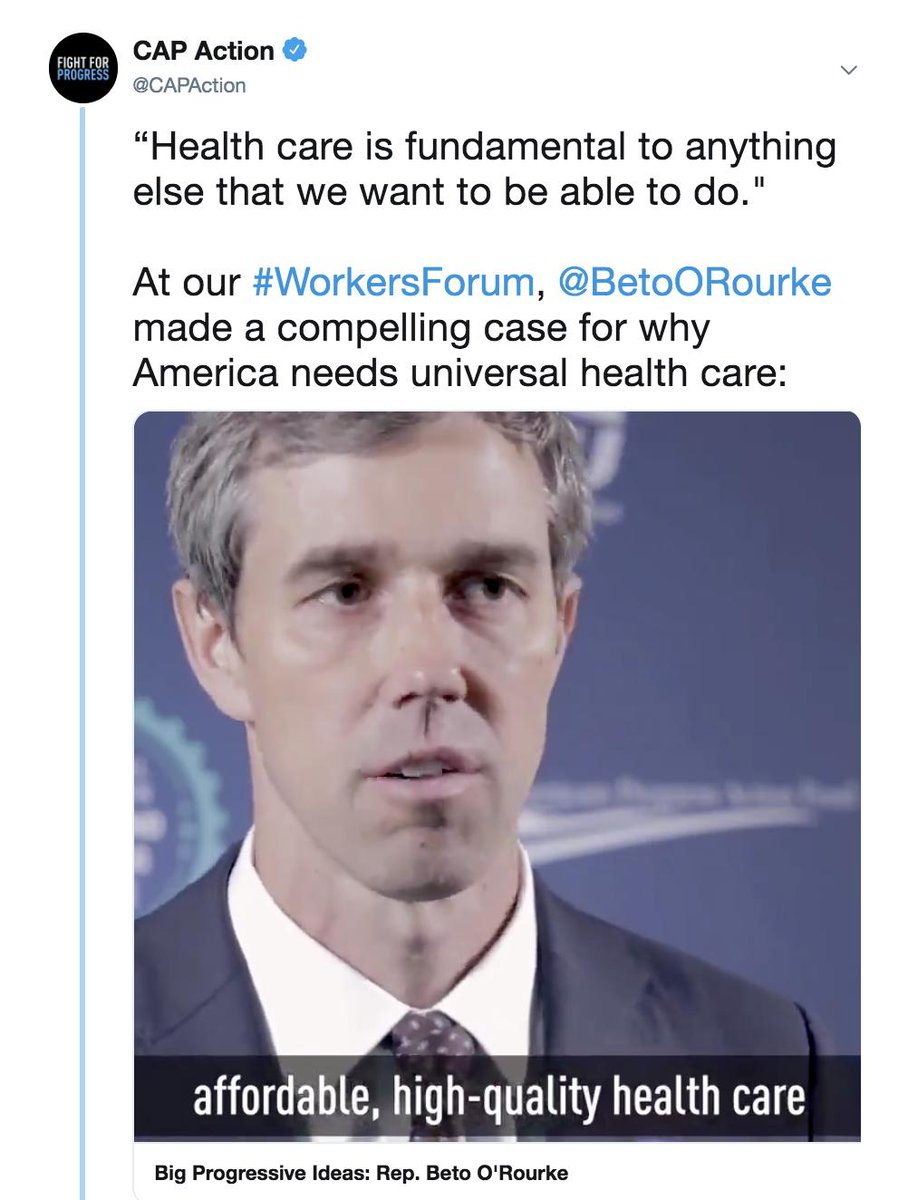 Democrats have many ideas to get to universal coverage. Here are two major plans:
Medicare for America would offer people a choice, allowing them to retain the plans they receive through their employers or move over to Medicare at their own pace.
Medicare for All is a single, national insurance plan that would cover all Americans and expand Medicare.
All of the Democratic plans would dramatically improve health care for all Americans—building on the progress we've made under the Affordable Care Act—and stand in stark contrast to the Republican obsession with trying to take away and sabotage health care for millions of families.
This is the latest in a series of videos from progressive leaders. Watch Senator Kamala Harris share her vision of an economy that works for everyone—not just the rich and powerful—and stay tuned for more in the coming weeks.

Big Progressive Idea: Equality now

Today, House Democrats are poised to pass H.R. 5, the Equality Act, a landmark bill that would provide the first explicit comprehensive federal protections against discrimination based on sexual orientation or gender identity.
To this day, LGBTQ people are still at risk of being fired, denied housing and credit, denied service, and so much more because of who they are and who they love.
While there's still more work to be done, the Equality Act marks a pivotal moment in our culture. Listen to the Center for American Progress' Laura Durso and the Human Rights Campaign's Charlotte Clymer break it down.
Keeping another 2018 campaign promise, House Democrats (with the support of just five Republicans) voted last night to lower drug prices and strengthen the Affordable Care Act. Democrats are sending a clear message, as delivered by Rep. Hakeem Jeffries (D, NY-8) yesterday: "Keep your hands off of the health care of everyday Americans."