Half in Ten Applauds Obama's Support for Unemployment Insurance and Aid to States
Urges Congress to Invest in Job-Creation Strategies
The president is right to target Unemployment Insurance and Aid to States, and urge Congress to invest in job-creation strategies to lift up low-income communities.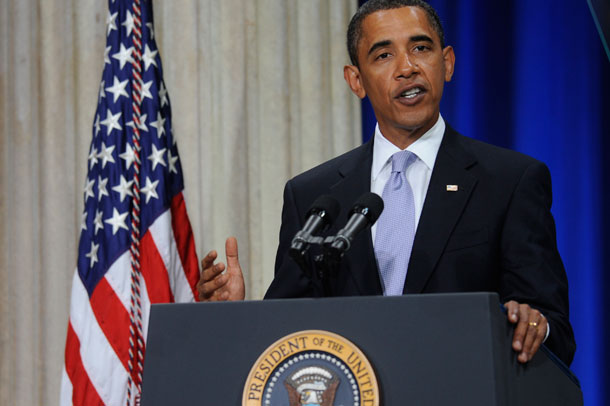 The Half in Ten Campaign applauds President Obama for supporting key job creation policies including extending unemployment insurance and COBRA health insurance benefits for the unemployed, and providing additional aid to state and local governments to save jobs, spur demand, and importantly, help, the most vulnerable weather this recession.
The American Recovery and Reinvestment Act was a critical step to help us avert another Great Depression, and is already projected to have saved or created approximately 1.6 million jobs. Yet even as the economy turns the corner, economists are predicting prolonged periods of high unemployment. President Obama's speech included strategies to tackle the jobless rate by helping small businesses, investing in infrastructure, and growing clean energy jobs.
In addition to these kinds of investments, however, we can and we must enact policies to ensure that job creation efforts lift up all Americans, including those in low-income communities that were in crisis even before the Great Recession of 2007-2009 began. While the average unemployment rate is 10 percent, jobless rates are disproportionately high among women heads of households (11.4 percent), Hispanics (12.7 percent), and African-American men over 20 (16.9 percent).
To that end, the Half in Ten Campaign is urging Congress to act urgently to create jobs through:
Aid to states and localities to save jobs and prevent cuts to needed services.
Investments in work supports and safety net programs. Investing in programs such as unemployment insurance, SNAP/Food Stamps, refundable tax credits, and childcare/early Head Start programs not only helps the most vulnerable but also helps all Americans by spurring economic demand that will ripple throughout the economy to create jobs.
A program to create public-service jobs that meet community needs, such as childcare and weatherization, while offering employment opportunities to marginalized communities.
Strategic investments in our national service programs to offer job opportunities to young workers while strengthening the capacity of nonprofits to respond to growing poverty.
On-the-job training and other programs that provide incentives to train and hire low-income workers.
The Half in Ten Campaign encourages the Obama administration and Congress to act now to create jobs for all Americans, including those who have traditionally been left behind during economic recoveries. Without a focused government effort on including traditionally excluded communities, poverty rates will remain unconscionably high as will disparities by race and gender.
A strategy to create decent-wage jobs and ensure that low-income workers have the opportunity to access them will be at the heart of both comprehensive poverty reduction efforts and rebuilding our economy to ensure shared prosperity for all. Half in Ten looks forward to working with Congress and the Obama administration to promote job creation that reflects these principles.
The positions of American Progress, and our policy experts, are independent, and the findings and conclusions presented are those of American Progress alone. A full list of supporters is available here. American Progress would like to acknowledge the many generous supporters who make our work possible.