Help Is Here Roundup: American Rescue Plan Funding Hailed by State and Local Officials, Used to…
Federal, State, and Local Officials across the country continue to praise the American Rescue Plan (ARP) for providing critical relief for their communities. For example, local counties across America are using $61.5 billion in ARP funds to boost tourism after big hits to their economies during the pandemic.
This week, 13 states announced $250 million in ARP funding would go towards advancing 22 transit projects in the Federal Transit Administration's Capital Investment Grants program. According to FTA Administrator Nuria Fernandez, "The funding will help numerous communities across the country continue to protect jobs and advance important transit projects that otherwise might have been canceled or delayed due to the pandemic."
But that's not all, last week Vice President Harris touted new guidance on $15 billion in grants to support child care programs, forthcoming payments to families from the child tax credit and a separate credit to help parents pay for care.
Additionally, the USDA also announced it would be using ARP funds to inject $4 billion into the nation's food system in an effort that will create new market opportunities, tackle the climate crisis, help communities that have been left behind and support good-paying jobs throughout the supply chain.
See more examples below of how the American Rescue Plan continues to provide critical relief across the country:
HELP IS HERE STATE AND LOCAL STORIES:
Keeping a roof over their heads: Northern Arapaho housing program is a model for how to use pandemic relief funds to help families stay in their homes. [Indian Country Today, 06/16/2021]
AZ: Valley Metro to receive $17.4M for Tempe Streetcar project. [KTAR, 06/13/2021]
CA: Feds award $19.3 million to rapid bus line project linking Downtown Pittsburgh to Oakland. [Yahoo Sports, 06/15/2021]
CT: After chaotic year, Connecticut schools spending millions in COVID-19 relief funds to beef up summer programming; social and emotional wellbeing takes center stage. [Hartford Courant, 06/14/2021]
IA: Cedar Falls Schools' non-bargaining staff receive wage, benefit increases of 2.9%. "On another matter, Pattee said Cedar Falls Schools will be adding positions in the fall that are funded by federal Elementary and Secondary School Emergency Relief dollars. The aid is part of the American Rescue Plan, signed into law March 11 to help schools recover from COVID-19-related challenges." [WCF Courier, 06/15/2021]
HI: Big Island Set to Receive $1 Mil in Housing Vouchers. [Big Island Now, 06/11/2021]
HI: Hawai'i to Receive Over $14.2 Million in Federal Funding. [Big Island Now, 06/13/2021]
IL: Grant money to improve road, prepare for home lots at Colona. [The Dispatch Argus, 06/14/2021]
IN: American Rescue Plan to fund city transit projects including IndyGo Purple Line. [Fox 59, 06/11/2021]
ID: Idaho to get $30 million to reduce COVID health disparities. [KMTV11, 06/10/2021]
LA: Coronavirus relief funds for local road, infrastructure projects. [The Ouachita Citizen, 06/16/2021]
MI: Governor Calls for $1.4 Billion in Childcare Funding with Federal Dollars. [9and10 News, 06/14/2021]
MI: Michigan Legislature passes $6.6 B in federal virus aid. [Fox 17, 06/16/2021]
MI: In One State, a Plan to Use $250M in Federal Aid for Park Improvements. [Route Fifty, 06/15/2021]
MI: Stamas on school aid funding: This will help our children recover from learning loss. [Our Midland, 06/16/2021]
MN: Broadband project gets a lift from the Kandiyohi County Board. [Yahoo, 06/16/2021]
MO: Mayor Jones outlines $80M public safety plan using federal funds. [KSDK, 06/15/2021]
NC: Representatives Price and Ross Announce $5.4 Million Federal Grant for Wake Bus Rapid Transit. [Price.House, 06/14/2021]
NC: N.C. among 13 states receiving federal funds to help with transit projects. [Spectrum Local News, 06/11/2021]
NC: Greensboro helps 1,000 households with rent assistance, receives additional funding. [WXII12, 06/11/2021]
NH: State outlines how it will use hundreds of millions of dollars in education funding. [WMUR, 06/15/2021]
NH: Hassan/Shaheen: Lower health care costs through the American Rescue Plan. [SeaCoastOnline, 06/10/2021]
NM: New Mexico seeks reforms at unemployment agency. [Associated Press, 06/11/2021]
NY: Ulster executive lays out plan for spending bulk of county's federal relief money. [Daily Freeman, 06/16/2021]
OH: Columbus receives $93 million in American Cares Act funding. [ABC 6, 06/15/2021]
OK: Political notebook: American Rescue Plan includes $590 million for child care in Oklahoma. [TuslaWorld, 06/13/2021]
OR: The American Rescue Plan Is Officially Funding Gun Violence Prevention: The Oregon county that encompasses Portland is one of the first local governments to tap the new federal stimulus to reduce shootings. [The Trace, 06/15/2021]
SC: SC gets $8.9B in federal COVID-19 relief, governor calls for 'transformative' investments. [Post and Courier, 06/15/2021]
TX: City of Fort Worth Plans to Get Close to $180 Million Stimulus Funding to Restore the Economy. [WBAP, 06/14/2021]
VA: Loudoun Gets First $40M from American Rescue Plan. [Loudoun Now, 06/09/2021]
WA: Spokane City Line Project Receives $5.8 Million in New Federal Funding. [Spokane Public Radio, 06/11/2021]
WA: Clark County Council approves $15.5 million to address homelessness. [Yahoo News, 06/16/2021]
WI: $10 million in federal funding slated for Wisconsin rural health clinics. [News 8000, 06/16/2021]
HELP IS HERE STATE AND LOCAL SOCIAL MEDIA POSTS:
GA House: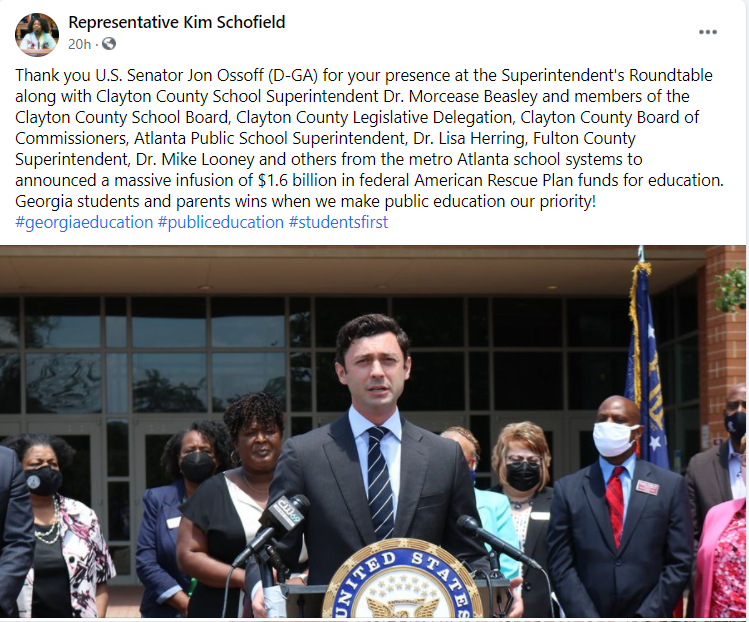 https://www.facebook.com/StateRepKim/posts/990601298348440
IN House: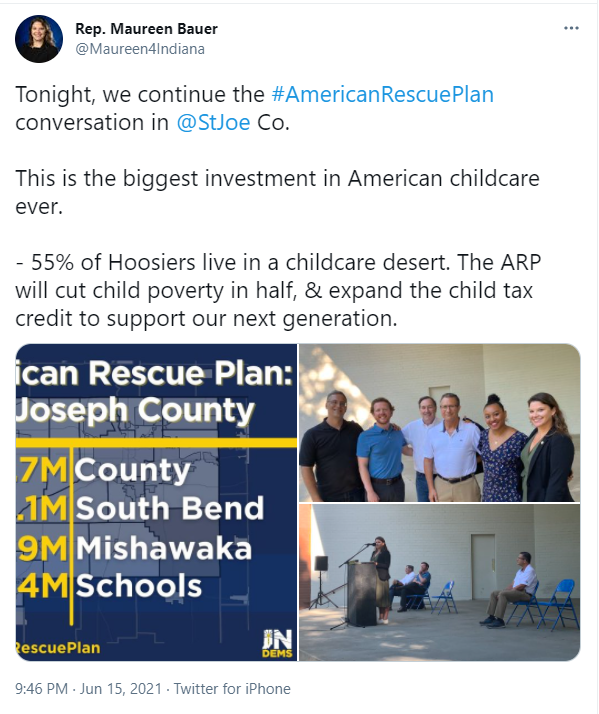 https://twitter.com/maureen4indiana/status/1404978544061583362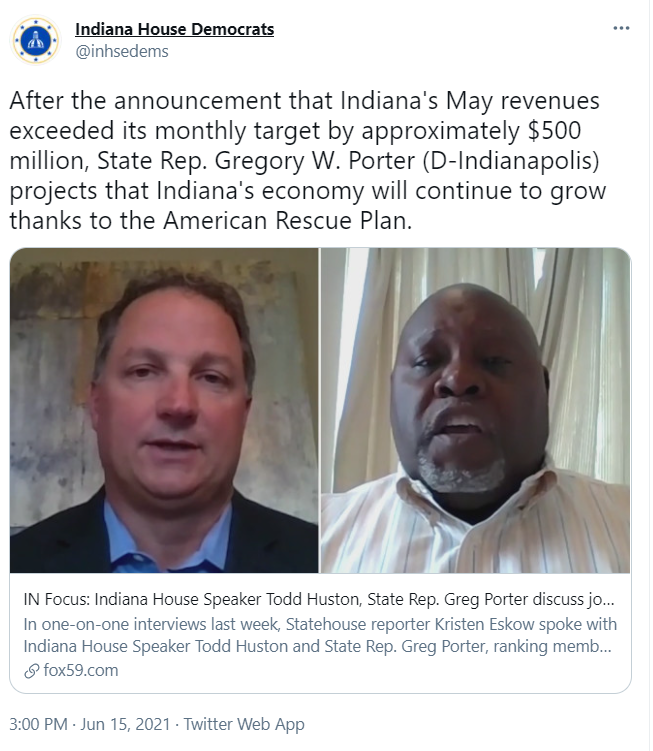 https://twitter.com/inhsedems/status/1404876366210682880
PA House: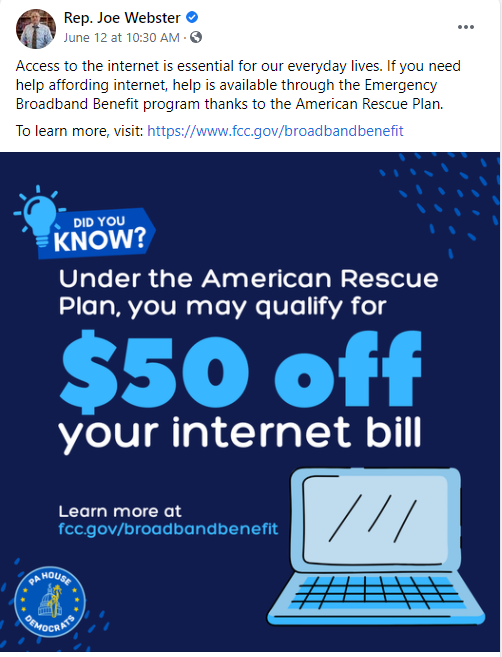 https://www.facebook.com/RepJoeWebster/photos/a.214339292783664/790737345143853
PA Senate: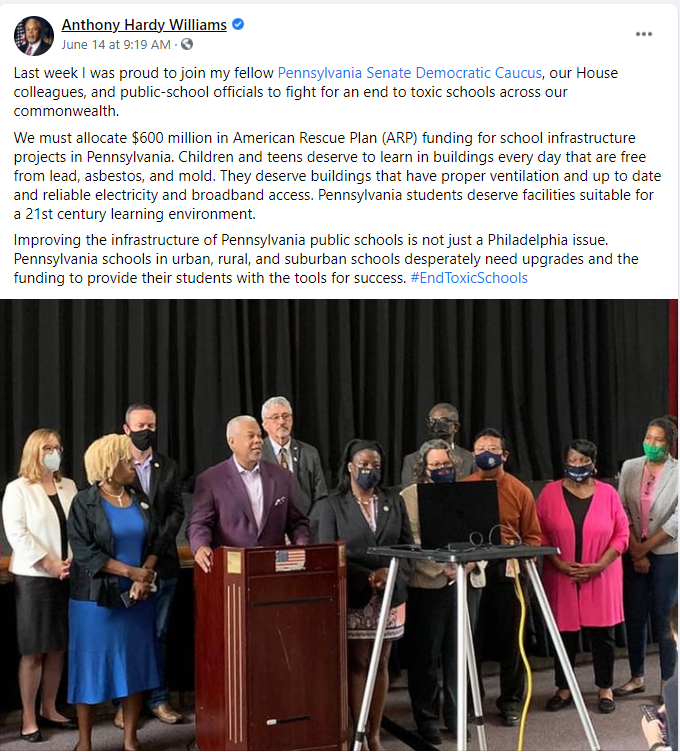 https://www.facebook.com/anthony.h.williams/posts/4165951540128361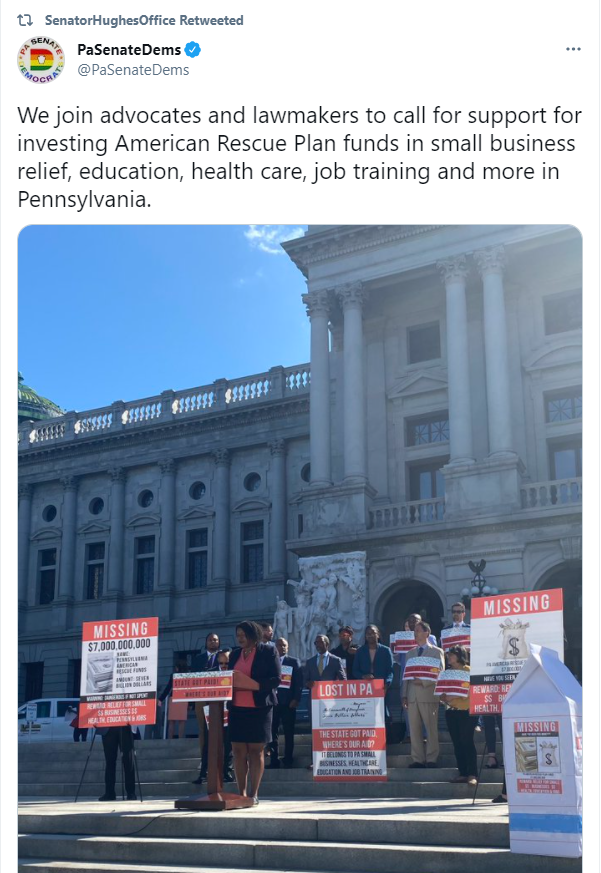 https://twitter.com/senhughesoffice/status/1405162859559108610
Council Member, Edmonds WA:
https://twitter.com/lukedistelhorst/status/1403821907158257664
President, City of Milwaukee Common Council WI (retweet):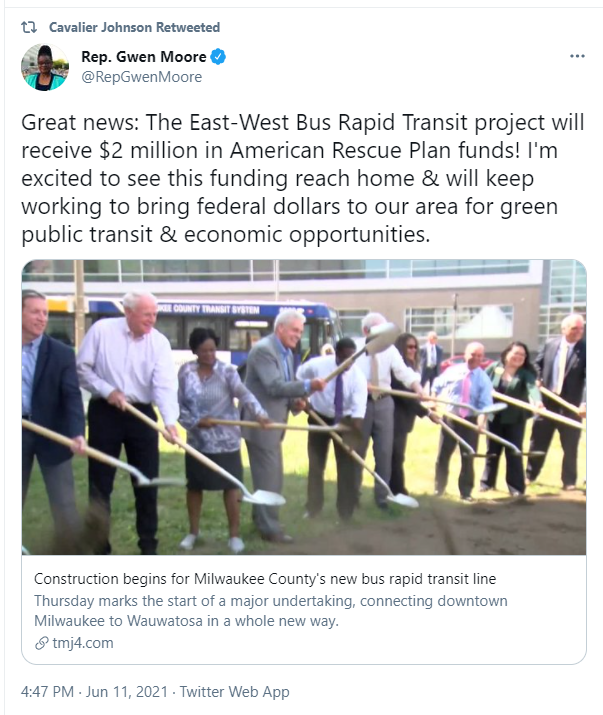 https://twitter.com/CavalierJohnson/status/1403704678467223556
Federal Officials:
CA-05: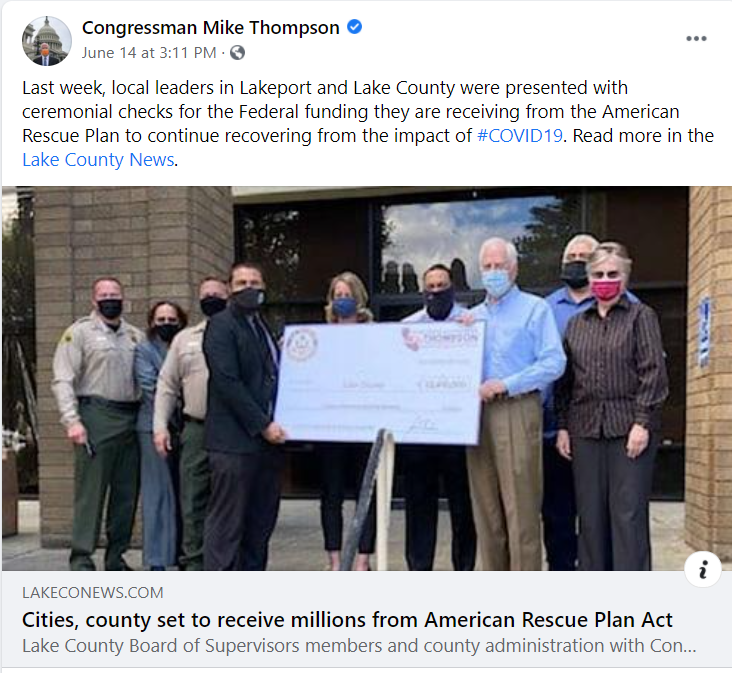 https://www.facebook.com/RepMikeThompson/posts/10158458154355748
CA-36: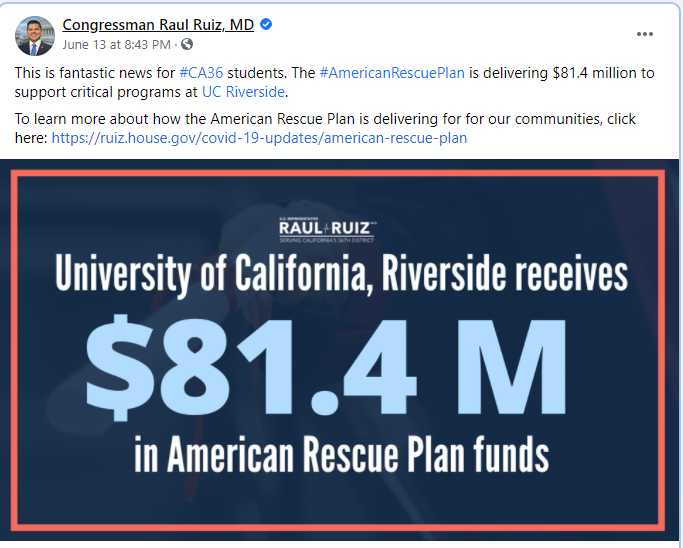 https://www.facebook.com/RepRaulRuizMD/posts/2358381697627370
CA-49: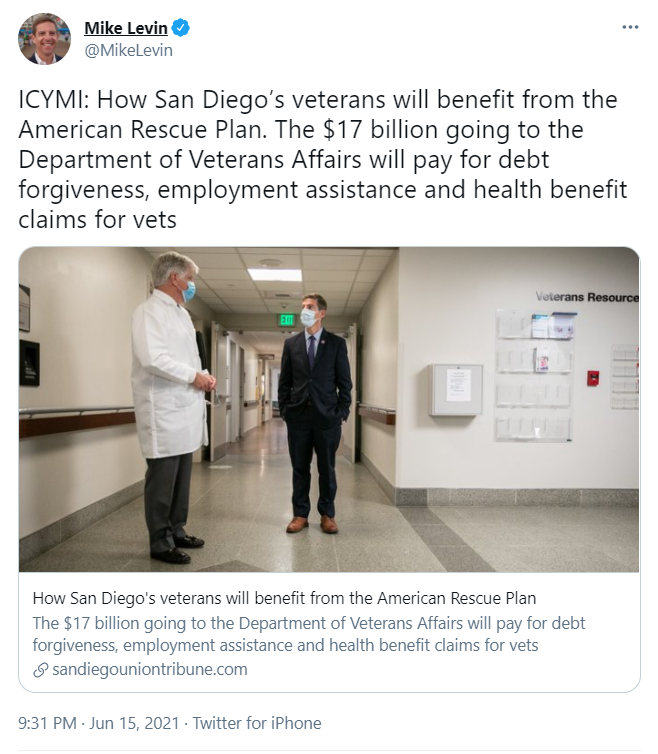 https://twitter.com/mikelevin/status/1404974924201091073
CT-02: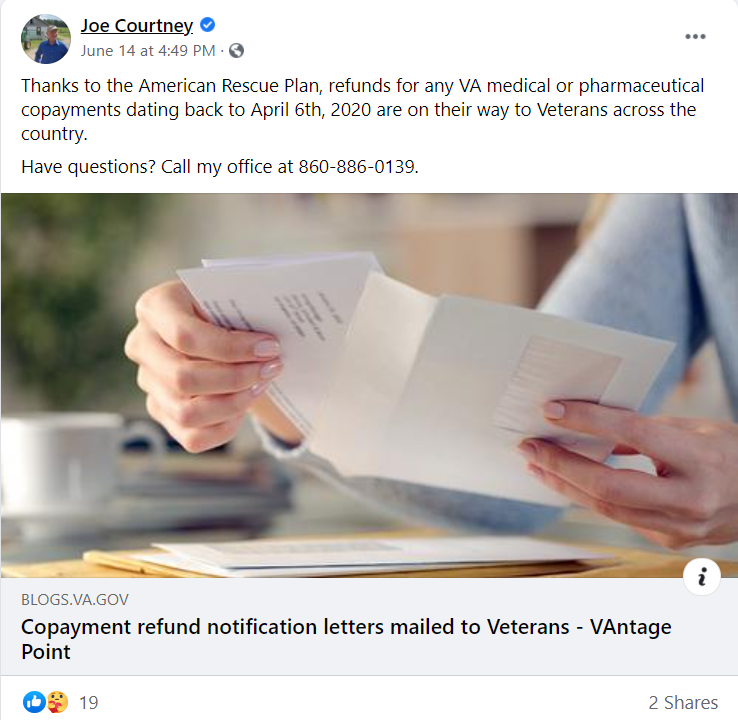 https://www.facebook.com/joecourtney/posts/10159191662869231
US Senate, IL: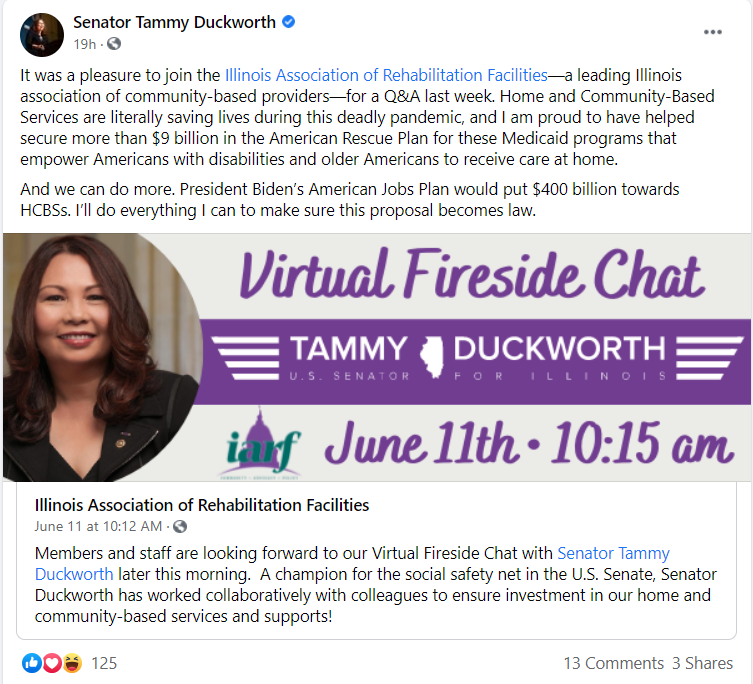 https://www.facebook.com/SenDuckworth/posts/1977273309113275
MN-05: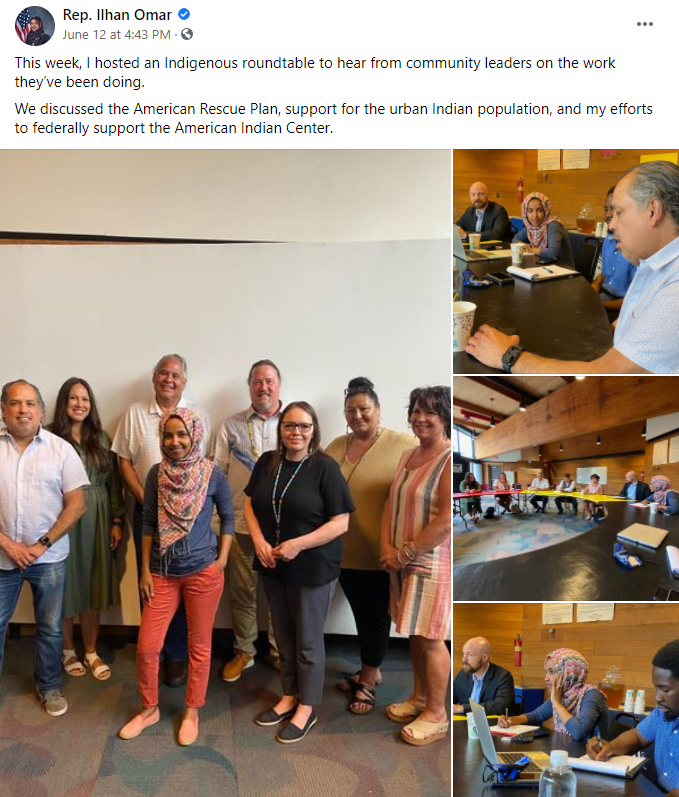 https://www.facebook.com/repilhan/posts/4007076512695255
NC-04: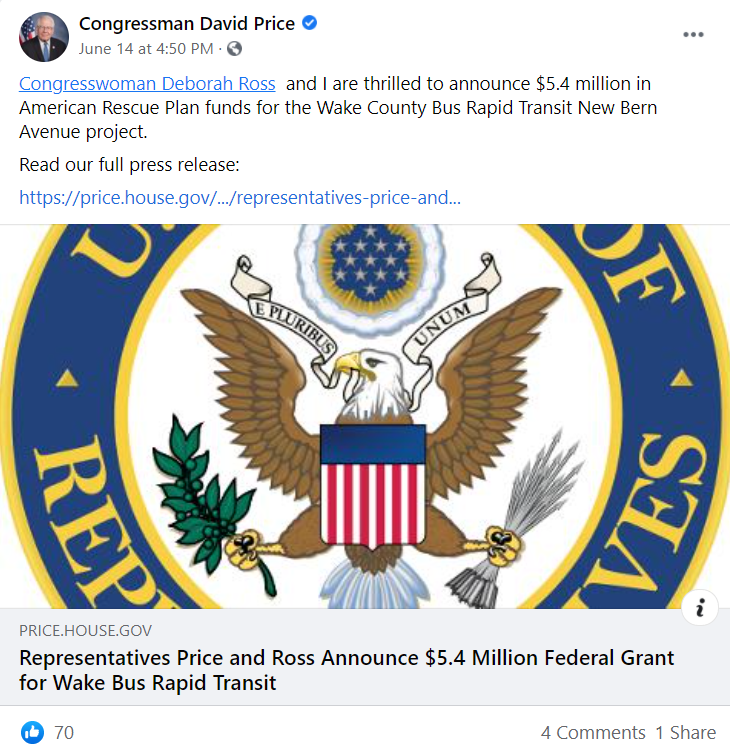 https://www.facebook.com/RepDavidEPrice/posts/4033562396712274
US Senate, NH:
https://www.facebook.com/SenatorShaheen/posts/4481922045173565
NY-20: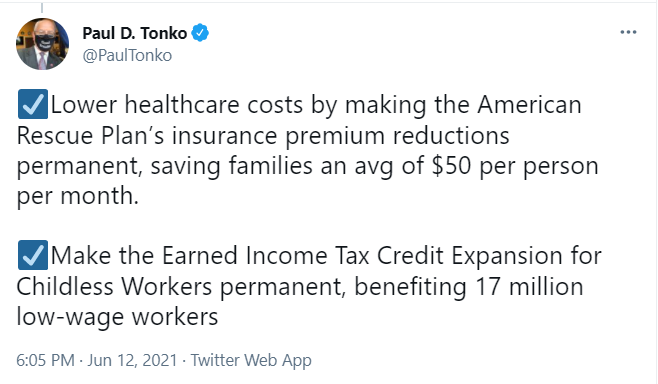 https://twitter.com/PaulTonko/status/1403835921611563009
US Senate, RI: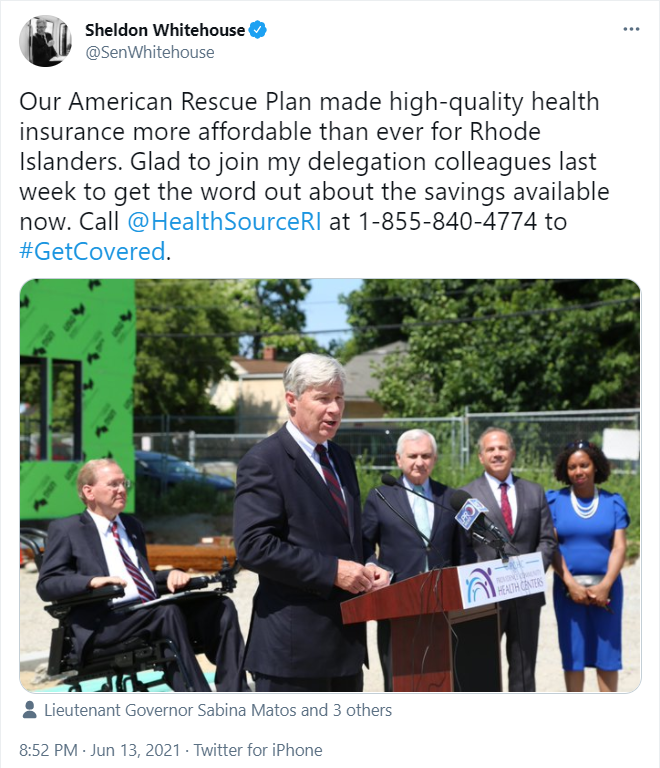 https://twitter.com/SenWhitehouse/status/1404240181968973828
TX-18:
https://twitter.com/jacksonleetx18/status/1404219033008881665
VA-10: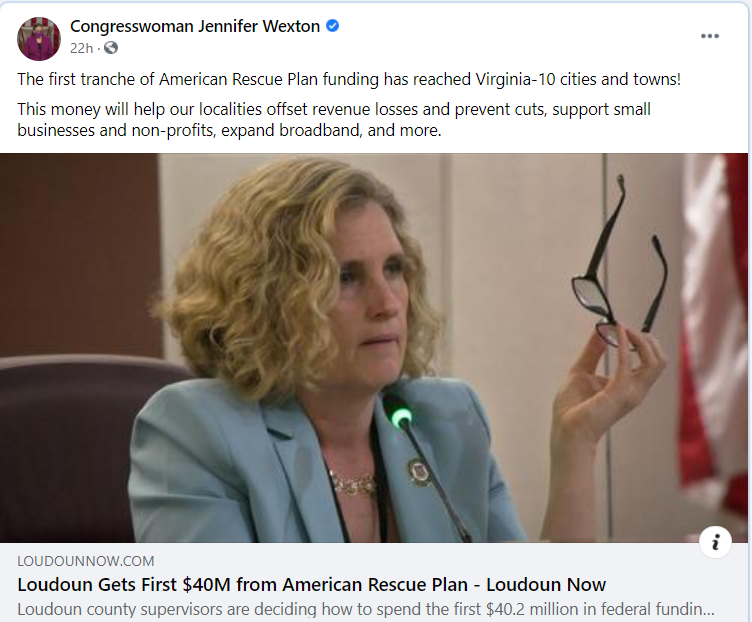 https://www.facebook.com/CongresswomanWexton/posts/973084446597470
WA-02: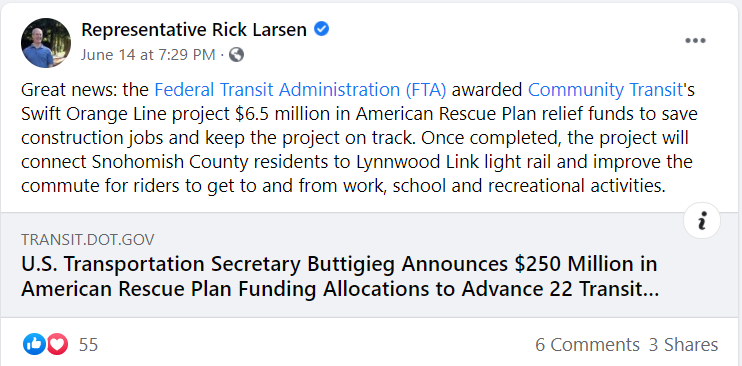 https://www.facebook.com/RepRickLarsen/posts/4031771113525397
The positions of American Progress, and our policy experts, are independent, and the findings and conclusions presented are those of American Progress alone. A full list of supporters is available here. American Progress would like to acknowledge the many generous supporters who make our work possible.
Authors Advocacy Team