Here's what six months of Trump's chaos has cost.
This piece was originally published in the July 21, 2020 edition of CAP Action's daily newsletter, the Progress Report. Subscribe to the Progress Report here.
"Find a way to get in the way."
Yesterday marked six months since the first U.S. coronavirus case was confirmed.
For six months, we've seen Americans become sick and die as a pandemic spread rapidly.
For six months, a global public health crisis and Trump's failed response to it have left millions unemployed and afraid of what might come when rent is due at the end of the month.
For nearly six months, we've seen the most closely watched man in America refuse to wear a mask despite warnings from public health experts that it reliably limits the spread of the virus.
And for six months, we've seen preventable deaths go unprevented — leaving more than 140,000 Americans dead as a result.
It didn't have to be this way. Trump's chaos has a deadly price.
Share this video on Twitter and Facebook to get the word out: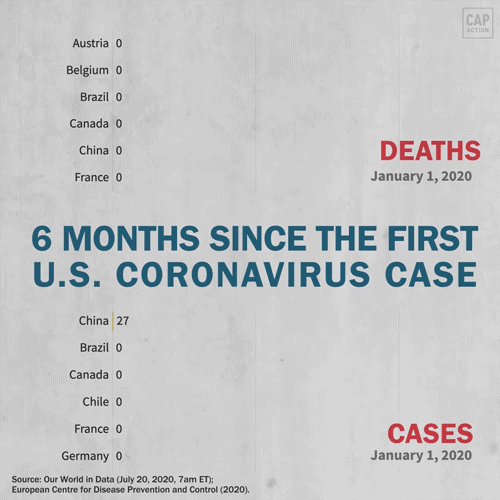 IN THE NEWS
The pandemic is far from over, and this past weekend only underscored that fact. As of Monday, at least 31 states were experiencing an increase in new confirmed cases compared to the previous week. The Sun Belt continues to see some of the most alarming numbers. Georgia and North Carolina both saw record single-day case increases this weekend, with 4,688 and 2,522 new cases respectively. There were at least 49 hospitals in Florida with no ICU beds available as of Sunday. And Arizona reported 147 deaths on Saturday, its highest death count since the pandemic began. Meanwhile, new reporting indicates that Trump and his allies are lobbying Congress to cut funding for vital coronavirus testing and tracing efforts.
Federal agents have been violently detaining anti-racism protesters in Portland, Oregon. Plainclothes agents have been filmed dragging people into unmarked rental cars (typically known as "kidnapping" when cops aren't the ones doing it) and beating nonviolent protesters with batons, and, in at least one case, reportedly failing to read a man his Miranda rights until after he'd been thrown behind bars. A group of moms formed a human wall to shield protesters from federal agents, chanting "feds stay clear, moms are here!" as they were tear gassed by the very feds they sought to stave off with their presence. It was not immediately clear to protesters which branch of the government or military the agents belonged to, but the Department of Homeland Security is certainly taking credit. Trump's Acting DHS Secretary Chad Wolf went on TV to defend their actions. "I don't need invitations by the state, state mayors or state governors to do our job," he told Fox News this weekend. "We're going to do that, whether they like us there or not." It's clear that Trump and his allies are set on turning DHS agents into their own secret police force.
Civil rights icon, Freedom Rider, author, and Georgia Congressman John Lewis passed away on Friday night after a battle with pancreatic cancer. The 80-year-old American hero was known among his colleagues as the "conscience of the Congress." Lewis leaves behind an unmatched legacy of direct action for human rights that dates back to his days as a student at Fisk University, where he joined the Civil Rights movement and put his own life on the line to challenging the racist, violent, and segregated reality of America. Lewis took his fight from the streets to the Capitol, where he represented the people of Atlanta for 17 terms. Lewis won a National Book Award in 2016 for his graphic novel series, March. In his final years, John Lewis fought tirelessly for the restoration of the Voting Rights Act and worked to combat climate injustice. Lewis' fight remains unfinished. It's up to us now to carry on his legacy by pushing for racial justice and speaking out for what is right — even (and especially) when it's not easy.
Read more about the life and legacy of Rep. John Lewis.
John Lewis, Civil Rights Icon and Longtime Congressman, Dies
Praising John Lewis means nothing if you won't protect the right to vote
IN CASE YOU MISSED IT
The clock is ticking on America's affordable housing crisis. Despite the pandemic-induced federal moratorium on evictions and supplementary unemployment support set to expire at the end of the month, there is little hope for any action from Trump or his Republican friends in the Senate. Almost a third of U.S. households missed their July housing payments, and with coronavirus on the rise in most states, the future does not look bright unless immediate federal action is taken.
Florida Governor and Trump ally Ron DeSantis continues to position himself against the interests of his constituents — and Floridians are fighting back. As the state continues to see alarming spikes in cases, their largest teachers union is suing DeSantis over his insistence that schools reopen for full-time, in-person instruction this fall. Another protester interrupted one of the governor's press conferences for a second time this week, repeating the same critique issued by the first protester: "Shame on you, Ron DeSantis."
Amazon CEO Jeff Bezos added $13 billion to his net worth yesterday, which is roughly equal to what the CARES Act earmarked for K-12 education. According to Bloomberg, this jump represented the largest single-day increase in an individual's wealth since they started tracking this data in 2012. Bezos has faced heightened criticism throughout the pandemic for underpaying his warehouse employees and fostering dangerous and inhumane working conditions.
WHAT WE'RE READING
Join Stacey Abrams and Cory Booker next Friday for a virtual event to support the team that brings you the Progress Report. Hear from some of the biggest names in politics on where progressive priorities lie during the pandemic. Click here to RSVP and secure your ticket.
The positions of American Progress, and our policy experts, are independent, and the findings and conclusions presented are those of American Progress alone. A full list of supporters is available here. American Progress would like to acknowledge the many generous supporters who make our work possible.