House introduces articles of impeachment
It's another day in Trump's America—and another day to stand up for what's right. Get the facts to fight back.
Trump must be held accountable for his impeachable abuses of power
This morning, the House of Representatives announced that it will introduce two articles of impeachment against Trump: abuse of power and obstruction of Congress.
Months of investigation and Trump's own statements have yielded irrefutable proof of his impeachable offenses. Trump orchestrated an extortion and bribery scheme to get a foreign country to interfere in the 2020 election. Then, he tried everything in his power to cover it up, obstructing Congress' investigations into his impeachable offenses at every turn.
Trump abused the power of his office to deprive Americans of a free and fair election in 2020—and it's the duty of every single member of Congress to uphold their oaths of office and hold him accountable.
Share this news on Facebook and Twitter to spread the word: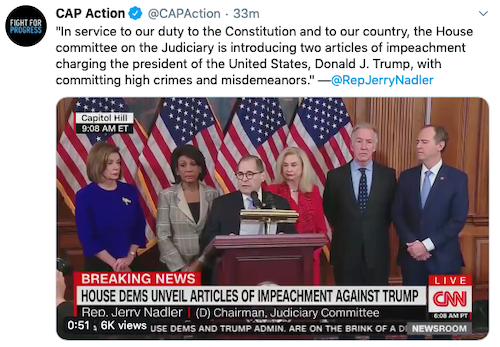 As Center for American Progress president and CEO Neera Tanden said in a statement this morning:
"By using the power of his office to extort a foreign country into interfering in our elections, Trump sought to deprive Americans of a free and fair election in 2020. The U.S. House of Representatives has undertaken a meticulous impeachment process, and now it must act—for the sake of our democracy now and in the future."
Read the full statement here.