How to stop people from voting by mail? Defund the post office.
This piece was originally published in the August 13, 2020 edition of CAP Action's daily newsletter, the Progress Report. Subscribe to the Progress Report here.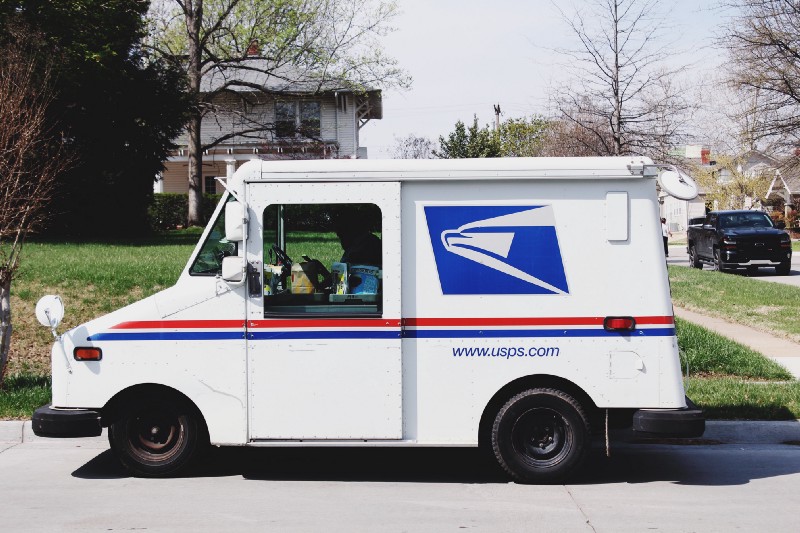 "Tell your parents and grandparents. Thank you."
— Senator Brian Schatz (D-HI) after Trump announced his plan to stop putting money in the Social Security trust fund
Coronavirus cases in children have gone up by 90% in just the past four weeks — yet Trump continues to push schools to reopen without a plan.
Trump's lies are going to get our kids killed.
Share this graphic on Twitter and Facebook to get the facts out: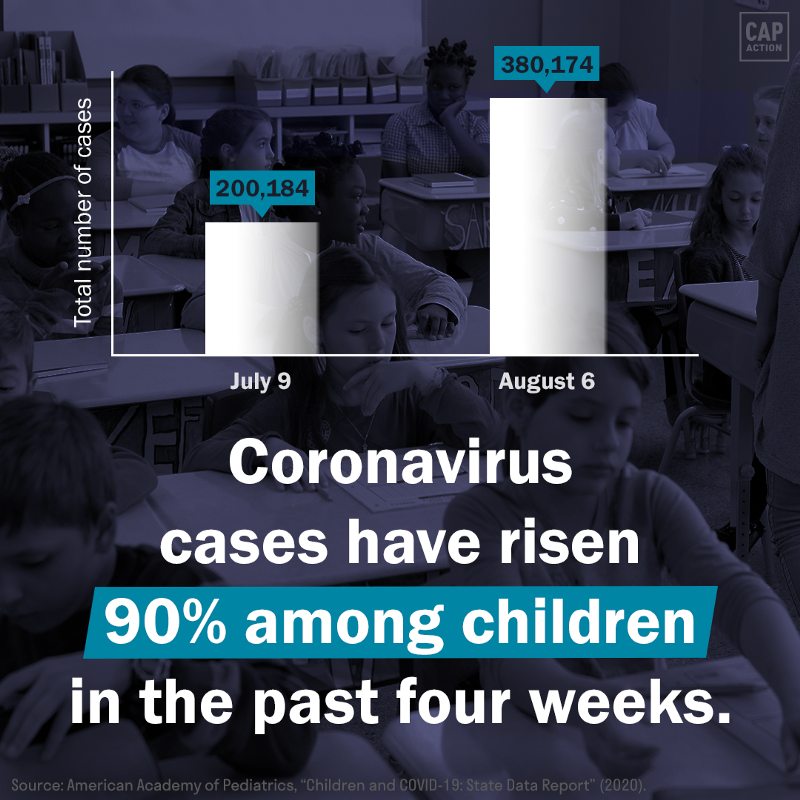 IN THE NEWS
As Trump stokes fear and racism around calls to defund the police, he's actually defunding some agencies of his own — including the Postal Service. In an interview this morning, Trump shamelessly explained the logic behind his administration's desire to strip funding and resources from the USPS: "[T]hey need that money in order to make the post office work, so it can take all of these millions and millions of ballots," he said. "If we don't make a deal, that means they don't get the money. That means they can't have universal mail-in voting." Trump's blatant admission that his administration is trying to prevent people from safely and securely voting in the middle of a pandemic comes as Trump's hand-picked Postmaster General is wreaking havoc on the agency's career workforce, leaving it woefully underprepared to process unprecedented numbers of mail-in ballots ahead of November's election.
Mitch McConnell gaveled the Senate into a month-long break from legislating today as America headed into its eighth month of the pandemic. This year's August recess is a bit different than normal, considering it's happening in the middle of a global public health emergency — but that didn't stop McConnell from continuing to ignore the needs of Americans. Millions of people are still suffering from the financial, physical, and psychological stress of the coronavirus crisis, but the Senate is headed home without passing the pandemic relief bill that's been sitting on McConnell's desk since May.
IN CASE YOU MISSED IT
Today is Black Women's Equal Pay Day, marking the day in the current year when Black women finally catch up to the earnings that white men received over the course of the prior year. In 2020, Black women had to work seven-and-a-half months beyond 2019 — until August 13 — to earn what their white male counterparts earned in 2019. Read this new report out today from CAP's Jocelyn Frye, which details ten actions employers can take to secure equal pay for Black women.
More than 2,000 students, teachers, and staff in five states are in quarantine after at least 230 individuals tested positive for coronavirus, according to CNN's count. As we know, this can only get worse. More schools are reopening every week, and unless we have a national plan for school safety this fall, what's now happening in five states could easily expand to 50. Trump is actively preventing any movement on this front — just this week, he falsely claimed kids were "essentially immune" from coronavirus, which scientists (and common sense) tell us is not the case.
Joe Biden and Kamala Harris called for a nationwide mask mandate this afternoon, striking a vastly different tone from Trump. Experts have increasingly urged Americans to wear face coverings in public to prevent the spread of coronavirus. Recent data suggests that if 95% of Americans wore face masks, it would reduce transmission of the virus by nearly one third.
WHAT WE'RE READING
Like the Progress Report? Our team relies on the support of grassroots progressives like you. Chip in $5 or whatever you can to power our work.
The positions of American Progress, and our policy experts, are independent, and the findings and conclusions presented are those of American Progress alone. A full list of supporters is available here. American Progress would like to acknowledge the many generous supporters who make our work possible.