Incompetence and Lies: Trump Leaves Vaccine Distribution Mess for Biden to Clean Up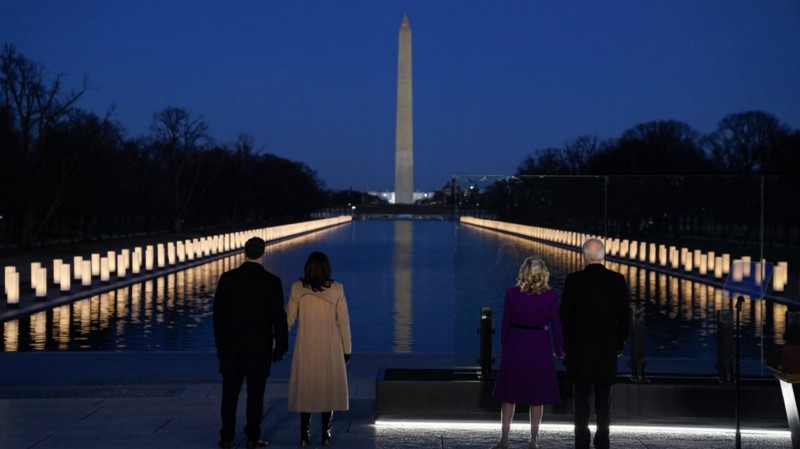 As former President Donald Trump left office this week amid a deadly pandemic he gave up trying to control, he also left a broken vaccine distribution program that has hung millions of vulnerable seniors and front line workers across the United States out to dry. Deceptive and inadequate communication with states has resulted in mass confusion and made effective state planning impossible, while intransigence in cooperating with the presidential transition has left the incoming Administration facing an even greater challenge than the monumental one that was already waiting for them.
As Biden took reins of the federal government this week, his administration has found "no coronavirus vaccine distribution plan to speak of from the Trump administration," with White House Covid coordinator Jeff Zients saying "What we're inheriting is so much worse than we could have imagined."
Zients emphasized the stark difference in leadership and the challenges Biden is left to bear; "For almost a year now, Americans could not look to the federal government for any strategy, let alone a comprehensive approach to respond to Covid," Zients said. "And we've seen the tragic costs of that failure. As President Biden steps into office today … that'll change tomorrow."
This comes on the heels of what was previously reported last Tuesday when Trump's Secretary of Health and Human Services Alex Azar announced that the federal government would begin releasing coronavirus vaccine doses held in reserve for second shots. However, "no such reserve existed".
Because of this, health officials across the country who relied on estimates provided by the Trump administration warn that without them, millions of adults 65 and older and front-line essential workers who were supposed to get the vaccine this month under phase 1b will not be able to get vaccinated until supply increases.
Vaccinations were already going at an alarmingly slow rate. The goal of Operation Warp Speed was to ensure that 80 percent of the country's 330.7 million people get the shots by late June. To meet that goal, a little more than 3 million people would have to get the shots each day, according to an NBC news analysis. However, 2 weeks after the first shot was administered, only 2 million doses were administered total, a pace that would take the US 10 years to reach 80 percent vaccinated. Nearly 1 month after the first doses were administered, the United States has only just administered 1 million vaccines in a single day, far short of the 3 million per day goal. Meanwhile, other countries continue to far outpace U.S. vaccination efforts. Israel has given a first dose to 25.34 out of 100 people per its population while the US has only vaccinated around 3.71 out of 100 of its population.
This was a foreseeable and avoidable situation. In May 2020, Trump repeatedly made alarming comments that the virus might go away on its own, vaccine or not. Immunization experts sent the leaders of Operation Warp Speed a letter asking for guidance on a vaccine rollout back in June 2020. Senate Democrats unveiled a comprehensive roadmap to administer a safe and effective vaccine to all in July.
A week later, President Trump says the government is "all set to march" on the vaccine rollout, that "the delivery system is all set logistically," and it will be "spectacular." The following month, Trump accused the "Deep State" of hindering the vaccine rollout to hurt him politically. In September, he got into a public disagreement with CDC Director Redfield who said that the vaccine would not be available to the general public until summer of 2021. The following day, White House Chief of Staff Mark Meadows said they would have 100 million doses of vaccine ready by the end of October of 2020, and 300 million ready in January of 2021.
As recently as December 10, 2020, Vice President Pence said 20 million Americans would have the vaccine by year's end. Instead, 3.2 million doses had been administered on December 31, according to the Bloomberg vaccination tracker.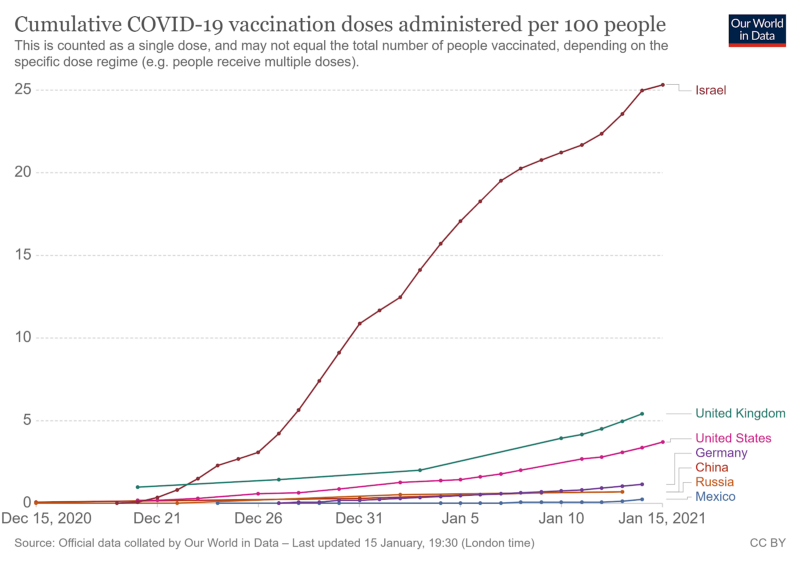 Despite taking credit for the perceived success of Operation Warp Speed, the Trump administration has hindered the goal of mass vaccination at numerous turns. From the beginning, rollout of the vaccine was bungled by the Trump administration, as it left millions Of COVID-19 vaccine doses languishing in warehouses awaiting shipment instructions as several states were told their second shipments had been mysteriously reduced.
Additionally, the Trump administration passed on a chance to secure more of the Pfizer vaccine earlier last summer, leaving Pfizer to seal deals with other governments, including the European Union, which finalized an agreement to acquire 200 million doses from Pfizer and BioNTech in November, compared to the 100 million the US originally ordered by the Trump administration in July. Instead, the administration "moved forward at breakneck speed to buy land and pay contractors to build a southern border wall" costing $15 billion.
If that wasn't enough, the administration waited 2 months to approve a plan to distribute and administer Covid-19 vaccines proposed by U.S. health officials, leaving states with little time to implement a mass-vaccination campaign amid coronavirus surges. All of this has amounted to what President-Elect Biden characterized as a "dismal failure" with health officials making it clear that "The federal government blew it" as the Trump administration "didn't plan for the last inch of the last mile, the part that matters most — how you're going to actually vaccinate that many people quickly."
The result leaves President Trump's legacy upon leaving office clear: one of lies and incompetence.
Timeline
May 5, 2020
Trump said in early May 2020 that the virus would pass and the country would go back to normal whether a vaccine was developed or not: "There'll be more death, that the virus will pass, with or without a vaccine. And I think we're doing very well on the vaccines but, with or without a vaccine, it's going to pass, and we're going to be back to normal."
May 8, 2020
Days later, Trump said, "I feel about vaccines like I feel about tests. This is going to go away without a vaccine … It's going to go away, and we're not going to see it again, hopefully, after a period of time."
May 15, 2020
Trump said, "Vaccine or no vaccine, we're back. And we're starting the process" of reopening.
June 23, 2020
State and local immunization experts send a letter to General Perna and Dr. Slaoui, the leaders of Operation Warp Speed, asking for new guidance on planning for the vaccine rollout. They sought answers to questions like: who pays for the vaccine; will the federal government also distribute PPE and syringes; what about refrigeration; who is keeping records and how;
July 4, 2020
Trump promises "a therapeutic and/or vaccine solution long before the end of the year."
July 13, 2020
Senate Democrats release a comprehensive roadmap to administering a safe and effective vaccine to all, after confusion and silence from the Trump administration on the detailed plan to prepare for vaccine rollout.
July 30, 2020
Trump says the government is all set to march, and the delivery system is all set logistically, and it will be spectacular. "We're all set to march when it comes to the vaccine. We have great therapeutics that are testing very well. And we have great vaccines from incredible companies — Johnson & Johnson and Pfizer and Merck and all of these great companies, and they're doing very well. And the delivery system is all set logistically. We have a general, that's all he does is deliver things whether it's soldiers or other items. And I think you're going to see something that's going to be spectacular."
July 31, 2020
Reuters reports that public health officials and lawmakers are "sounding alarms" about the Trump administration's lack of planning for vaccine distribution, oversight, and funding.
"Right now, it is unclear who in Washington is in charge of oversight, much less any critical details, some state health officials and members of Congress told Reuters. … Health officials and lawmakers say they worry that without thorough planning and coordination with states, the vaccine distribution could be saddled with the same sort of disruptions that led to chronic shortages of coronavirus diagnostic tests and other medical supplies. Washington should be educating people now about vaccination plans in order to build public confidence and avoid confusion, said Senator Patty Murray, the senior Democrat on the health program funding committee."
August 22, 2020
Trump alleged "deep state" sabotage of vaccines on Twitter. "The deep state, or whoever, over at the FDA is making it very difficult for drug companies to get people in order to test the vaccines and therapeutics."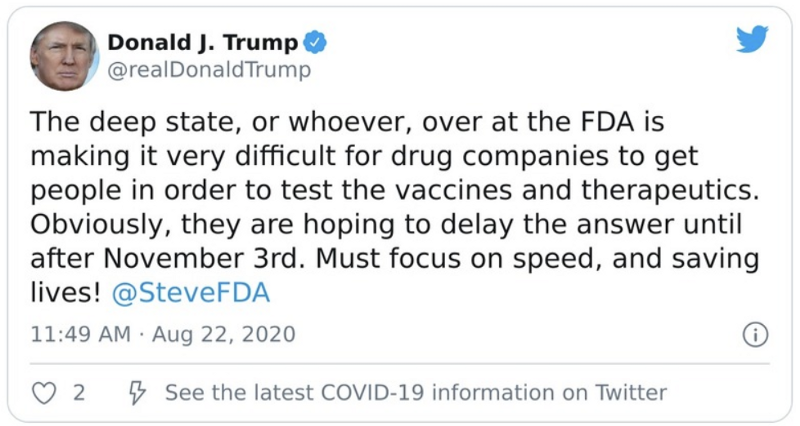 September 4, 2020
Trump said there will be a vaccine "before the end of the year and maybe even before Nov. 1. I think we can probably have it sometime in October."
September 16, 2020
Trump tried to refute CDC director Redfield who said the vaccine would likely not be available to the general public until the summer of 2021.
Reporter: "[The head of the CDC] said that the vaccine for the general public wouldn't be available until next Summer or maybe even early fall. Are you comfortable with that timeline?" Trump: "I think he made a mistake when he said that. That's just incorrect information."
September 17, 2020
White House Chief of Staff Mark Meadows said they would have 100 million doses of vaccine ready by the end of October, and 300 million ready in January. He contradicted Redfield: "That timeline is not consistent with what I have had personal interaction with." He also spoke about a distribution model that would immunize the most at risk by the end of October 2020. "We believe that we can get the vast majority of those at risk with a distribution model that would be available at the end of October."
September 21, 2020
Trump gives himself an A+, saying the country is rounding the corner on the pandemic, with or without a vaccine:
"We're rounding the corner," "With or without a vaccine. They hate when I say that but that's the way it is. … We've done a phenomenal job. Not just a good job, a phenomenal job. Other than public relations, but that's because I have fake news. On public relations, I give myself a D. On the job itself, we take an A+."
October 8, 2020
HHS Secretary Azar said there would be 100 million doses by the end of the year.
November 2, 2020
Trump posts on Facebook that Biden will delay the vaccine. "Joe Biden is promising to delay the vaccine and turn America into a prison state — locking you in your home while letting far-left rioters roam free. The Biden Lockdown will mean no school, no graduations, no weddings, no Thanksgiving, no Christmas, no Fourth of July."
November 9, 2020
Trump says on Twitter people would not have the vaccine for four years if Biden were president. "If Joe Biden were President, you wouldn't have the Vaccine for another four years, nor would the @US_FDA have ever approved it so quickly. The bureaucracy would have destroyed millions of lives"
December 8, 2020
Trump said the vaccine would be distributed "very quickly," that it is "all set" and that there were hundreds of doses to follow quickly after. "If authorized, tens of millions of vaccine doses will be available this month. And we'll get it distributed very quickly. We have that all set. And hundreds of millions more will quickly follow."
He also said typical vaccine timelines could be infinity. "Before Operation Warp Speed, the typical timeframe for development and approval, as you know, could be infinity."
Asked why he did not include members of the Biden transition team as a part of the vaccine summit, Trump went on at length about voter fraud conspiracy theories and questioned whether there would be a transition, and then ended the press conference.
December 9, 2020
Pence promised, and Azar said that there would be 20 million vaccine doses to administer by year's end.
December 20, 2020
General Gustave Perna, the COO of Operation Warp Speed, told reporters he wanted to "take personal responsibility for the miscommunication" about the number of vaccine doses available for states, which was much lower than many state officials had anticipated. "The number of doses available to us to allocate ended up being lower, so as we gave forecasts to the jurisdictions and governors and states worked their priorities against those forecasts, what we had to decide was what was going to be shipped out, I had to lower the allocations to meet the releasable doses that were presented to me."
December 22, 2020
Trump tweeted that vaccine distribution is going very smoothly, bragging about what his administration had accomplished: "Distribution of both vaccines is going very smoothly. Amazing how many people are being vaccinated, record numbers. Our Country, and indeed the World, will soon see the great miracle of what the Trump Administration has accomplished. They said it couldn't be done!!!"
December 31, 2020
3.2 million doses had been administered on December 31, according to the Bloomberg vaccination tracker.
Trump also tweeted, "The Federal Government has distributed the vaccines to the states. Now it is up to the states to administer. Get moving!"
January 3, 2021
Trump tweeted, "The vaccines are being delivered to the states by the Federal Government far faster than they can be administered!"
January 12, 2021
Secretary of Health and Human Services Alex Azar announced that the federal government would begin releasing coronavirus vaccine doses held in reserve for second shots. However, "no such reserve existed."
January 21, 2021
The day after Biden took office, his pandemic response team revealed that the Trump administration had no coronavirus vaccine distribution plan, and that the Biden administration would have to "build everything from scratch." After muting their criticism during the transition because the outgoing administration had not been cooperative, the team immediately had to "fact-check" things Trump's team had said publicly, from vaccine supply to equipment meant for state and local governments.
The positions of American Progress, and our policy experts, are independent, and the findings and conclusions presented are those of American Progress alone. A full list of supporters is available here. American Progress would like to acknowledge the many generous supporters who make our work possible.
Authors Advocacy Team