Is Your Congressman Corrupt?
The Progress Report
IS YOUR CONGRESSMAN CORRUPT?
It's no secret that politicians in Washington are looking out for themselves and their donors instead of serving the people they represent (cc: Chris Collins).
This kind of corruption has become the everyday norm under President Donald Trump's White House and the Republican-controlled Congress, and it benefits one big group (aside from the members themselves): their donors.
Wall Street, the pharmaceutical industry, oil and gas corporations, and more are seeing a great return on their investment in their favorite friendly members of Congress.
CAP Action is tracking some of the worst offenders. ProfilesInCorruption.org connects the astounding amounts of special interest contributions these representatives have taken with the even more eye popping tax breaks given in return through the Republican tax bill. It answers these questions:
How much did various industries contribute?
What big break did those industries subsequently receive?
More importantly, how much did you pay for it?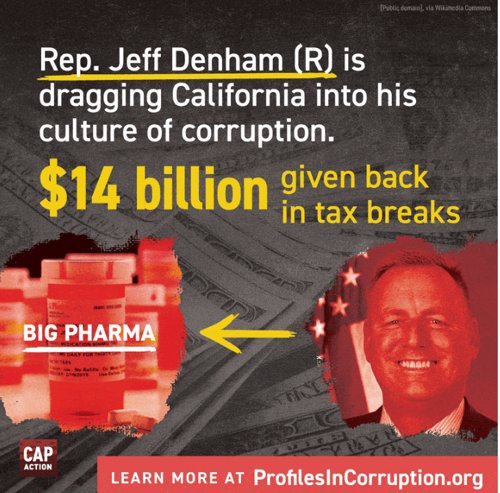 Take Rep. Jeff Denham (R-CA-10), for example. Wall Street contributed $284,443 to Denham. Is it a coincidence that Denham voted to pass the GOP tax scam and, subsequently, five of the largest U.S. banks reported $2.5 billion worth of tax breaks in the first quarter of 2018? We don't think so.
The cost of corruption is growing, but luckily, we have the receipts.
VOTERS AREN'T SOLD ON KAVANAUGH—BUT THEY SUPPORT THE MUELLER PROBE.
New polling from Navigator Research shows that Kavanaugh's favorability ratings stand at just 15% favorable, 28% unfavorable, and 57% unable to give an opinion.
(Maybe they'd be better able to give an opinion if they could see his records.)
Plus, some key notes on the Russia investigation:
Support for Special Counsel Robert Mueller's investigation is stronger than ever.
"Voters now support keeping the investigation going by 26 points (57-31%), compared to 14 points in July and June."
ARE YOU A #CLIMATEVOTER?
If you care about health care, the economy, racial justice, and so much more, then you should care about climate. Every issue is a climate issue; climate change is here, and it's impacting Americans every day.
Across the country, people are speaking out about their experiences with the impacts of climate change, from drought, to wildfires, to floods, hurricanes, and community displacement.
Add your voice! Head to BeAClimateVoter.org today, tell your story, and pledge to be a #ClimateVoter in November.