Job growth down 15% under Trump
It's another day in Trump's America—and another day to stand up for what's right. Get the facts to fight back.
Trump's economic damage is growing
Today's jobs report once again debunks Trump's claim that he's "the greatest jobs president that God has ever created."
Hate to break it to him, but Trump isn't nearly as great of a jobs president as his predecessor. Per today's report, job growth under Trump is down 15% from under President Obama. Worse yet, reports show manufacturing in the Midwest beginning to contract, the tiny economic boost from Trump's tax cuts has already ended, and layoffs continue from big corporations that received those tax cuts.
Share this graphic on Facebook and Twitter to fact check Trump: Our economy isn't working for working families on his watch.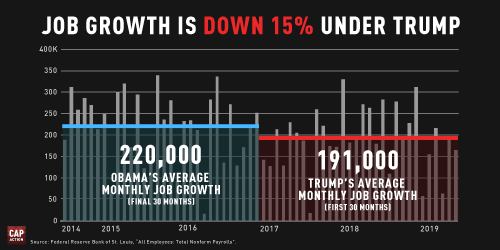 Big progressive ideas
Trump's week was full of failed nominations (goodbye, John Ratcliffe!), racist smears, and Twitter tantrums. Progressive leaders, on the other hand, rolled out plans to help American families:
Health care: Progressive leaders have laid out several paths to achieve universal health coverage. Sen. Kamala Harris (D-CA) rolled out a bold plan that would expand Medicare and allow people to keep their private, employer- or union-provided plans. It shares many similarities with the Center for American Progress' Medicare Extra plan.
Supporting unions: Governor Jay Inslee (D-WA) laid out a progressive proposal to put workers' needs above corporate wealth. Inslee's proposal would increase the minimum wage to $15 per hour, bolster union membership, and give workers greater ability to strike.
Supporting indigenous communities: Former HUD Secretary Julián Castro released a comprehensive plan to strengthen the political power of indigenous communities and use federal resources to reduce disparities. As Vox put it, Castro's plan has two main tenets: "addressing the needs of indigenous communities by supporting their increased sovereignty, and using federal power to close larger disparities in areas like housing, health care, and education."
The economy: On the latest episode of "Your Primary Playlist," host Emily Tisch Sussman interviews CAP Action CEO Neera Tanden. Tanden shares her take on the current economic debate, as well as the ways Trump and Republicans have failed working Americans. Take a listen!