Key Facts About Florida Voting Demographics
How Changing Demographics and DAPA-Affected Voters Could Impact the 2016 Elections
New election simulations and research on deferred action in Florida highlight the growing political influence and potential power of Latino voters in the 2016 presidential election.
See also:
This fact sheet contains a correction.
The United States is undergoing a historic demographic shift. People of color are expected to make up a majority of the population by 2044, but the political implications are already being felt. By 2016, demographic shifts will be influential in shaping electoral outcomes in many states, including Florida, as voters of color become an increasingly significant share of the electorate.
Moreover, DAPA-affected voters—U.S. citizens of voting age living with unauthorized family members who would be eligible for temporary relief from deportation under President Barack Obama's Deferred Action for Parents of Americans and Lawful Permanent Residents, or DAPA, program—will comprise sizable and potentially decisive portions of key and emerging battleground state electorates across the country, including in Florida.
The electoral impacts of a changing electorate
In Florida, voters of color comprise a larger portion of the electorate each year
The white electorate dropped from 81 percent of eligible voters in 1980 to 66.7 percent in 2012. It is projected to decrease further, to 64.5 percent by 2016.
In 1980, 4 percent of eligible voters in the state were Latino; in 2012, 16.6 percent were. By 2016, the Florida electorate's share of Latino eligible voters is expected to have increased by another 1.6 percentage points, to 18.2 percent.
Florida's changing demographics are making it lean more toward Democrats—but it is still a toss-up*
In 2004, Republican presidential candidate George W. Bush had a 12-percentage-point advantage over Democratic candidate John Kerry among Latino voters, leading 56 percent to 44 percent.

 

In 2012, Democratic candidate Barack Obama won 60 percent of Latino votes while Republican Mitt Romney received 39 percent, a 21-point margin.
If Democrats are able to hold onto 2012 levels of support from voters of color and turnout rates remain the same in 2016 (see Figure 1, 2016 Simulation 1), the Democratic margin of victory in Florida could yield a Democratic victory of 50.7 percent to Republicans' 48.8 percent in the presidential election.
If voters' party preferences reverted back to what they were in 2004 (see Figure 1, 2016 Simulation 2), when Republicans had higher levels of support from voters of color, Republicans would see the presidential race in Florida swing in their favor, winning by 51.5 percent to 48.8 percent.
If voters of color have party preferences of 2004, and white voters have party preferences of 2012 (see Figure 1, 2016 Simulation 3), Republicans will perform the strongest: The margin of victory for a Republican candidate would be nearly 9 percentage points.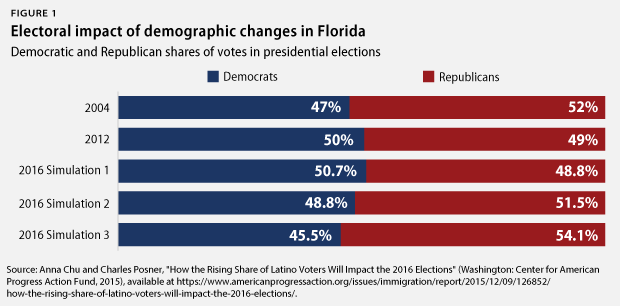 The political power of deferred action
In addition to the overall demographic shifts in Florida, DAPA-affected voters comprise a significant proportion of the state's electorate
In 2016, Florida voters who are personally affected by DAPA will number more than 59,000. The projected number of Florida's DAPA-affected voters in 2016 is 80 percent of President Obama's 2012 margin of victory in the state.
Full implementation of the deferred action initiatives would result in significant economic gains for Florida
If DAPA; Deferred Action for Childhood Arrivals, or DACA; and DACA expansion were all implemented, Florida's gross domestic product would increase by $9.4 billion; Florida residents' cumulative incomes would increase by $6.2 billion; and more than 11,000 jobs would be created, all cumulatively over 10 years.
Charles Posner is the Policy Manager at the Center for American Progress Action Fund. Lizet Ocampo is the Associate Director of Immigration at the Action Fund.
* Correction, December 15, 2015: This fact sheet has been updated to clarify the effect of changing demographics on Florida's voting electorate.
The positions of American Progress, and our policy experts, are independent, and the findings and conclusions presented are those of American Progress alone. A full list of supporters is available here. American Progress would like to acknowledge the many generous supporters who make our work possible.
Authors Charles Posner
Policy Manager Lizet Ocampo
Associate Director, Immigration