Let's talk about evictions
This piece was originally published in the December 7, 2020 edition of CAP Action's daily newsletter, the Progress Report. Subscribe to the Progress Report here.
"For the first time in more than 30 years, I'm not spending the Christmas holidays with my daughters."
— Dr. Anthony Fauci on the sacrifices we all have to make to protect ourselves from contracting COVID-19
Americans know that we need pandemic relief — and we need it now. But Trump and McConnell aren't listening.
Share this on Twitter and Facebook to get the facts out: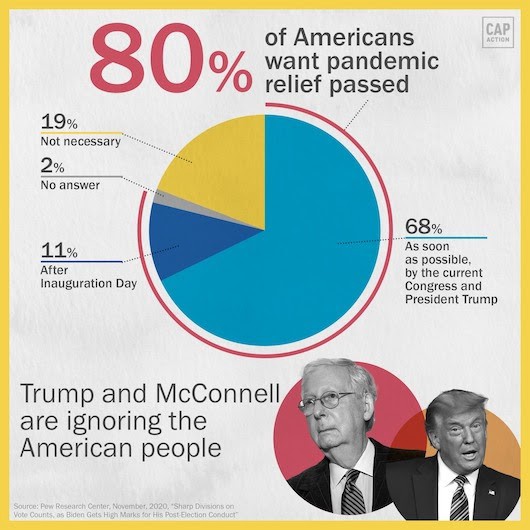 IN THE NEWS
President-elect Joe Biden announced several nominees today to fill top public health roles in the incoming administration. His pick for Secretary of Health and Human Services is Xavier Becerra, a former member of Congress who currently serves as California's Attorney General. Other notable appointments include Dr. Vivek Murthy for Surgeon General, a role he previously held during the Obama Administration, Dr. Rochelle Walensky to lead the Centers for Disease Control (CDC), and Dr. Anthony Fauci himself as Biden's top medical advisor on the COVID-19 pandemic.
Congress has been relatively quiet since Friday, indicating there hasn't been much movement in the scramble to pass an end-of-year coronavirus relief package. If the chambers do come to an agreement, Congressional leadership has said the bill would likely need to be finalized by Friday so that members have time to isolate before heading home for the holidays.
Every day without federal pandemic relief is detrimental to working people. This has been the case for months, and it'll be true until our tax dollars are put to good use in the form of direct relief for working people. Americans are suffering — from unemployed bartenders to grocery store cashiers to laid-off workers and more.
The Washington Post reports that by next month, nearly 12 million tenants are expected to owe an average of $5,850 in retroactive rent and utility payments. The patchwork eviction moratorium implemented by the CDC this fall is set to expire on January 1. Unless the moratorium is extended into the new year, one of the only remaining protections still available to renters will cease to exist — making an already dire situation even worse.
Even now, the federal eviction moratorium is not saving everyone from being evicted. Many tenants are either not covered by the policy or don't know it exists. If a landlord violates the freeze and evicts a tenant for falling behind on rent, it's possible the tenant wouldn't be able to afford the time or money it would take to fight the eviction in court. And even if the CDC's moratorium were successful in temporarily preventing the physical removal of people from their homes, there's no federal policy that prevents landlords from initiating the legal process that precedes the actual removal of a tenant.
What would such a massive wave of evictions look like? On top of the immediate effect of millions of people losing their homes, it would worsen the already devastating coronavirus surge happening across the country. That's not just speculation. States that lifted eviction moratoriums saw a rapid increase in the rate of new COVID-19 cases — 2.1 times that of states with moratoriums still in place, to be exact. The increase in COVID-19 deaths is even worse: Deaths in states where evictions were allowed to resume increased at 5.4 times the rate of states that have continued to bar evictions.
IN CASE YOU MISSED IT
Rudy Giuliani has tested positive for the coronavirus, which we learned when Trump tweeted it out yesterday afternoon. The former New York City mayor has spent the past few weeks on a tour of former battleground states in his capacity as Trump's personal lawyer, where he's been grasping at straws to try and overturn the will of the people in the recent presidential election.
Giuliani is often seen without a mask, sometimes coughing, and usually indoors with a group of people. In other words, he has been ignoring every possible safety precaution that one should follow to avoid contracting or spreading COVID-19. Giuliani is now being treated at a Washington-area hospital, where Trump told reporters today that he's doing "very well."
Since the onset of the pandemic, workers who rely on tips have been forced to choose between enforcing safety measures and allowing customers to jeopardize their safety to avoid being under-tipped or harassed. A new study offers a peek into just how poorly tipped workers are being treated. According to One Fair Wage, 80% of tip-dependent workers have seen a decline in tips during the pandemic, and over 40% say they're facing an increase in sexual harassment from customers.
And finally, some good news. In a rare positive development from the conservative-leaning federal bench, Supreme Court justices declined to hear a case this morning which sought to question the rights of transgender students to use the bathroom that aligns with their gender identity.
WHAT WE'RE READING
The positions of American Progress, and our policy experts, are independent, and the findings and conclusions presented are those of American Progress alone. A full list of supporters is available here. American Progress would like to acknowledge the many generous supporters who make our work possible.