Millennials and the 2014 Colorado Senate Race
Rep. Cory Gardner's (R-CO) track record shows he does not represent the beliefs of the Millennial generation.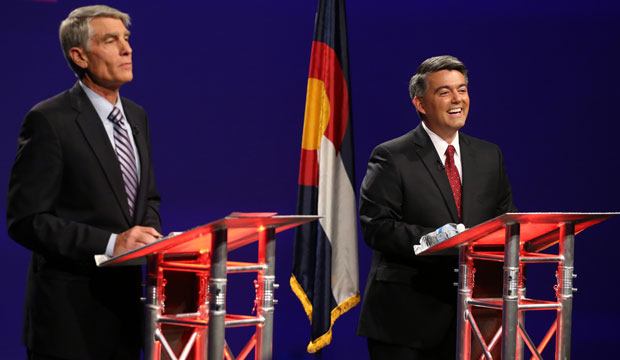 Colorado has historically been a battleground state for elections, and with the two front-runner Senate candidates within a 3 percent margin of each other, the state's 2014 elections are no exception. Nationwide, Millennials continue to be a deciding factor in elections and are predicted to represent one-third of the electorate by 2020. With rising student-debt levels, growing limitations on women's reproductive rights, and a broken immigration system, there are many challenges that lie ahead. In Colorado and across the United States, young voters are paying attention to politicians who care about the issues that affect the Millennial generation.
This column explains Rep. Cory Gardner's (R-CO) stances on six critical issues and how his policies would affect Millennials in Colorado.
Health care
Rep. Gardner has taken steps that could restrict access to affordable health insurance for millions of young people. Since Gardner took office in 2011, he has voted 52 times to repeal the Affordable Care Act, or ACA, despite the fact that the ACA has led to an 8 percent decline in the number of uninsured Americans since its launch. Of the millions of Americans who have signed up for health insurance, approximately 34 percent are Millennials ages 18 to 34. With so many young people benefiting from the ACA, it is hard to understand how Rep. Gardner could so vehemently oppose it.
In his steadfast opposition to the ACA, Rep. Gardner also opposes the expansion of Medicaid. Gardner has said that the United States has "an obligation to protect the most sick and vulnerable in society." But his words do not match his actions. In 2012, Gardner voted for the Republican Study Committee's budget that would have ended Medicaid as we know it and led to lower funding in the long run. Medicaid expansion in Colorado means that an additional 314,436 residents have gained health coverage through either Medicaid or the Children's Health Insurance Program, or CHIP.
Reproductive rights
On reproductive rights, Rep. Gardner's actions have been discouraging. He has supported and sponsored several measures aimed at curtailing abortion rights. Most notably, he supported the state's "personhood" initiative, which ultimately seeks to outlaw abortion and certain forms of contraception by endowing fertilized eggs with all the same rights as U.S. citizens.
More recently, Gardner rolled back his support for the Colorado personhood initiative but simultaneously announced that he would remain a co-sponsor of federal personhood legislation.
Despite Gardner's flip-flopping on the issues, Coloradan voters' stance on reproductive rights remains clear: They defeated nearly identical personhood measures in 2008 and 2010. Young people nationwide remain supportive of access to basic health care, including contraceptives and abortion. Rep. Gardner would make it more difficult for young people in Colorado to receive the care they need.
Immigration
Over the past year and a half, Republicans in the House have stalled on bipartisan immigration reform, and Rep. Gardner has played a role in that gridlock. Gardner has refused to consider any immigration provisions before ensuring the U.S. border is secure with strict enforcement of the law. However, experts agree that the border has never been more secure in U.S. history. There is no reason to stall on this issue while millions of families continue to suffer every day.
Unlike his opponent, current Sen. Mark Udall (D-CO), Rep. Gardner continues to oppose any executive actions that could provide a reprieve from deportation for millions of undocumented immigrants in the absence of legislative reform—similar to the Deferred Action for Childhood Arrivals, or DACA, program that has protected close to 600,000 undocumented young people in the past two years.
Additionally, Rep. Gardner has led efforts that oppose access to higher education for thousands of undocumented young people in Colorado. Gardner opposed Colorado's successful efforts to allow undocumented students to pay the state's in-state tuition rate. When asked about allowing undocumented students to pay the in-state tuition rate, Rep. Gardner responded, "We can't start with in-state tuition because we have to pursue meaningful immigration reform first." But undocumented youth cannot put their lives on hold while Gardner continues to block immigration reform.
Although unlikely, Rep. Gardner needs to reevaluate his stance on an issue that continues to be important to the thousands of Latino voters that comprise about 14 percent of the Colorado electorate. Additionally, the Latino electorate in Colorado is overwhelmingly young. Some 32 percent of Latino eligible voters are ages 18 to 29, much higher than any other racial or ethnic group.
Access to higher education
When it comes to access to higher education, Rep. Gardner continues to fall short. There are 40 million borrowers in the United States carrying more than $1.2 trillion in student debt. In Colorado alone, 761,000 people hold more than $19 billion in student-loan debt.
However, this summer, Rep. Gardner helped block efforts to make college more affordable for working families. He did so by voting against efforts to close tax loopholes for millionaires and billionaires and then use those savings to allow anyone with pre-existing student loans to refinance them at lower rates. About 462,000 borrowers in Colorado would benefit from student-loan refinancing. While Gardner continues to prevent student-loan reform efforts, Sen. Udall has already voted for bills in the Senate that would allow students to refinance their student-loan debt.
Again, Rep. Gardner's actions do not match his words. He has stated that he "believes that the rising cost of higher education should not be a limiting factor for anyone who wishes to attend." However, in 2014, he voted for the Republican Study Committee budget that would cut nearly $6 billion from Pell Grants, funding that helps millions of Americans afford higher education.
Minimum wage
Over the past 40 years, the federal minimum wage has lost more than 30 percent of its real value. This means that millions of families across the country increasingly struggle to make ends meet. Rep. Gardner, however, has fought efforts to raise the minimum wage in both Colorado and at the federal level.
Colorado voters approved a ballot measure to increase the state's minimum wage in 2006. Rep. Gardner was a vocal critic throughout the vote and later voted against a state legislative measure to finalize the voter initiative. In 2007, Gardner continued to attack the minimum wage by sponsoring a floor amendment that would remove consumer-price-index-adjusted increases in the minimum wage.
These actions stand in stark contrast to the majority of Coloradans, who support a minimum-wage increase by a 67 percent to 31 percent margin. Additionally, 71 percent of minimum-wage workers are currently Millennials, 85 percent of whom support increasing the minimum wage.
In April, Republican senators blocked an effort to move forward on legislation to increase the federal minimum wage to $10.10 per hour. Sen. Udall voted for the bill and called it "a common-sense way to help hardworking families." Indeed, the Economic Policy Institute estimates that raising the federal minimum wage to $10.10 per hour by 2016 would increase the salaries of 288,000 working Coloradans who currently earn the minimum wage and would also increase Colorado's gross domestic product, or GDP, by $433 million.
Rep. Gardner, however, has shown time and again that he would oppose efforts to support millions of working families.
LGBT rights
Throughout his career, Rep. Gardner has adamantly opposed equal rights for lesbian, gay, bisexual and transgender, or LGBT, individuals. In 2006, Gardner voted against adding sexual orientation and gender identity to the list of characteristics for which a person may not be discriminated against under Colorado law. This effectively excluded thousands of LGBT Coloradans who have been the targets of discrimination due to their identities.
Rep. Gardner's opposition to LGBT rights has damaging effects on thousands of LGBT individuals, especially Millennials. Although a recent poll found that just 3 percent of the adult American population identifies as LGBT, the rate among Millennials is almost twice as large with 6.4 percent of the population ages 18 to 29 identifying as LGBT.
Additionally, Gardner voted for a failed provision that would have banned same-sex couples from adopting children. Although marriage equality came to Colorado in 2013, Rep. Gardner continues to stand against it and the majority of Coloradans—61 percent—who support it. This approval increases when looking at Millennials, as 81 percent of voters age 18 to 29 support marriage equality.
Conclusion
Millennials in Colorado will be critical in the 2014 Senate race. Rep. Gardner's record shows that he does not understand Coloradan Millennials or the challenges Colorado's young people face. Gardner has demonstrated a flip-flop stance on women's reproductive rights, has repeatedly attempted to roll back access to affordable health insurance, and has consistently stood against LGBT rights. He has promoted policies that hinder the accessibility of higher education—especially for immigrants—and the economic well-being of Coloradans.
With Election Day quickly approaching, Rep. Gardner has already demonstrated that he is not a willing advocate for the issues that most significantly affect Millennials.
Elizabeth Sohns is a Policy Fellow for Generation Progress, the youth division of the Center for American Progress. Zenen Jaimes Pérez is a Policy Advocate for Generation Progress.
The positions of American Progress, and our policy experts, are independent, and the findings and conclusions presented are those of American Progress alone. A full list of supporters is available here. American Progress would like to acknowledge the many generous supporters who make our work possible.
Authors Zenen Jaimes Pérez
Senior Policy Analyst