Taking Women Backwards in Every Way
The internet is abuzz with send ups of a comment about "binders full of women" that Mitt Romney made at last night's presidential debate. Behind all the jokes, however, lies something serious: Mitt Romney's dangerous agenda for women and their families. Romney's agenda would drag women back to the 1950s on everything from women's health to workplace issues to basic economic security.
Here's the rundown.
Dangerous for Women's Health
Overturn Roe v. Wade: Romney says he supports overturning Roe v. Wade, which he has called "one of the darkest moments in Supreme Court history." He has also stated that he will appoint Supreme Court justices who would overturn Roe, something he could have as many as three opportunities to do in just a single term.
Total Ban on Abortion: Romney and his running mate Paul Ryan both support radical "personhood" amendments and other Constitutional amendments that would ban abortion in all circumstances, including rape, incest, and the life or health of the woman.
Restrictions on Birth Control: Romney and Ryan both support a proposal that would allow employers to deny coverage for birth control (or any other service) for basically any reason, effectively putting your boss in your bedroom. The personhood amendments that Romney and Ryan both support could also outlaw common forms of birth control and in vitro fertility treatments.
"Get Rid of" Planned Parenthood, Title X Funding: Romney has pledged and Ryan has voted to defund Planned Parenthood. In addition, Romney has pledged and Ryan has voted to eliminate the entire Title X family planning program. This could deprive millions of women, many of whom have little or no other access to health care, of family planning and life-saving screenings for breast and cervical cancer.
Treat Women as a Pre-Existing Condition: Romney supports repealing Obamacare and Ryan has voted to do so dozens of times. This means going back to the days when insurance companies could charge women more simply because they are women. It also means that insurance companies would once again be able to deny women coverage based on pre-existing conditions like breast cancer, domestic abuse, and sexual assault.
Redefining Rape: Before Rep. Todd Akin (R-MO) uttered his infamous comments about "legitimate rape," Ryan worked with him to try and  redefine rape.
It's also worth noting that access to contraception and health care are also serious economic issues for women and their families.
Dangerous for Women's Economic Security
Won't Stand Up for Equal Pay: For months, Mitt Romney has consistently refused to say whether or not he supports the Lilly Ledbetter Fair Pay Act, the first law signed by President Obama. A top Romney adviser said last night that Romney was "opposed at the time" to the bill, but wouldn't repeal it. Today, the Romney campaign is again retreating to its position of having no position. Romney has also refused to say if he supports the Paycheck Fairness Act. Both bills have been opposed almost unanimously by Republicans and it's clear that Mitt Romney is unwilling or unable to stand up for anything that will actually help women achieve equal pay for equal work.
Outdated View of Women in the Workplace: At last night's debate, Lilly Ledbetter says Romney "talked down to the women of this country." He explained that "if you're going to have women in the workforce," as if having women in the workplace remains an open question. He added that they'd sometimes need special "flexibility" so they can go home and make dinner for their kids. Here in the 21st century we know that women make up nearly half of the workforce and that three-quarters of women who work do so full time. Also, fathers now report more work-life conflicts than mothers do. As Ledbetter said today, she worked at a Goodyear tire plant for decades and "never asked for flexibility or special treatment because I was a woman."
Destroy Women's Jobs: Mitt Romney's economic policies would be bad for all Americans except the very wealthy and would kill hundreds of thousands of jobs in just the next year alone. Women, however, would be disproportionately harmed by Romney's plans to cut government spending and eliminate hundreds of thousands of public sector workers. 70 percent of the public sector jobs lost thanks to the recession and GOP austerity were lost by women and Romney's cuts would hurt women even more.
Raise Taxes on Women — Including the Poor and Their Children: Romney wants everyone else to pay more so he can slash taxes on the wealthy and huge corporations. Romney would raise taxes on middle class families with children by $2,000, but he would also reduce or eliminate tax credits for the poorest Americans. These credits are often the only thing holding many families out of poverty.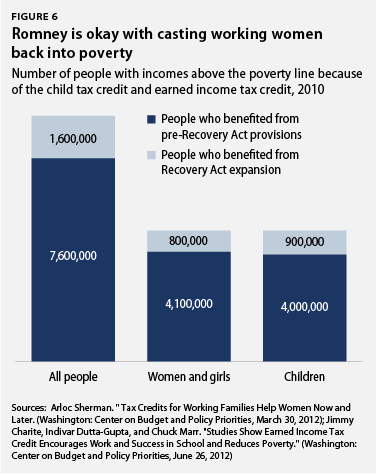 Harming Elderly Women: Women live longer than men and are less likely to have a pension than men, leaving them more reliant on government programs like Social Security, Medicare and Medicaid. Romney's draconian cuts to all of these programs, which are necessitated by his desire to slash taxes on the wealthy and cap federal spending, would hurt almost all seniors but would hurt the most vulnerable elderly women most.
Other elements of Romney's record and views should be troubling for women (and men). When Rush Limbaugh attacked Sandra Fluke as a "slut" and a "prostitute," Romney first refused to comment for days and then would only say, "It's not the language I would have used." Considering Romney might have the chance to appoint as many as three Supreme Court justices, it should be concerning that his top judicial adviser has said that the 14th Amendment's equal protection clause doesn't apply to women.
For even more on how Mitt Romney is bad for women's health and economic security, check out this recent report from the Center for American Progress Action Fund.
BOTTOM LINE: Mitt Romney's agenda is a binder full of policies that would be dangerous for women and their families.
Evening Brief: Important Stories That You Might've Missed
Mitt Romney lied about requesting "binders full of women."
Romney told 31 myths in 41 minutes at last night's debate.
Obama called Libya attack terrorism long before Romney.
32 seconds after the debate ended, Fox News started attacking the questions.
Why no one should believe the claims in Romney's new ad reaching out to women.
What we learned at a Romney debate watching party (hint: a lot of crazy conspiracy theories).
Study: Obama's ads are working; Romney's ads are not.
Top Romney surrogate calls access to contraception a "peripheral" issue.
RNC chairman slams media for daring to ask for the details of Romney's tax plan.
The positions of American Progress, and our policy experts, are independent, and the findings and conclusions presented are those of American Progress alone. A full list of supporters is available here. American Progress would like to acknowledge the many generous supporters who make our work possible.
Authors Advocacy Team