Mitt's Snub of the Poor
The More Telling Problem with Romney's Quote about Poor Americans
Desmond Brown matches up the presidential candidate's rhetoric with his safety-net-shredding policy proposals.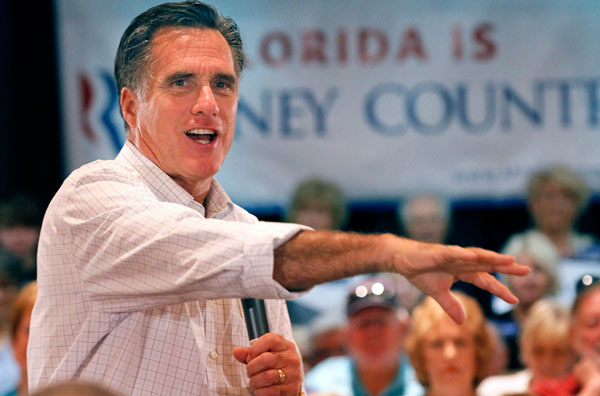 Following his big victory in the Florida primary on Tuesday, Republican presidential front-runner Mitt Romney, in an unscripted moment of excitement, expressed his true feelings about those families at the bottom of our economy. He stated: "I'm not concerned about the very poor. We have a safety net there. If it needs repair, I'll fix it."
This is just the latest in a series of outlandish comments made by former Massachusetts Gov. Romney in recent months. Tone-deaf remarks—"corporations are people," "I like being able to fire people," and "I am also unemployed"—top this list. These statements—coming from a former private equity executive who earned $45 million in the past two years and paid only $6.2 million in taxes—clearly demonstrate how out of touch he is with the real challenges facing everyday Americans.
At a time when economic inequality continues to rise, and real wages have failed to keep pace with productivity, a presidential candidate should not only be concerned about the poor of our nation but should also set forth a plan to restore shared prosperity for all Americans.
The media has covered this latest statement as just another unfortunate Romney gaffe. The more troubling issue is not his verbal missteps but rather the plans he has laid out to supposedly restore prosperity, rebuild the middle class, and fix the nation's safety net.
While his recent Florida rhetoric might have been more than awkward, it's important to note that the House Republican budget plan endorsed by Romney would be disastrous. Not only would the Republican plan fail to fix the safety net, it would destroy it. This plan would increase economic hardship and force more low-income Americans deeper into poverty. Here are three ways the House Republican plan supported by Romney would weaken the safety net:
The Republican plan would block grants and place time limits on the nation's most effective nutrition safety net, the Supplemental Nutrition Assistance Program, or SNAP, which was extremely effective in meeting the nutrition needs of families hit hard by unemployment during the recent recession. $127 billion in SNAP funding would be cut over 10 years.
The Republican plan would block grant the Medicaid program for low-income Americans and disabled Americans, which would result in reduced services for the most vulnerable families because capped federal resources would not keep pace with rising health care costs. The result is those Americans least able to pay more for health care would be forced to do so or to go without.
The Republican plan would shift more federal responsibility to economically challenged states. For states with high rates of poverty and budget shortfalls, this plan would limit their ability to leverage federal resources to provide necessary social services to assist people in need. States would be forced to cut services during periods of economic downturn when low-income families are most in need.
Perhaps the most alarming issue with Mitt Romney's plans to fix the safety net is that it would dramatically shift resources to the wealthiest 1 percent of Americans. It would provide $2.24 trillion in tax breaks to the superrich while cutting $2.17 trillion from critical health care services for poor and elderly Americans.
At a time when 46.2 million people are classified as poor in this country—that's 15.1 percent of Americans, or about 1 in 7—we can ill-afford to turn our backs on our most vulnerable citizens. It's not only mean-spirited, it's wrong.
Desmond Brown is a consultant to the Center for American Progress Action Fund's Half in Ten antipoverty project and an expert on poverty issues and welfare reform.
The positions of American Progress, and our policy experts, are independent, and the findings and conclusions presented are those of American Progress alone. A full list of supporters is available here. American Progress would like to acknowledge the many generous supporters who make our work possible.