Mueller did "not exonerate" Trump.
It's another day in Trump's America—and another day to stand up for what's right. Get the facts to fight back.
Special Counsel Robert Mueller's report did not come out yesterday. A summary from Attorney General William Barr was made public.
Make no mistake: Mueller did not exonerate Trump, despite the president's usual tweets and lies.
Help put pressure on Barr to release Mueller's full findings by sharing this thread of unanswered questions on Twitter.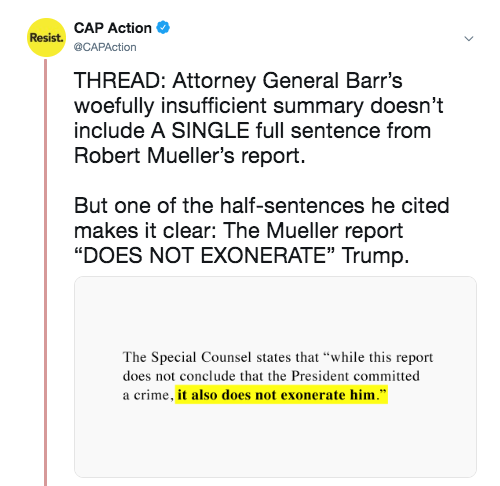 Barr's summary of Mueller's findings leaves behind far more questions than answers. Here are some of the biggest ones, via The Moscow Project:
Trump's associates made contact with Russia-linked operatives more than 100 times during the campaign and transition. There is no question as to whether Trump's campaign did anything wrong—they did, and many of them will serve time because they lied about it.
Barr auditioned for the job of Attorney General last year by calling the Mueller probe "fatally misconceived" and "grossly irresponsible." Barr dismissed the possibility of obstruction of justice long before he saw Mueller's report—undoubtedly why Trump picked him for AG in the first place.
Bottom line: The public has yet to hear from Robert Mueller, and Trump is not exonerated. Barr's summary is not the Mueller report—it's a summary from two Trump appointees and was released without Mueller's input.
Share this tweet thread to make it crystal clear: Mueller's full findings must be made public.