Mueller report downloaded 800 million times
It's another day in Trump's America—and another day to stand up for what's right. Get the facts to fight back.
So much for "NO COLLUSION"
Yesterday, POLITICO reported that there were 800 million downloads of Special Counsel Robert Mueller's report from the DOJ website between mid-April and July.
Mueller's report is a damning account of Trump's attempted obstruction of justice and collusion between the Trump campaign and Russia during the 2016 election. The 800 million downloads of the report prove one thing: The ongoing cover-up by Trump and Barr may be working with Republicans in Congress, but the truth is getting out to the American people and the world.
Let's put it in context. 800 million downloads of the Mueller report is:
727 times more than the number of people who read Trump's The Art of the Deal
106 times the weekly viewership of "The Apprentice" in 2007
1,778 times more than Trump's inauguration crowd size
In case your friends haven't had time to read Mueller's entire 448-page report, share this two-minute explainer on Facebook and Twitter: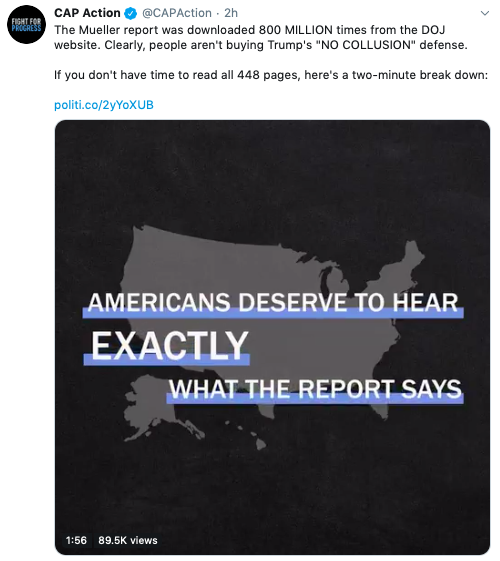 Big progressive ideas
Bolstering Native American communities: Sen. Elizabeth Warren (D-MA) rolled out a plan "aimed at helping to close income and health disparities faced by Native Americans, expand Native criminal jurisdiction and honor long-standing promises and treaties." Warren worked with Rep. Deb Haaland (D-NM) on portions of the plan that would take federal money for native communities out of the political Congressional appropriation process, to make sure the funding can't be withheld or used as a bargaining chip.
Combating white supremacist violence: Sen. Cory Booker (D-NJ) laid out a bold vision on Thursday to combat white supremacist violence and online hatred. Among other things, the proposal would overhaul federal and local policy, combat the spread of online hatred and violence, increase data collection on hate crimes, and make it easier for victims of hate crimes to report.
Reducing gun violence: Former Rep. Beto O'Rourke is the latest progressive leader to roll out a detailed plan to reduce gun violence in America, which claims more than 95 lives per day. O'Rourke called for gun licensing, mandatory buybacks for assault weapons, and a blanket ban on "assault weapons, trigger cranks, silencers, bump stocks and high-capacity magazines." For more on the urgent need to ban assault weapons and high capacity magazines, read this explainer from CAP's Gun Violence Prevention team.
Battling voter suppression: Former Georgia gubernatorial candidate Stacey Abrams is ramping up her fight against voter suppression. Ahead of the 2020 election, Abrams is launching an initiative, Fair Fight 2020, which will train staffers to work to combat voter suppression efforts in 20 states.
The positions of American Progress, and our policy experts, are independent, and the findings and conclusions presented are those of American Progress alone. A full list of supporters is available here. American Progress would like to acknowledge the many generous supporters who make our work possible.