Mueller: Trump is NOT Exonerated
It's another day in Trump's America—and another day to stand up for what's right. Get the facts to fight back.
Three key moments from Mueller's testimony
Special Counsel Robert Mueller testified before the House Judiciary Committee this morning on his investigation and report. Here are the three big takeaways:
MUELLER DEBUNKS TRUMP'S "TOTAL EXONERATION" CLAIM: Mueller clearly stated that his report did NOT exonerate Trump of crimes.
OBSTRUCTION: Mueller said that Trump could be charged with obstruction of justice after he leaves office.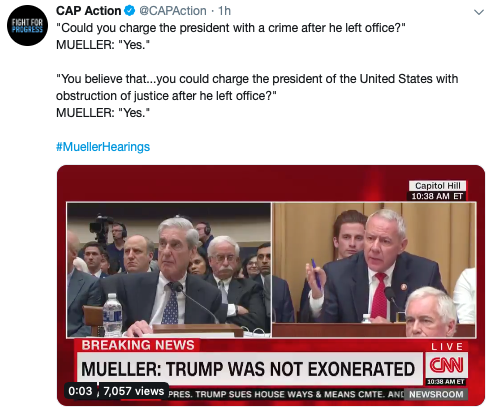 INDICTMENT: Mueller said that—contrary to what Attorney General William Barr said when he lied to the public—he did not indict Trump because of the OLC opinion stating that you can't indict a sitting president.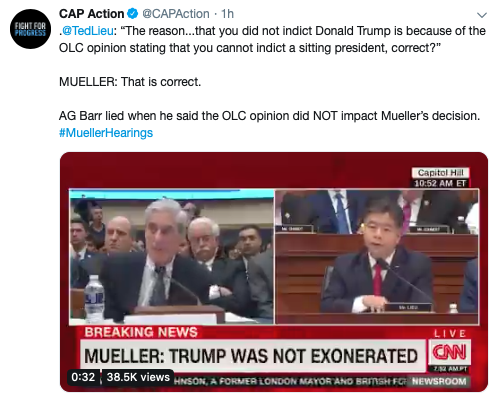 These three points expose Trump, Attorney General Barr, and Congressional Republicans' smear campaign for what it is: a complete sham designed to protect Trump from accountability at the expense of our democracy and national security.
Stay tuned: Mueller will testify at a second hearing before the House Intelligence Committee this afternoon. Follow @CAPAction and @Moscow_Project for live clips and analysis of Mueller's testimony.